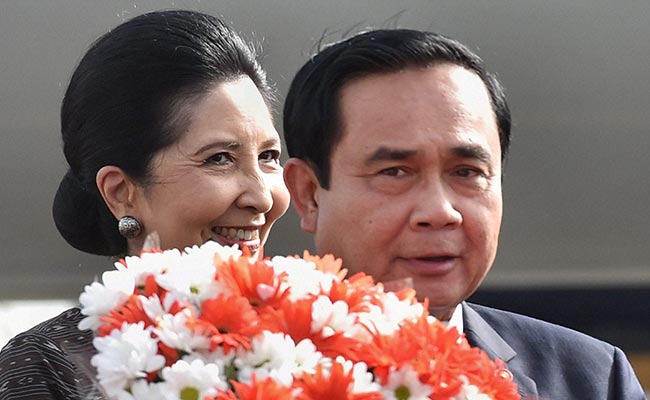 Visiting Thailand Prime Minister Prayuth Chan-ocha was given a ceremonial welcome in New Delhi on friday.
Thai Prime Minister Prayut Chan-o-Cha visited Bodh Gaya and offered prayers at the Mahabodhi temple, Buddhists` holiest shrine on Saturday.
He circumambulated the Mahabodhi tree under which Lord Buddha is said to have attained enlightenment.
A 54 member delegation is accompanying the Thai Prime Minister.
Both countries have decided to cooperate and deepen ties in various sectors.
Addressing a joint statement with PM Narendra Modi, Thailand PM Prayuth Chan-ocha assured increased investment in priority sectors areas which are key to make in india and made in india campaigns.
On his part, Prime Minister Narendra Modi too stressed that the two countries will fight the menace of terrorism together, indicating that India and Thailand have agreed to "deepen defense and maritime ties".
Several Mous were signed between the two countries signifying increased cooperation in many areas including culture and education.
Next year there will be a festival of thailand in india and festival of india in Thailand.
PM of Thailand also praised various developmental efforts undertaken in the past two years and announced his intention to join them.
Accompanied by his deputy, five senior ministers and a 46 -member business delegation, the Thai Prime Minister arrived in New Delhi on Thursday for a three-day visit aimed at reviewing bilateral relations.