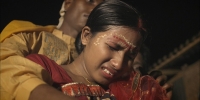 Bangladesh is about to pass a law that could force underage girls to marry their rapists. But the Prime Minister is a leader of women's empowerment and a massive call on her to be a hero for girls everywhere could encourage her to cut the child rape clause. Join now and spread the word: 
Dear friends,
With the stroke of her pen, Bangladesh's Prime Minister can become a champion for millions of girls — or pass a law that could force girls to marry their rapists!

Bangladesh has made strides in passing progressive laws for women and girls. But a new law aimed at ending child marriage could include a 'special circumstances' clause where young girls may be forced to marry their rapists.

Local activists have just taken to the streets in protest and Parliament could pass the law any day now. Let's call on the Prime Minister to drop the child rape loophole and speed up a national action plan to keep these girls safe — sign and share widely: 
Click here to stop the child rape clause
In the wake of the extraordinary women's marches, this is something we can all do together for the most vulnerable on our planet.

So far, the Prime Minister has favoured the 'special circumstances' clause, arguing that for rural girls that are victims of rape or get pregnant, marriage is the least of all evils. But there are alternatives to improve their protection: she can pass a law so rural girls and their children can go to school without mentioning the father's name, and roll out the new National Action Plan to provide services for girls in these special circumstances.
Let's convince PM Hasina to take the clause out and make Bangladesh one of the world's leaders on ending child marriage. Join now and spread the word:
Bangladesh already has so much promise for women.
Progressive policies have transformed families from the 1970s when women had seven children each, to now just above two!
From Afghanistan and India to Somalia and Kenya, Avaaz has used our collective power to stand up against the abuse of girls, and push for women's rights. Let's now back Bangladesh to become a beacon for the world to stop child marriage!
With hope,
Risalat, Antonia, Lisa, Emma, Alice, Ricken and the whole Avaaz team
MORE INFORMATION
Bangladesh's plan to allow some child marriages is 'step backwards' (The Guardian)
https://www.theguardian.com/global-development/2017/jan/17/bangladesh-plan-to-allow-some-child-marriages-is-step-backwards
PM awarded for women empowerment (The Daily Star)
http://www.thedailystar.net/frontpage/pm-awarded-women-empowerment-1288363
Huge Step Backwards on Child Marriage in Bangladesh (Human Rights Watch)
https://www.hrw.org/news/2016/12/01/huge-step-backwards-child-marriage-bangladesh 
Child marriage is wrong, exceptions are unacceptable (The Daily Star)
http://www.thedailystar.net/opinion/no-strings-attached/child-marriage-wrong-exceptions-are-unacceptable-1320772