Day of Hungarian Culture being commemorated on Monday, 30th January 2017 at 5:00 pm with a bouquet of programmes included,Inaugural address by Chief Guests and Guest of honors , Art Work,Recitation of poems,dance drinks.
HE : Ambassor
At Hungary info center
Hungarian Artist Zsuzsa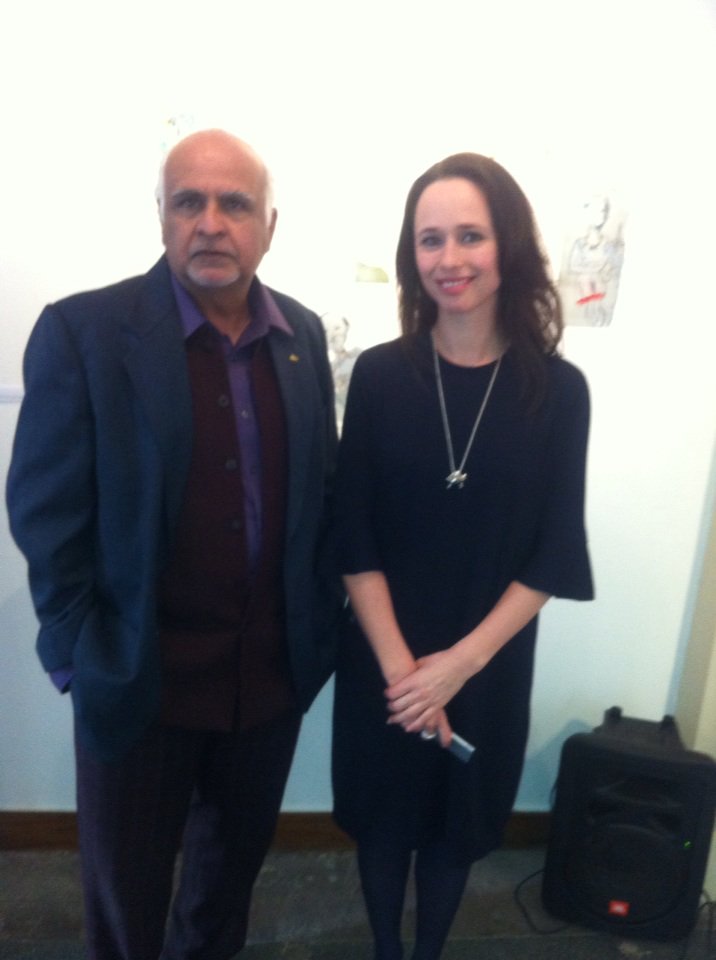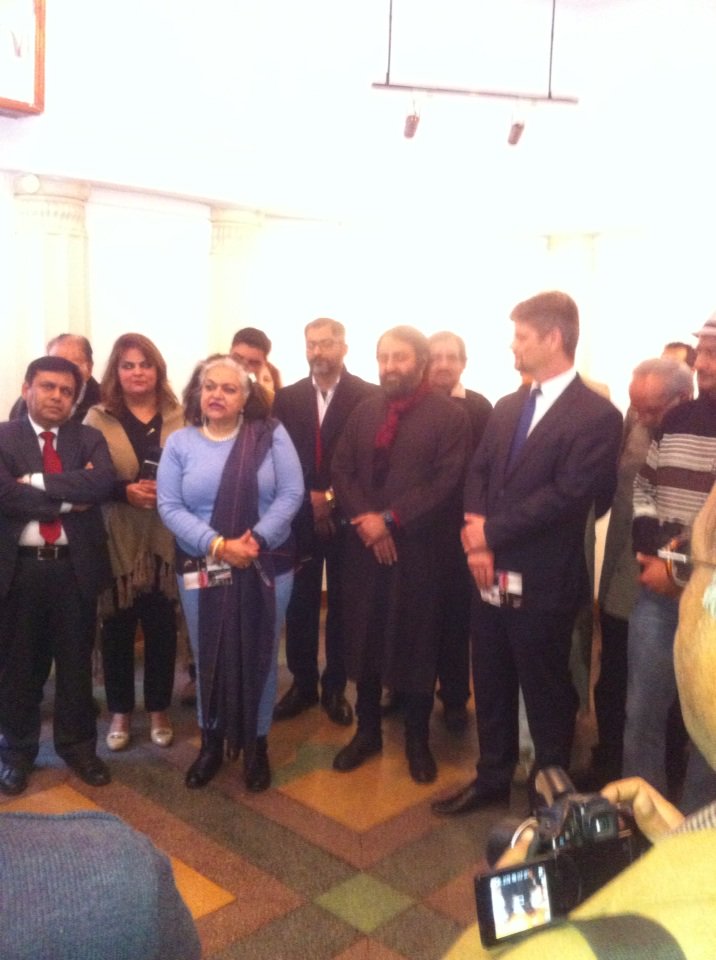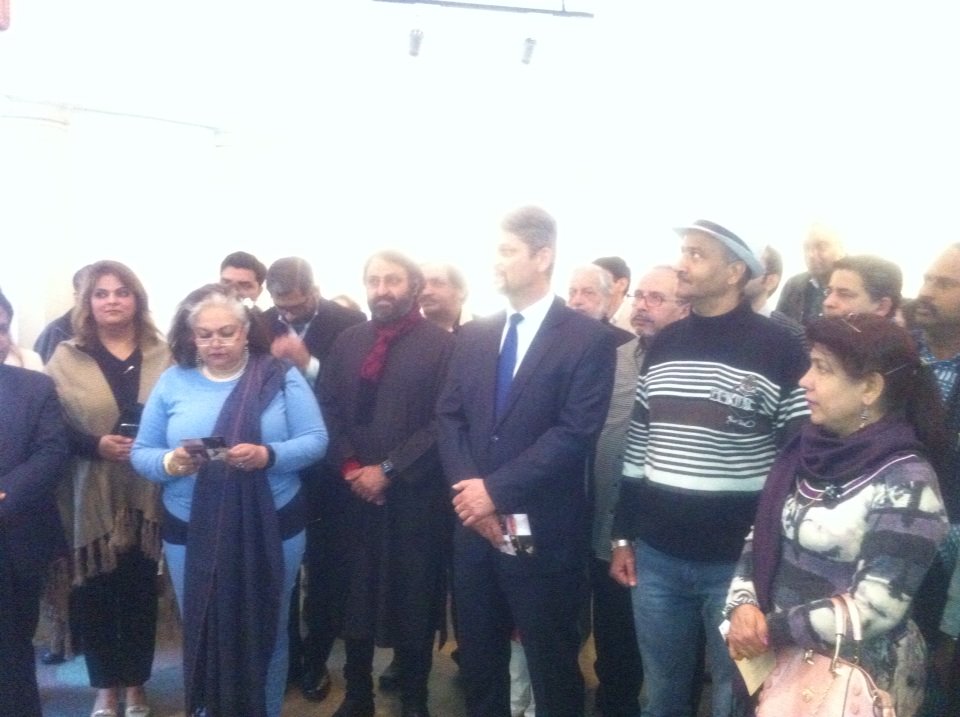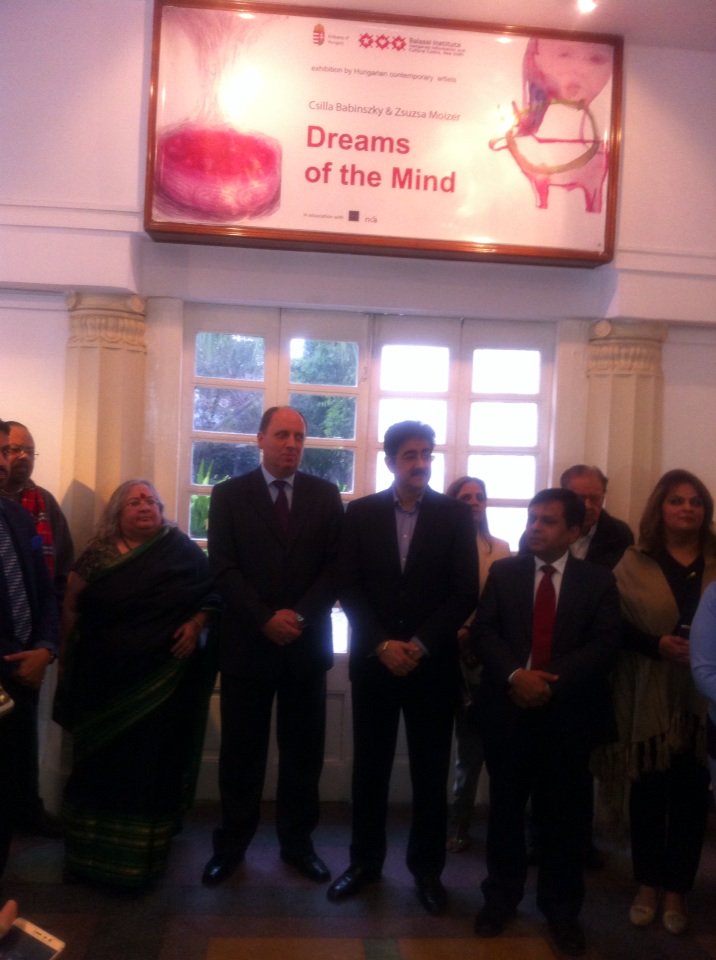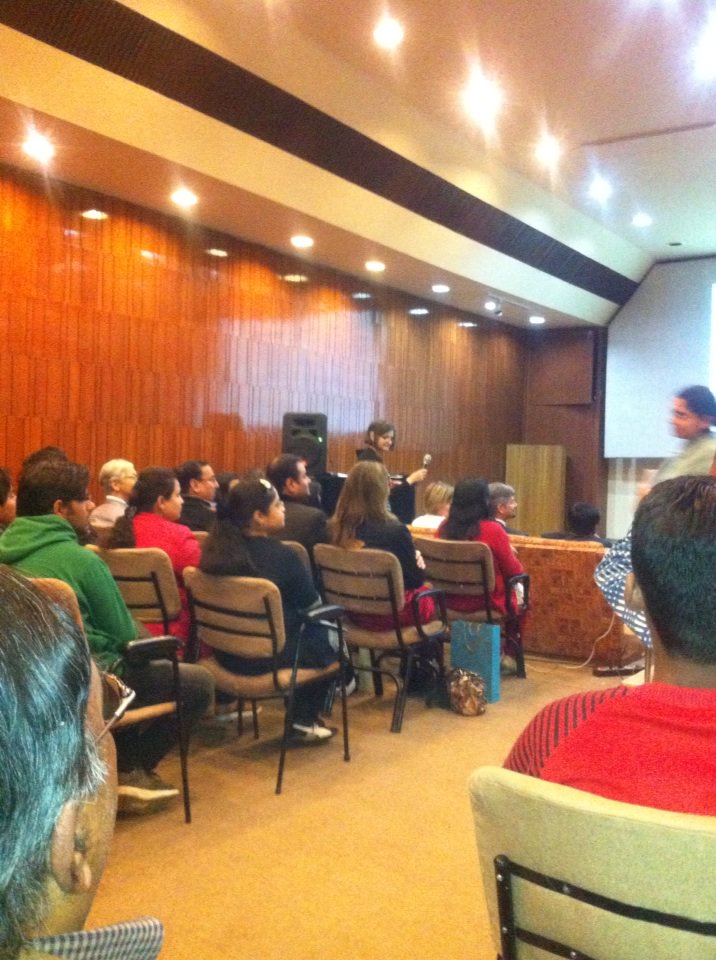 Embassy of Hungary and the Hungarian Information and Cultural Centre in association with the Sree Arts commemorated the Day of Hungarian of Hungarian Culture with a bouquet of events on 30th January 2017. It touched the fields of art, music and dance and literature.
In the presence of dignitaries and eminent artists, we opened DREAMS OF THE MIND presented by two contemporary Hungarian artists Csilla Babinszky and Zsuzsa Moizer. The chief guests for the evening included H.E. Mr. Gyula Petho, Ambassador of Hungary, Dr. Alka Pande, Curator and Art Consultant, Visual Arts Gallery and Dr. Alka Raghuvanshi, eminent artist, curator and critic with Mr. Sandeep Marwah, Mr Vijendra Sharma and Mr. Jitendra Padam Jain as the Guests of Honour and Mr. Qazi Raghib as the special guest.
ABOUT THE EXHIBITION –
The two Hungarian contemporary artists Csilla BABINSZKY and Zsuzsa MOIZER apply traditional themes and forms (drawings and paintings) through a unique personal discourse by using a contemporary approach and spirit. Babinszky's large-scale, mixed technique paper series "Strange Angels" explores the female being in the universal context, inspired by and at the same tune questioning the beauty and its major appearance. These collage-like drawings use several instruments like gold gouache and silver graphite, aquarelle, colored pencils, acrylic.
Moizer's intimate human figures and zoomorphic creatures are exploring the human existence, fragility and evanescence within the natural environment and social context. The new series of water colour paintings are realistic forms of nature towards lyrical compositions, which refers to a subjective landscape instead of a real world. Csilla BABINSZKY (1970,Kecskemét,Hungary)lives and works in Budapest. She finished her studies at the Hungarian University of Fine Arts in 1996, and currently doing her Doctoral DLA Studies on the Science Faculty at the University of Pécs, Hungary. Babinszky's work is characterised by a wide variety of techniques and themes. From drawing to painting, photography to installation, she works in various media, exploring areas where philosophy and visuals meet, looking for points where the two languages converge. A winner of numerous awards, Babinszky exhibits internationally in solo and groups shows. She is interested in the nature of illusion, the various layers of the illusionary world in all of its forms of appearance: visually, philosophically, and thematically. She takes her artistic practice as a research, a way of thinking, reflection, and self-reflection. She likes using visual language as a tool to question, experiment, explore and penetrate. Her artistic activity revolves around a single essential question with each work proposing answers from a new angle. One could say: she explores the question itself. The question of the reality of existence which she associates– using various tools of art – with the question of the essence and function of art, in order to make it accessible by the way of experiencing through vision. Her art is independent from any movement, nor it is predetermined socially or thematically. This art evolves along a consistent and unique way to present the most important question of our age with singular clarity, and art as a possible form of existence in it. As she says:"Art for me is connection. Staying connected with the genuine question's conceptual and visual outcome. Zsuzsa MOIZER (1979,Budapest,Hungary)lives and works in Budapest. She finished her studies at the University of Fine Arts in 2004.Moizer is primarily known for her watercolor and oil paintings, but occasionally she also creates sculptures and installations. The best approach to her characteristically tender images is probably through the topics of women's search for identity, and gender roles. The starting point of her art works is usually her own body. In the past she mostly painted self-portraits with her face filling the space provided by the image almost completely. Eventually full figures started to appear on her canvases, and later on the zoomorphic and half man, half animal creatures of ancient mythology began to dominate her pictures. Her airy and beautiful figures often make us forget that we are observing death, fear, and suffering in her images, which are in this respect contemporary reflections on Goethe's tragic idyll. The body's reserved, gentle colors alternate with stronger blues and oranges, with strange tigers and other odd animals appearing on her canvases. In recent years the figures in her thin layer paintings almost completely fade into their surroundings, many layers of almost transparently thin paint built up the images. Gardens, plants, animals, childhood memories, empty spaces, the contrast of warm and cold colors and peculiar lights characterize this series, where the figures seem to be dissolving in their worlds and her personal stories gain a collective meaning. The newest series of expressive oil on canvas paintings, which represent distinct exotic landscapes, forests, trees and flowers, were inspired by Moizer's Hawaiian trip. There, she encountered many legends and tales of the archipelago.
REFLECTIONS – Contemporary Hungarian dance performance
Mónika László, dance artist and choreographer gave a head turner performance inspired by the art pieces on display. Using a rope as a prop and involving the audience making a web with it she gave an enthralling presentation of contemporary dance.
ENDRE ADY AND MODERNITY IN HUNGARIAN PETRY – Literary Interlude
The day of Hungarian culture, 22nd January is linked to poetry, on this day in 1823 Ferenc Kölcsey, poet and politician completed the Hymn, the National Anthem of Hungary. Endre Ady(1877-1919) whose 140 birth anniversary was celebrated on the 30th January ushered in modernity in Hungarian poetry. Ady – who was the favourite poet of the painter, Amrita Sher-Gil (1903-1941) – was a symbolist who wrote powerful poems introducing symbols of what was important in contemporary Hungarian culture. Students of Hungarian language recited Ady's poetry in Hungarian and Punjabi and read out poems by Ady's friends like Margit Kaffka and Gyula Juhász.