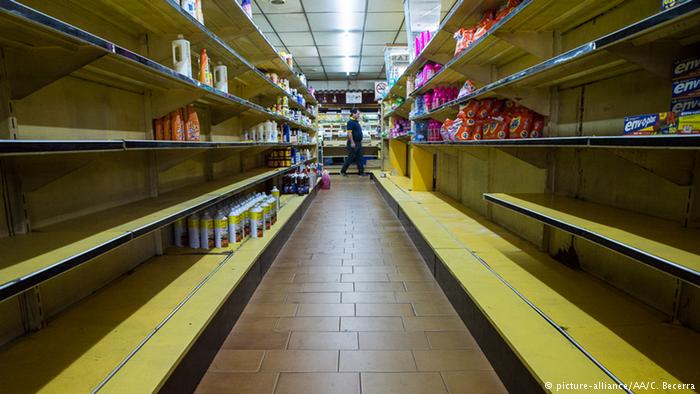 Venezuela the nation is  flush with oil, but strapped for cash. the store shelves frugal with commodities and hospitals short on medicine have driven its people to desperation and line on streets for continuous protests.
National  economic system aimed at freeing Venezuelans from poverty and a corrupt government is now starving them. The Food subsidies, higher education enrollment and access to healthcare were pleaded by leader Hugo Chavez as evidence that his socialist revolution was a success. However, Chavez' time in office from 1998 to 2013 also launched two developments that lie at the root of Venezuela's current economic crisis: the expropriation of the oil industry in the name of nationalization and the expansion of import-based goods.
Venezuela has been spiraling down into a fresh phase of protest, violence and instability. This latest spasm of demonstrations and mass arrests began, oddly enough, with a court decision. On March 28, Venezuela's chief justice, Maikel Moreno, issued a shockingly broad decision that essentially shut down the country's elected national legislature and transferred all its powers to the court over which he presides
OAS meeting – with the exception of Canada, Cuba and the United States – are also members of CELAC. What, then, is the difference between a debate on Venezuela in the OAS and in CELAC? "It's in the fact that CELAC has neither a democracy clause, nor a mechanism for monitoring the upholding of human rights," said Victor Mijares, professor for International Relations at the Catholic University in Bogota. But Mijares is careful not to overly praise the OAS. He doubts whether the pan-American foreign ministers summit will do anything to change the status quo in Venezuela.
Foreign minister, Delcy Rodriguez  referring to the  at that point unconfirmed – meeting of foreign ministers from the Organization of American States (OAS) to discuss the crisis in Venezuela. When it was announced on Wednesday, April 26, that the foreign ministers had agreed to meet, Rodriguez explained that she had received direct orders to withdraw Venezuela from the OAS, and confirmed the special CELAC meeting she'd requested for May 2 in the capital of El Salvador, one of the few countries that continues to show solidarity with Venezuela.
Venezuela today handed a letter on its withdrawal to the Secretary General of the Organization of American States (OAS). On Wednesday, Venezuela's President Nicolas Maduro initiated an immediate pullout from the OAS, as its Permanent Council voted in favor of holding an emergency meeting of foreign ministers to discuss the political crisis in the country without the approval of Caracas.
Huge protests flared up in Venezuela after its top court tried to take over legislative powers from the opposition-controlled National Assembly.
The court reversed the ruling but this did not prevent anti-Maduro demonstrations from taking place across the country. Media agencies