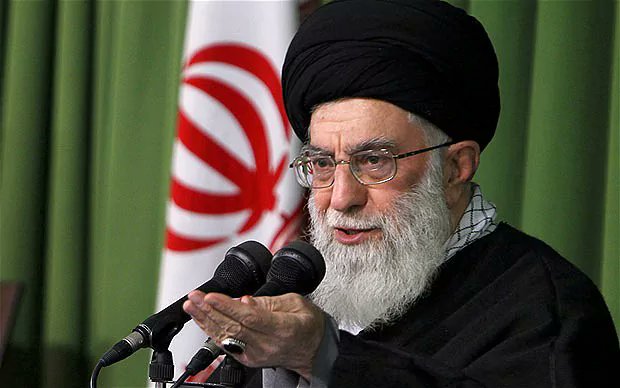 Iran's supreme leader Ayatollah Ali Khamenei blames enemies for unrest that has seen 22 deaths as Washington sought to increase pressure on regime that is facing its biggest test in years. Khamenei gave his first reaction to the unrest that has spread across Iran in recent days. Khamenei said the enemies of Iran are trying to create troubles for the Islamic Republic. The protests that began in the northeastern city of Mashhad on Thursday over unemployment and a jump in prices have expanded to more than 40 cities. Some of the demonstrators are voicing rare criticism of the Islamic establishment headed by the supreme leader.
EU foreign policy chief Federica Mogherini late Tuesday deplored "the unacceptable loss of human lives" and called on "all concerned to refrain from violence".
Trump´s ambassador to the UN, Nikki Haley, said the US would seek emergency UN talks on the situation.
"The people of Iran are crying out for freedom," she said at a news conference. "All freedom-loving people must stand with their cause."
Haley rejected as "complete nonsense" Khamenei´s charges that the protests were being fomented by Iran´s "enemies".
"The freedoms that are enshrined in the United Nations charter are under attack in Iran. Dozens have already been killed. Hundreds have been arrested," she said.
"If the Iranian dictatorship´s history is any guide, we can expect more outrageous abuses in the days to come."
Khamenei blames 'enemies' Iran's supreme leader yesterday blamed the country's "enemies" for days of unrest that have seen 21 killed and hundreds arrested in the biggest test for the Islamic regime in years.
As violence has grown, authorities have stepped up arrests, with at least 450 people detained in Tehran since Saturday and 100 more around Isfahan on Monday, media reported.
 Iran's supreme leader blamed "enemies" Tuesday for unrest that has seen 21 deaths as Washington sought to increase pressure on the regime that was facing its biggest test in years.
In a speech carried on state television, Ayatollah Ali Khamenei broke his silence on the protests for the first time since they erupted last Thursday.
"The enemies have united and are using all their means, money, weapons, policies and security services to create problems for the Islamic regime," the supreme leader said.
"The enemy is always looking for an opportunity and any crevice to infiltrate and strike the Iranian nation."
Even reformists, who backed the last major protest movement in 2009, condemned the unrest and the support it has received from the United States.
But they also urged the authorities to address economic grievances that have fuelled the protests.
"The Iranian people are confronted with difficulties in their daily lives… and have the right to peacefully demand and protest," said a statement from the Association of Combatant Clerics, headed by reformist ex-president Mohammad Khatami.
media agencies and tweets