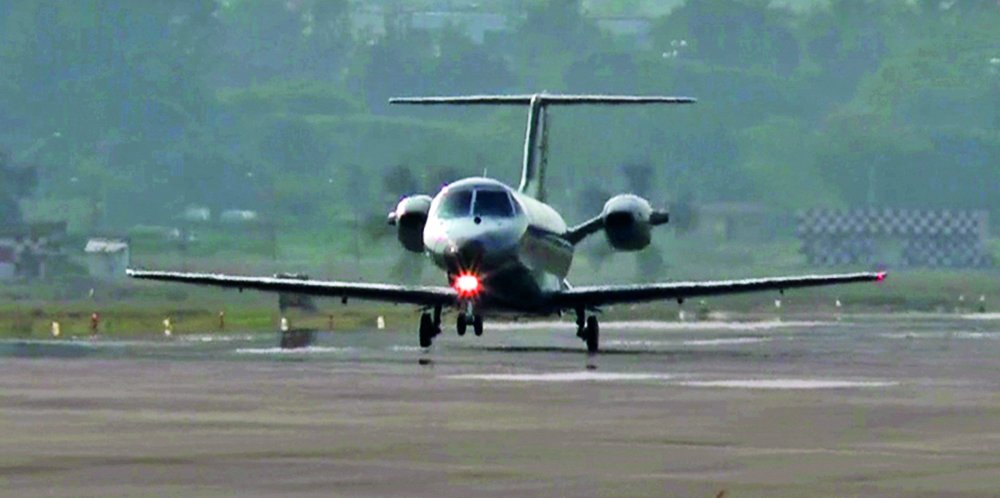 Aircraft SARAS PT1N (14 seater) designed and developed by CSIR-NAL, a front-line aerospace research laboratory, has successfully made its maiden flight on 24.01.2018. The flight was commanded by Wg Cdr U P Singh, Gp Capt R V Panicker and Gp Capt K P Bhat from IAF-Aircraft and Systems Testing Establishment (ASTE).
The flight was piloted by Wg Cdr B Panicker, U P Singh and Group Capt K P Bhat; pilots Aircraft and Systems Testing Establishment (ASTE) twin-engine aircraft would be used for coastal surveillance as well as training young cadets on transport flying.
The aircraft took off at about 11 AM from HAL airport and flew for about 40 minutes at the maximum height of 8500 ft at the speed of 145 knots. The chase aircraft (KIRAN) was piloted by Gp Capt Badrish and telemetry was commanded by Gp Capt Naraynen, Wg Cdr Pandey and Wg Cdr R Sridhar (Retd). All the system parameters are found normal. It was a text book flight. CSIR-NAL sources said that this was the culmination of the efforts of team CSIR-NAL, IAF-ASTE, CEMILAC and DGAQA.
The primary objective is to evaluate the system performance in about 20 flights and the data collected from this shall be used to freeze the design of production version aircraft. The production version aircraft will be of 19 seat capacity and will undergo civil / military certification.
The flight was monitored by Shri Jitendra J Jadhav, Director, CSIR-NAL, Air Marshal Upkarjit Singh, Director, IAF-PMT & Chairman, FRRB, Air Vice Marshal Sandeep Singh, Commandant, ASTE, Shri P Jayapal, Chief Executive CEMILAC and Shri V L Raja, ADG-AQA.
The NAL Saras is the first Indian multi-purpose civilian aircraft in the light transport aircraft category as designed by the National Aerospace Laboratories (NAL).The Saras (PT-1N) plane made its maiden flight of 40 minutes on 24 January, 2018.