LARGEST PROTEST SHOW OF TRADERS AGAINST SEALING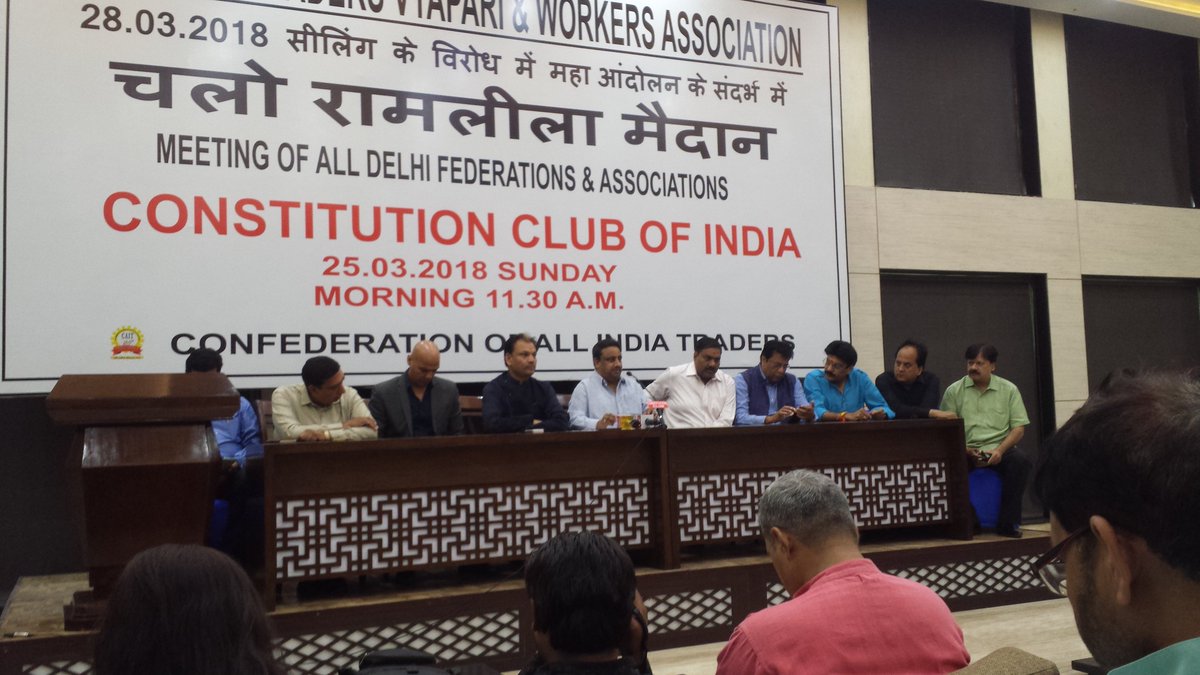 DELHI TRADE BANDH & MEGA RALLY ON 28 MARCH AT RAMLILA GROUND
More than 7 lakh business establishments and more than 3000 commercial markets of Delhi shall remain completely closed on 28th March protesting against arbitrary sealing in Delhi and will hold a Mega Rally at historic Ramlila Ground demanding the Government not to sit as silent spectator and come in action to protect the trade and traders of Delhi from the clutches of sealing. Not only the traders but their employees will also participate in the Rally beside children and female members of traders families. The traders across Delhi will not send their children to School-Colleges on 28th March as a mark of protest. The Confederation of All India Traders (CAIT) & All Delhi Traders, Vyapari & Workers Association have jointly organised the Rally and has given a call of Delhi Trade Bandh.
CAIT Secretary General & Chairman of the Rally Mr. Praveen Khandelwal at a Press Conference today informed that trade & commerce in Delhi shall remain completely closed on 28th March and both wholesale and retail markets will observe Trade Bandh. More than 3000 commercial markets of Delhi including Chandni Chowk, Connaught Place, Karol Bagh, Sadar Bazar, South Extension, Rajouri Garden, Kamla Nagar, Vikas Marg, Greater Kailash, Chawri Bazar, Ashok Vihar, Rohini, Kirti Nagar, L:ajpat Nagar, Amar Colony, Kalkaji, Janakpuri, Laxmi Nagar, Gandhi Nagar, Krishna Nagar, Mandoli, Loni Road, Paharganj, Green Park,Kashmiri Gate etc. will remain closed. The transport & logistics sector has also extend its support and all Transport Companies shall also remain closed.
Mr. Vinod Patel & Praveen Goel, Convenors of the Rally informed that preparations of the Rally at Ramlila Ground is at full swings. Separate arrangements have been made for children & Women to sit at the Rally. More than 300 volunteers will be deployed at different places in Rally to command the security. Large number of CCTV Cameras have also been placed . Adequate arrangements of drinking water has been made at the Rally. Several LED Screens have also been installed. Traders from across Delhi will come in form of procession in the Rally.
Mr. Khandelwal said that the Monitoring Committee has adopted an arbitrary mood in matter of sealing and over reaching its powers.The trades have been denied the benefit of fundamental provisions of MCD Act,1957. Neither any show cause notice nor opportunity of placing defence is being given to traders. The MCD officials are working like puppets and defying their own MCD Act.There is a state of confusion & terror due to sealing in Delhi. The trade and economy of Delhi is being badly affected and last three months business in Delhi has been dropped by 40% and if situation continues, the  traders in Delhi will left with no other alternative but to shift their business to neighbouring cities which will cause huge revenue loss to Delhi Government and infrastructure of Delhi will be greatly destroyed.
The traders have demanded the Government to bring moratorium on sealing for at least one year in the wake of panic & great hustle -bustle of sealing and for that purpose a Bill in the current session of Parliament or an Ordinance should be brought immediately. On the other hand the Delhi Chief Minister should bring a Bill to stop sealing in Assembly and forward it to Centre for approval and also notify 351 Roads pending since a long time. The shops which have been sealed should be de-sealed immediately.
Mr. Khandelwal also said that all three MCDs are involved in a Conversion Charge scam and demanded the Central Government to institute an inquiry as to what happened of thousands of crores of rupees collected from the traders as Conversion Charges. It is noteworthy to mention that such amount was supposed to be kept in an Escrow Account and should have been spent on development of parking & infrastructure in the markets. Not even a single rupee has been spent on these activities and funds have been diverted for other purposes. Its a clear breach of trust and misappropriation of funds and as such inquiry is demanded and stern action should be taken against erring officials.