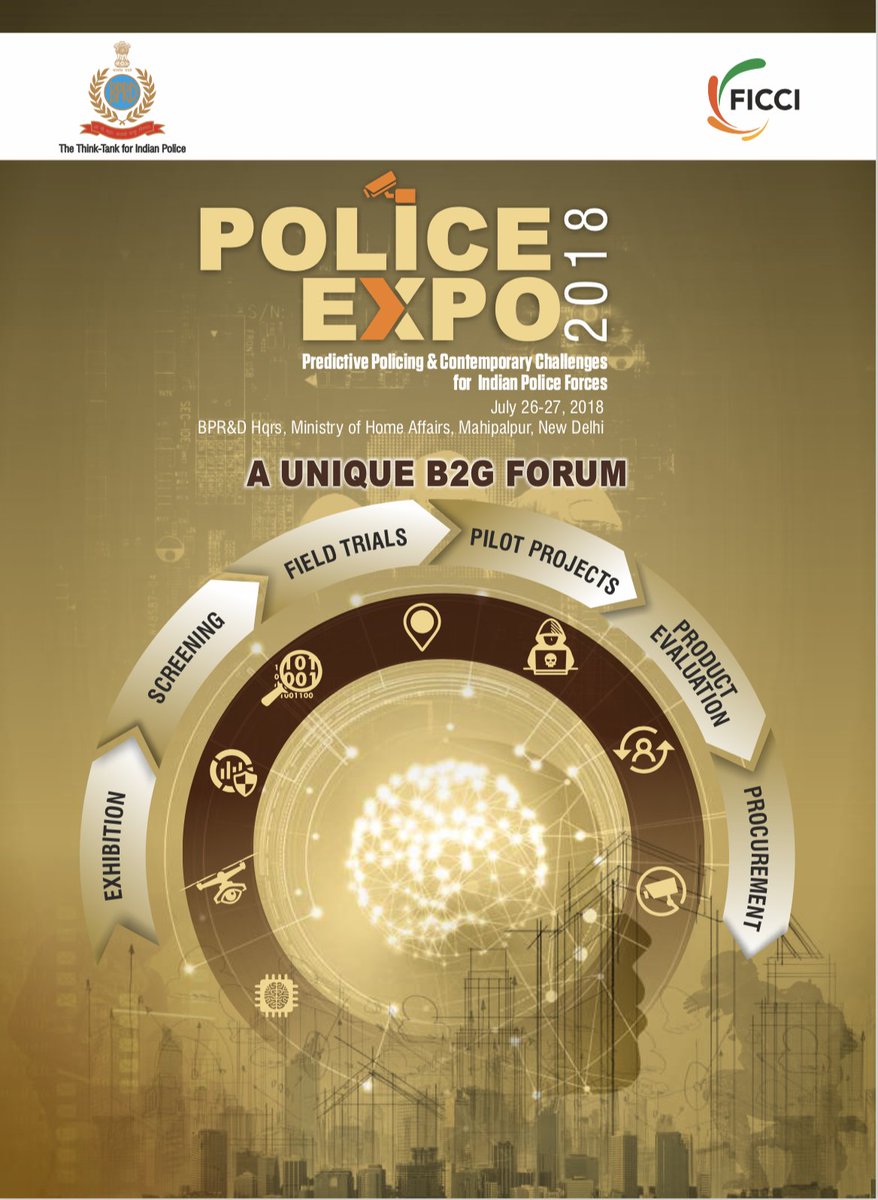 Police Expo 2018: Predictive Policing & Contemporary Challenges for Indian Police Forces
July 26-27, 2018; BPR&D Hqrs, Mahipalpur, New Delhi 
Greetings from FICCI ! 
I am pleased to inform you that FICCI in partnership with Bureau of Police Research and Development (BPR&D), Ministry of Home Affairs, Govt. of India is organising a two-day Police Expo 2018, with the theme 'Predictive Policing & Contemporary Challenges for Indian Police Forces' on July 26-27, 2018 at BPR&D Hqrs, Mahipalpur, New Delhi. The objective of this exposition is not limited to showcasing of technologies & solutions, but to go beyond that, and helpindustry in getting their products & technologies evaluated from an expert Screening Committee for subsequent trails / pilot project.
We are in process of setting-up Bureau's Expert Screening Committee which will evaluate products and technologiesof the exhibiting companies and facilitate meetings between Industry/ Solution Providers and user organisations(CAPFs & State Police Forces) to undertake field trials and pilot projects for better customisation and adoption.
The programme also aims at creating awareness among young Superintendents of Police from States and Commandants from CAPFs, regarding latest technologies in areas such as Artificial Intelligence; Predictive Policing / Crime Analytics / Big data Analytics; Geospatial Technologies; Cyber Crime; Surveillance Tracking & UAVs; CCTV Equipment, for effective delivery of Police Services to citizens. Some of the focus areas of the conference are as follows :
·         Technologies for Predicting Offenders, Predicting Perpetrator Identities & Predicting Crime Victims
·         Public Procurement in Internal Security – Way Ahead
·         Innovations in Homeland Security – Presentations by Young Minds
·         Next Generation Technologies for Homeland Security
·         Safe cities V/s Smart Cities
·         Talk by visionary Superintendent of Police officers
·         Predicting Cyber Crime Against Women
Enclosed are the following files for your reference:
Brochure of the Police Expo
Exhibition Form (In case you would like to exhibit during the Expo)
Product Form (To be shared with the Screening Committee and to be filled by the Exhibiting Companies)
Delegate Form (In case you would like to participate as a delegate)
There are limited partnership opportunities available; your office may contact us for further information / queries.
Look forward to your kind participation.
Best,
Sumeet Gupta
Senior Director