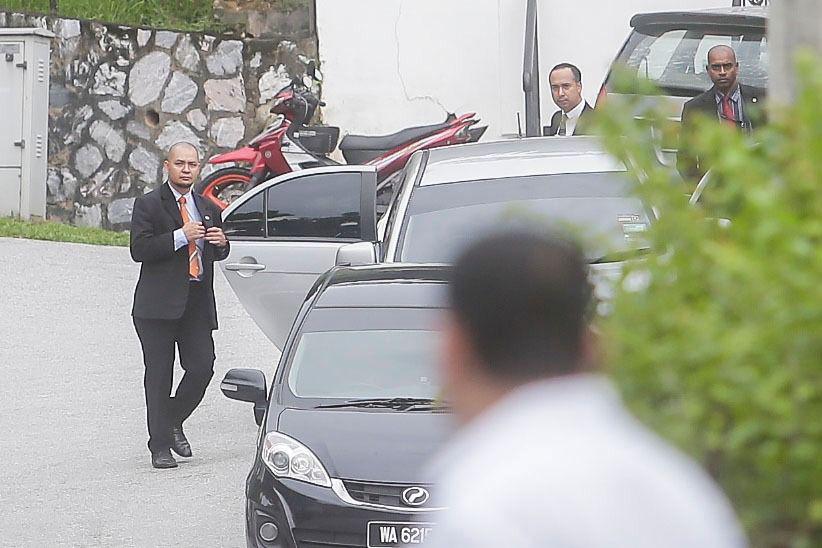 Former prime minister Datuk Seri Najib Razak arrested by the MACC. Three MACC vehicles entered his residence #Jalan Langgak Duta 2pm on Tuesday, in convoy he was carried to undisclosed destination to be taken to court on Wednesday -tomorrow for remand funds embezzlement he denies, no wrong doing. Former Malaysian Prime Minister Najib Razak was charged with corruption  for allegedly accepting millions of dollars in bribe money. He faces three counts of criminal breach of trust and one count of abuse of power. MrNajib has been accused of pocketing 10.4 million US dollar from the state development fund 1MDB. He has denied wrongdoing.
Datuk Seri Najib Razak arrives at the KL court, where he will be charged. Former PM Datuk Seri Najib Razak is expected to face at least 10 charges for CBT involving SRC International at the KL Sessions Court on Wednesday
Former Malaysian Prime Minister Najib Razak was granted bail on Wednesday after pleading not guilty to corruption charges. Attorney-General Tommy Thomas proposes a RM4m bail with two sureties for Najib.
Najib was charged with three counts of criminal breach of trust as well as using his position for graft in connection of 42 million ringgit (10.5 million U.S. dollars) from SRC International, a former unit of 1MDB, that was transferred into Najib's personal account.
Najib has pleaded not guilty to the charges. The judge set the bail at 1 million ringgit (247,000 U.S. dollars) and asked Najib to surrender his passports.
Najib has been under investigation related to 1MDB since losing the general elections in May, but has denied any wrongdoing.
He was arrested by Malaysia's anti- corruption body on Tuesday. His spokesman said Tuesday that the charges and other ongoing investigations against him were "political motivated" and the former prime minister will "clear his name in court."