dpradhanbjp: MSMEs are responsible for generating about more than 80% economy & economic opportunities in the world. While the world economies are following their own models. makeinindia has established India as a significant domestic & international market.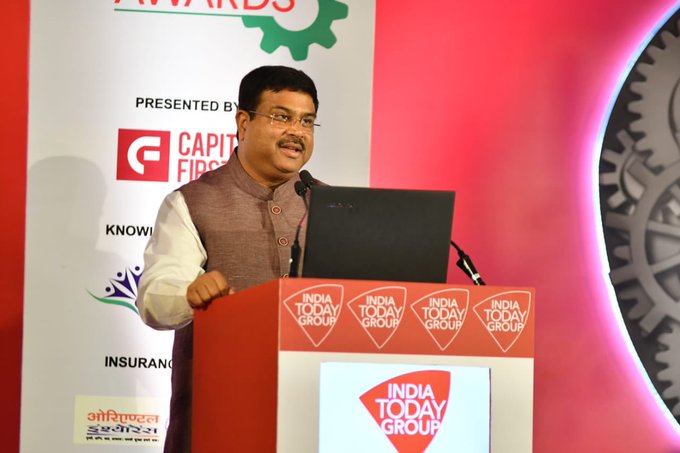 dpradhanbjp: India has always been home to innovation & entrepreneurship. Since 2014 our government has provided a new momentum to create more jobs & promote entrepreneurship through it's decisive approach & enhancing ease of doing business in India whi…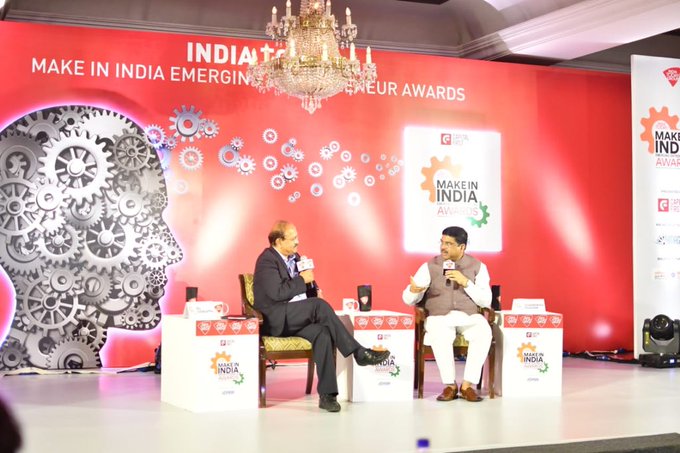 dpradhanbjp: Governments earlier were always seen as a regulator & not as a facilitator. The
#MakeInIndia
initiative has change this by bringing a paradigm shift in the way government interacts with various industries to facilitate job creation,foster in…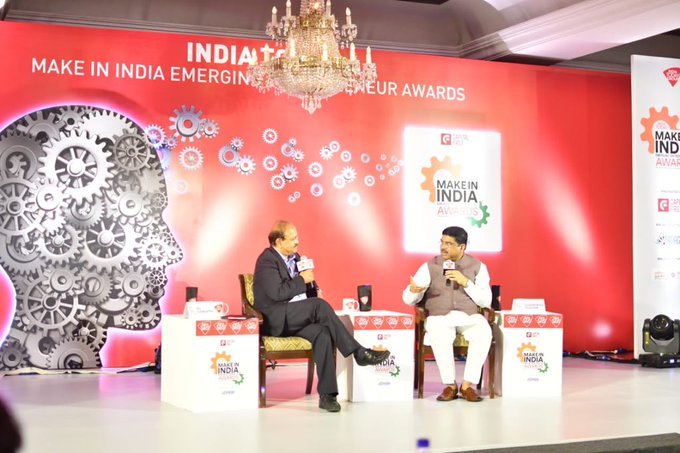 dpradhanbjp: Attended the "Make in India Emerging Entrepreneur Awards 2018" organized by IndiaToday. Thanked India Today group for acknowledging the efforts & innovation of Indian entrepreneurs & boosting their spirits with such stand out awards.
Dear Naresh Kumar Sagar,
We are pleased to confirm your participation at India Today Make in India Emerging Entrepreneurs Awards on 06th July, 2018 in New Delhi.
Venue: Taj Mahal Hotel, Mansingh Road, New Delhi,  (Map) 

Agenda :
Time
Details
10:00 AM – 11:00 AM
Registrations
11:00 AM – 11:10 AM
Welcome speech by Raj Chengappa, Editorial Director(Publishing), India Today Group   
11:10 AM – 11:50 AM
Key Note Address :Make in India : Playing for the long term
Speaker : Amitabh Kant, NITI Aayog
11:50 AM – 12:30 PM
Tapping Exports: What holds India Back
Speakers:

Ajay Sahal, Director General and CEO FIEO
Prof. N. R. Bhanumurthy, National Institute of Public Finance and Policy
Sachin Chaturvedi, Director General, Research and Information System for Developing Countries

12:30 PM – 01:10 PM
Start-ups are Stealing : Why They Need a Kickstart
Speakers:


Shantanu Deshpande, Founder, Bombay Shaving Company
Sanjay Sethi, Co-Founder, Shopclues
Sharad Sharma, iSpirit Foundation
Anu Acharaya, Founder and CEO, Ocimum Biosolutions 

01:10 PM – 02:00 PM
Lunch
02:00 PM – 02:10 PM
Special Address: Suresh Prabhu, Minister for Commerce and Civil Aviation 
02:10 PM – 02:20 PM
Role of Insurance in Changing Environment : Balwant Singh, Director, The Oriental Insurance Company Ltd.   
02:20 PM – 02:50 PM
The Tech Effect : Fewer Jobs or Better Work
Speakers:

Arun M. Kumar, Chairman and CEO, KPMG India
Dharmakirti Joshi, Chief Economics, Crisil
Dilip Chenoy, Secretary General, Federation of Chambers and Commerce and Industry   
Ashwani Mahajan, National Co-Convenor, Swadeshi Jagaran Manch  

02:50 PM – 03:30 PM
Skilling for a New World: Challenges of Changes
Speakers:


Satendra Singh, Head of Manufacturing Operation India, Nokia
Raj Nehru, Vice Chancellor, Haryana Vishwakarma Skill University & MD-Haryana Skill Development Mission ( Govt. of Haryana)
Atul Sobti, Chairman and MD, BHEL*
Jayant Krishna, COO, National Skill Development Corporation   

03:30 PM – 04:10 PM
Boosting India's Potential as an Investment Hot-Bed
Key Note Address : Deepak Bagla, MD & CEO, Invest India
Panel Discussion: Winner Speak: How We Made It: Trials, Tribulations, Triumphs
04:10 PM – 05:00 PM
The Road Ahead : Negotiating the Bumps
Speaker: Dharmendra Pradhan, Minister of Petroleum, Natural Gas and Skill Development
05:15 PM onwards
Awards Ceremony
Warm Regards
The India Today Group