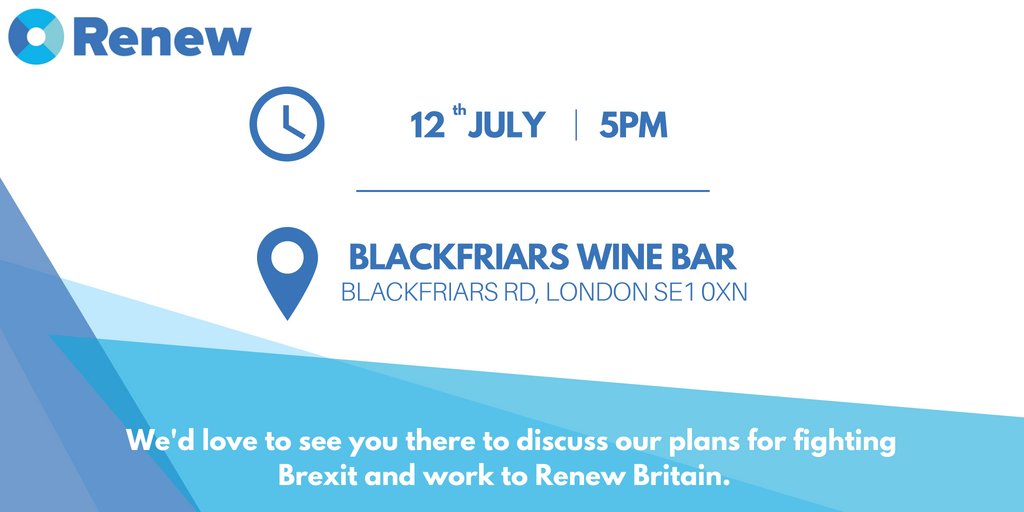 Dear Naresh Sagar
A personal note from our new Chief Executive
Welcome to our July newsletter.  We like to keep these e-mails short and to the point, so I've prepared a full CEO's update for members and supporters which you can read in full here.
If you are in or near Birmingham or London next week, please do pop along to one of the two events we're organising. We will be organising other events across the country soon.
We are actively seeking donations this month to help us prepare for what may be a very chaotic few months in the UK.  As a campaigning political party, we want to be ready to work alongside others like ourselves to hold both government and opposition to account this year.  Your financial support is genuinely important, please follow this link to donate now.
The more time passes and the more we learn about the Leave stitch-up, the more strongly I feel that history will smile on those who challenged the hubris and criminality which permeated their campaign.  We need to be ready to fight the Remain corner, if we are to be able to look our children in the eye.
I could go on. More in my full update!
Mark Kieran
Chief Executive,
The Renew Party
People's March
Over 250 Renew supporters attended the People's March. We had supporters from across the country, and even Terry Knott, our chief coordinator in France was there. We marched from Pall Mall to Parliament Square to the chant of 'Renew, Renew, stay in the EU!' 
In Parliament Square we heard speeches from Caroline Lucas,Vince Cable,Anna Soubry and Tony Robinson amongst others. If you have not yet signed the People's Vote petition then please do so to demand a People's Vote on the final deal.
Come and meet the Team
We will be visiting city centres and our Regional HQs over the summer, so please keep checking our social media channels and newsletters to find out our latest events.
We will be at Blackfriars Wine Bar in London this Thursday 12th July from 5pm, and in Birmingham on Saturday 14th July. Please click on the events to book your free ticket. We are also at Blackfriars wine bar every first Thursday of the month, so drop in for a chat.
Finally please check out our social media channels below and here is an example of the great work our in house design team are doing.
Kind regards,

David

David Britten

Director of Operations

0203 239 1692