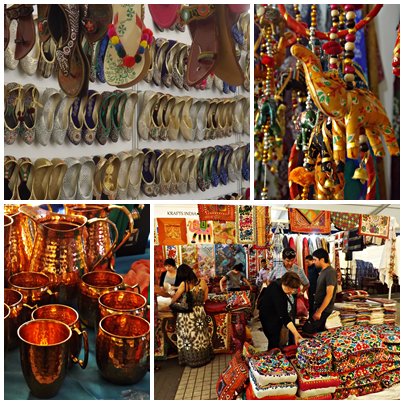 An Exclusive Exhibition of Indian Product & Services
Santiago Business and Conference Centre, Santiago, Chile
26th to 28- November, 2018
Dear Sir/Madam,
Greetings from PHD Chamber of Commerce and Industry!
PHD Chamber of Commerce & Industry in support of Department of Commerce, Ministry of Commerce & Industry, Govt. of India and in close association with Embassy of India, Santiago, Chile is organising "Festival De La India" – An Exclusive Exhibition of Indian Product & Services and Buyer Seller Meet at Santiago Business and Conference Centre, Santiago, Chile during 26th to 28- November, 2018.
Chile is considered South America's one of the most stable and prosperous nations and its economy is ranked as a high-income economy by the World Bank, with a GDP of US$ 277 billion in 2017 and per capita income of US$ 14,902. Chile has emerged as a strategic trading partner of India in Latin America. India's exports to Chile have shown an excellent growth from US$ 277 million during 2009-10 to US$ 674.34 million during 2016-17. Chile and India are poised on the verge of a new era of economic cooperation. Both countries aspire to sustained high economic growth. This shared aspiration between India and Chile provides the backdrop PHDCCI `Festival De la India' Show.
EXHIBITOR PROFILE

Agri / Processed Food Products
Agri Machinery / Equipment
Chemicals & Fertilizers
Electrical & Electronics
Engineering and automotive products
EPC companies
Gifts, Handicrafts
Home Textiles & Houseware

Imitation Jewellery
Leather & Leather Products
Medical equipment & devices
Mining & equipment
Packaging
Pharmaceuticals & Bulk Drugs
Sports Goods
Textiles & Apparel
*This List is illustrative
PARTICIPATION COST:
To provide an impetus to the growing trade between India and Chile, a Special package for participation/Sponsorship is being offered.
SPECIAL PACKAGE

Stall Area

Rate

Package

9 sq mt (3X3)

Rs. 98,000

Furnished Booth
4 Nights & 5 Days Stay for 1 person on Twin Sharing Basis
Visa invitation letter
Note:-The Participation Charges are Non refundable 
Would you like to participate in the event, you are kindly requested to send the duly filled Registration form at the earliest.
Warm Regards
Naresh Kumar
Executive Officer – Exhibitions
PHD Chamber of Commerce and Industry
PHD House, 4/2 Siri Inst. Area
August Kranti Marg New Delhi 110016 , India
Tel: +91 49545454 Ext 248  Fax: +91 11 26855450
Mob-+919958633942
Web: www.phdcci.in