Nice to see Prime Minister Stefan Löfven again today at the @NATO Summit. Sweden has ratified the CETA trade deal, and we discussed how it's already benefitting people in both our countries, as well as how we can collaborate on advancing gender equality & encouraging innovation.  This Comprehensive Economic and Trade Agreement (CETA) is a free-trade agreement between Canada, the European Union and its member states. This is  provisionally applied, so the treaty has eliminated 98% of the tariffs between Canada and the EU.The negotiations were concluded in August 2014. All 28 European Union member states approved the final text of CETA for signature, with Belgium being the final country to give its approval.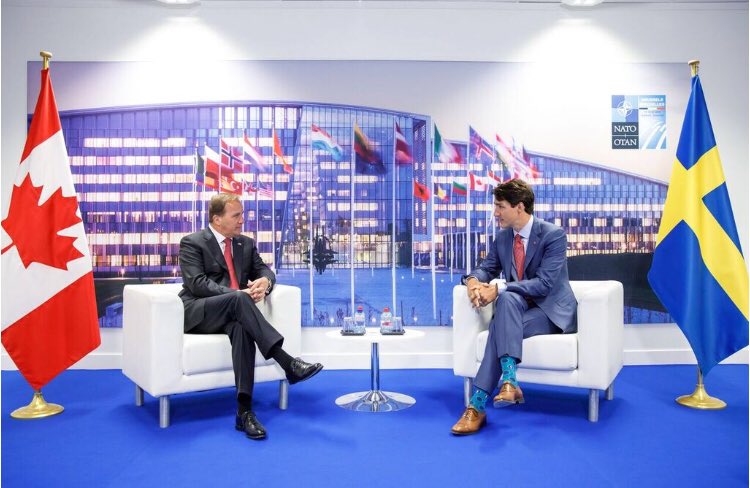 North Atlantic Treaty Organization (NATO) summit at  new headquarters in Brussels from July 11-12,  there barbs on unease between Washington and its European allies on matters pertaining to  defense spending to Donald Trump's tariffs. NATO members have also expressed concern over reports that Trump is considering withdrawing some of the US troops currently stationed in Germany.
NATO summit has  one thing in common to remain united from last seventy years they have been global force, despite a row within its ranks that needs urgent, diplomatic churning, the 'defensive' alliance is still united and ready to adopt another set of measures aimed against Moscow.
Trump,  predictably, used the opportunity to renew his push for increased spending by other NATO members and further pressured the US allies amid an ongoing row over trade. He also did not mince any words as he lashed out at his European partners.
NATO summit has demonstrated that the contradictions between once-close allies run in deep water. NATO Secretary General Jens Stoltenberg desperately sought to keep up appearances, US President Donald Trump, the leader of a country that has always been the bloc's top force effectively launched an attack against his own allies in an attempt to make them contribute more to the alliance.
"Many countries are not paying what they should and, frankly, many countries owe us a tremendous amount of money from many years back," Trump said, during his breakfast with Stoltenberg, calling the US NATO allies "delinquent" and arguing that Washington has effectively had to "pay for them."
NATO Secretary General Jens Stoltenberg conceding that "it is not written in stone that the transatlantic bond will survive forever."
The  ongoing tussle between German and US on thrift spending and further aggravating with reports of reducing cooperation on military front. Trump even floated the idea of a large-scale withdrawal of the 35,000 US troops currently stationed in Germany, in protest over Berlin's inadequate financial contribution towards the bloc's budget. The threat  real or imagined has sent Europe scrambling to reassess the wisdom of relying so heavily on the United States for its collective defense.
UK Defense Secretary Gavin Williamson wants Germany to buy more military transport, including helicopters, ferries and trucks, in order to appease Washington's demands. German Chancellor Angela Merkel pledged over the weekend that Berlin would increase defense spending to meet the NATO-recommended target of 2 percent of  GDP.
Turkey's role in the defensive club will likely be a topic of discussion during the summit. After all, US Ambassador to NATO Kay Bailey Hutchison has already accused Moscow of trying to coax Ankara out of the alliance.
"I do think Russia is trying to flip Turkey. They're trying to flip many of our allies," Hutchison said during an interview on Sunday, exemplifying the atmosphere of paranoia that will hang over the summit.
NATO summit Trump said Germany is 'a captive of Russia.' German news has a response. Further President said German the main buyer of Russian energy and foot the bill to his economy. Media tweets, 'GERMANY IS A CAPTIVE OF #RUSSIA' US President #Trump starts a new war of words with #Germany at #NATO Summit in #Belgium.
Billions of additional dollars are being spent by NATO countries since my visit last year, at my request, but it isn't nearly enough. U.S. spends too much. Europe's borders are BAD! Pipeline dollars to Russia are not acceptable!
Afghanistan's President Ashraf Ghani will be present for the second day of talks, and Nato's Secretary-General Jens Stoltenberg hopes the bloc will agree to fund Afghan security forces until 2024.
Britain's Prime Minister Theresa May has already confirmed that the UK will send 440 more troops to serve in non-combat roles in Afghanistan.
The US also committed an extra 3,000 troops to support Afghan forces in September 2017 – bringing its total to 15,000.
US officials have said Washington is planning a strategic review, a year after Mr Trump agreed to remain involved in the 17-year conflict.Reports BBC