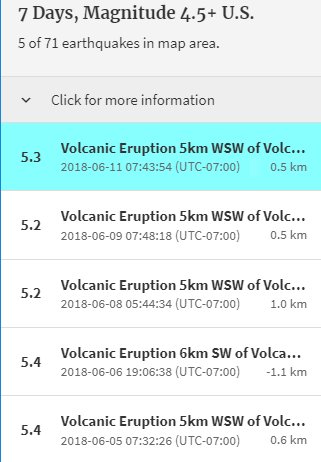 Seismic activity in the region has been high since early May, as eruptions continue at Kilauea.The temblor to strike at the summit happened about 2:42 p.m. Thursday, but no tsunami was generated.
Large earthquakes — most above a magnitude of 5.0 at the summit — have continued to rattle the region in recent weeks at Kilauea's volcanic activity continues. All of the quakes have been caused by explosive eruptions.
U.S. Geological Survey said it's no coincidence that the uptick in large quakes and steam explosions is happening almost routinely.
Over a 24- to 36-hour period, small earthquakes are building up until an ash explosion occurs at the summit, experts say.
"Following the explosion at the summit, the seismicity will sharply drop off, and then gradually begin to build up as we approach the next summit explosion," said Alex Demas, of the USGS.
Demas said these are not traditional earthquakes, like where rock breaks along a fault line, but it's what he calls a pressure wave from the explosion.
"So as long as the summit explosions continue, there likely will be earthquakes and ground shaking associated with the explosion," he said.
Most are centered at the summit of Kilauea volcano, and the vast majority are small (under magnitude 2.5).
But there have also been a number of larger quakes.
The biggest quake so far associated with ongoing eruptions of Kilauea was on May 4, when a 6.9-magnitude tremor shook the island. The temblor was felt as far away as Oahu, and caused some minor damage.