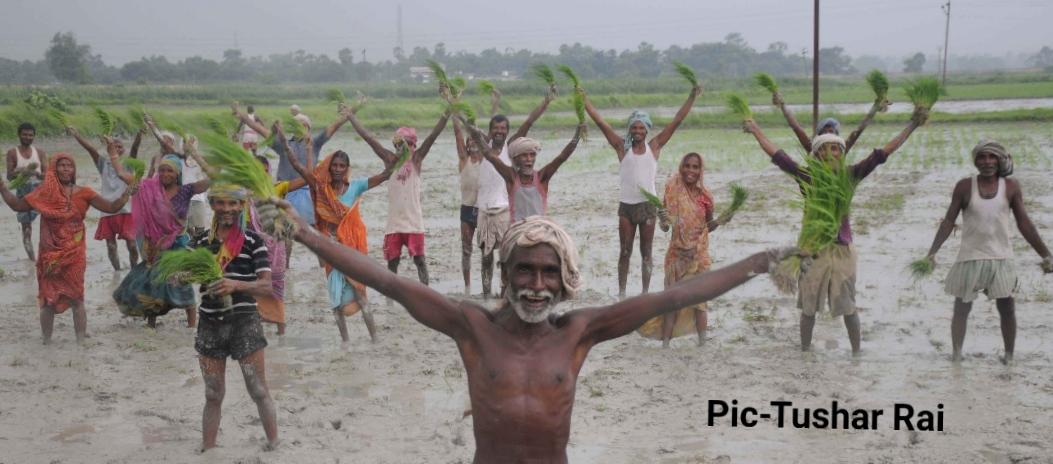 July11, 2018 (C) Ravinder Singh progressindia2015@gmail.com
As on July05,2018 out of 67.25 lakh hectares of paddy planting in India Punjab contribution was 19.06 lakh hectares i.e. 28% of India for 1.6% land area and 67% Kharif Target area of 29 Lakh Hectare for Punjab and Punjab is not a traditional paddy growing state – labor from Bihar & Jharkhand Sow Paddy Seedlings only about 2m Farm Labor rapidly planted the seedlings – more than 90% of rice produced is exported. Normal Paddy growing area in Kharif is 395.53 lakh hectares.
How can farmers get good paddy yield?
On the other extreme Bihar a traditional paddy state reported just 1.64 lakh hectare which is just 5% of the 34 lakh hectares of Target Areaunder paddy for 2018-19 Kharif season. Jharkhand too reported similar performance – Paddy Target area 18 Lakh Hectare, Sowing 0.9 lakh hectares – Exact 5%.
Out of 395.53 lakh hectare normal or 373.79 lakh hectares of Kharif Target are sowing recorded was only 67.25 lakh hectare which is 18% on July05.
Normal Pulses area is 111.29 lakh hectares but sowing reported is slightly more than normal for the day 33.60 lakh hectare is 30.2%.
Gujarat reported area under Pulses just Rs.0.318 lakh hectare against seasonal normal of 4.886 lakh hectares.
Normal Oilseeds area is 184.19 lakh hectares but sowing is less than normal for the day just 63.6 lakh hectares.
Gujarat reported area under Oilseeds at just 1.660 lakh hectares against 23.931 lakh hectares seasonal area under Oilseeds. Record sowing was 15.080 in 2013.
Normal Cotton area is 119.75 lakh hectares but sowing is just 54.56 lakh hectares less than normal for the day.
Gujarat reported 4.929 lakh hectares against 25.79 Normal Seasonal sowing.
Sugarcane area is just about normal.
In last 5 years Population of India has grown by say 10% but Food production is zero – negative factoring in for Population growth.
Monsoon Rainfall this years is (-) 9%.
http://agricoop.nic.in/sites/default/files/Cwwg%20data%20as%20on%2006.07.2018.pdf
Source
Ravinder Singh, Inventor & Consultant, INNOVATIVE TECHNOLOGIES AND PROJECTS
Y-77, Hauz Khas, ND -110016, India. Ph: 091- 8826415770, 9871056471, 9650421857
Ravinder Singh* is a WIPO awarded inventor specializing in Power, Transportation,
Smart Cities, Water, Energy Saving, Agriculture, Manufacturing, Technologies and Projects