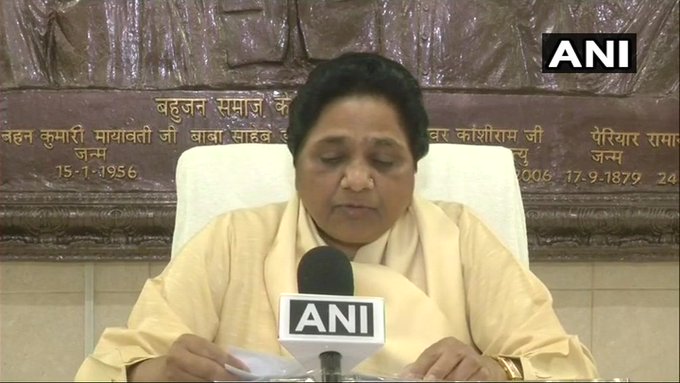 BJP govt has started inaugurating projects in UP only now, when general elections are near. PM has laid foundation stone of Purvanchal Expressway today. Had they done this in 2014 itself, then instead of laying foundation stone today he would've been inaugurating it: Mayawati,BSP
Prime Minister Narendra Modi will dedicate to the nation, the Bansagar Canal Project in Mirzapur today. The project will provide a big boost to irrigation in Mirzapur and Allahabad districts. On the second day of his two day visit to Uttar Pradesh, Prime Minister will also lay the Foundation Stone of the Mirzapur Medical College and dedicate a bridge constructed on the River Ganga at Balughat, Chunar connecting Mirzapur and Varanasi. He will also address a public meeting at Chandaipur outskirts of the city.
On the first day of his visit, Prime Minister addressed a gathering of intellectuals at Varanasi yesterday. A book 'Meri Kashi' based on the developments of the temple town was also released by the UP Chief Minister Yogi Adityanath during the function. In a late night tour, Prime Minister reviewed the ongoing development projects in Varanasi, officials said. He also paid obeisance at the Kashi Vishwanath temple and visited the city town hall and inspected the heritage walk in musicians colony.
Earlier, Prime Minister laid the foundation stone of Poorvanchal Expressway at Azamgarh and inaugurated the Varanasi City Gas Distribution Project and Varanasi-Ballia EMU train. He also laid the foundation stones of Panch Koshi Parikrama road, an International Convention Centre and several other projects under the Smart City Mission and Namaami Gange Mission in his Parliamentary Constituency.
Prime Minister also addresed public rallies in Azamgarh and Varanasi. He described the occasion as the beginning of a new chapter in the development of Uttar Pradesh, and said, development of the eastern part of the country is one of the top priorities of his government. On the occasion, Mr Modi also announced a three day conclave of Non Resident Indians to be held at Varanasi from January 21 to 23 next year and called upon the residents of Varanasi to extend warmest welcome to the NRI during the conclave.
AIR correspondent reports that it will be Prime Minister Modi's third visit to Mirzapur. Bansagar Canal Project being dedicated to the Nation by him has been constructed with the cost of about 3400 crore rupees. This project will provide a big boost to irrigation in the Mirzapur and Allahabad districts and about two Lakhs farmers will be benefited. Mr Modi will also lay the Foundation of two bridges on local river Belan.
Construction of  both the bridges are much awaited demands of villagers of Halia block of the district for better transportation particularly in rainy season. Elaborate arrangements have been made for PM's Public meeting under the supervision of local MP and Union Minister Anupriya Patel. water proof pandal has been erected at the venue.