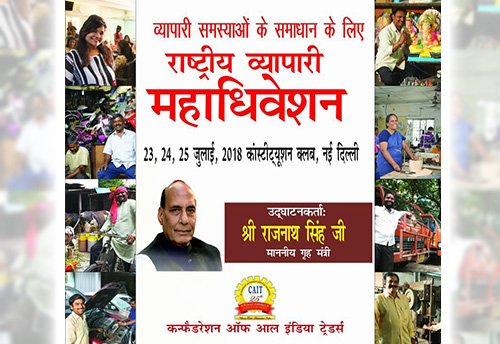 RAJNATH SINGH TO INAUGURATE- SEVERAL OTHER MINISTERS WILL ATTEND
In the backdrop of turbulent situation of retail trade in the Country, the Confederation of All India Traders (CAIT) is holding its three days National Traders Conclave on 23 to 25 July,2018 at New Delhi. Home Minister Shri Rajnath Singh will inaugurate the Conclave on 23rd July at Constitution Club at New Delhi. About 1500 prominent trade leaders from all over the Country shall be attending the Conclave and will discus various issues concerning the retail trade.
CAIT National President Mr. B.C.Bhartia & Secretary General Mr. Praveen Khandelwal informed that the Conclave will held different sessions on all three days to discus individual issues. Several other senior Ministers of the Union Government including Defence Minister Mrs. Nirmala Sitharaman, Textile Minister Mrs. Smriti Irani, Commerce Minister Mr. Suresh Prabhu, HRD Minister Shri Prakash Javedkar & Urban Development Minister Shri Hardeep Puri will be attending the Conclave in different sessions and shall talk to the trade leaders. Invitation has also been extended to Finance Minister Shri Piyush Goyal,  Information Technology Minister Shri Ravi Shankar Prasad, Consumer Affairs Minister Shri Ram Vilas Paswan, Petroleum Minister Shri Dharmendra Pradhan also.
Both Mr. Bhartia & Mr. Khandelwal said that the trade leaders from all States will deliberate on various core issues concerning trade & commerce including simplification of GST, Implications of Walmart-Flipkart deal on retail trade,Need for a Policy for E Commerce, FDI in Retail Trade, issue of sealing of shops in Delhi, Need of amendments in Food Safety & Standards Act, upgradation & modernisation of existing retail trade, Emergence of Digital Payments & digitalisation in current business format, Ways & means for easy availability of credit to traders, Need for passing of  Consumer Protect Bill in Parliament, upgradation of textile trade, job opportunities in retail trade, implications of plastic ban in different States,  need of effective distribution system etc. Post Conclave, the CAIT will submit its recommendations to Government for implementation.