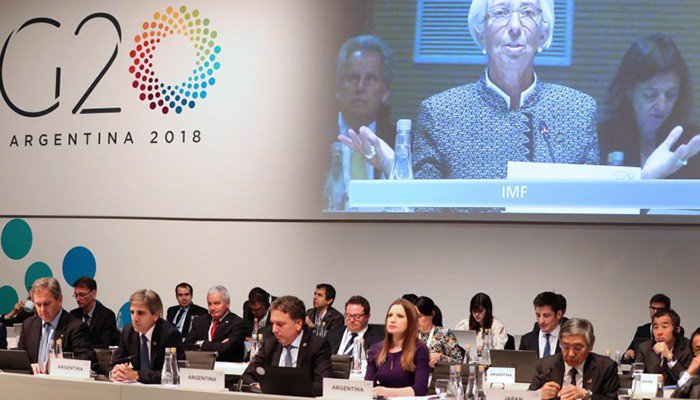 A meeting of officials from the world's largest economies concluded here Sunday with a communique calling for greater dialogue amid heated trade tensions between China and the U.S. The statement also reaffirmed the spirit of the G-20 summit in Hamburg in 2017, where leaders agreed to combat protectionism in a rare break with the U.S.
Trade restrictions imposed by Washington drew criticism at the weekend meeting. Officials said in the communique that, while economic growth remained firm, "heightened trade and geopolitical tensions," among other factors, were creating downside risks over the short and medium term. They also recognized "the need to step up dialogue and actions to mitigate risks," the document said.
The decline of emerging-market currencies another pivot of discussions, as officials feared market turmoil would further roil a global economy already contending with a trade war.
"Currency depreciation in emerging economies, including China, is inviting capital outflows, creating risk in financial markets," Japanese Finance Minister Taro Aso said on Saturday. Aso met with U.S. Treasury Secretary Steven Mnuchin on Sunday.
The yuan reached 13-month-low levels against the dollar on Friday. Many believe Beijing was allowing the Chinese currency's slide to soften potential economic shocks from the escalating Sino-American trade war.
Washington is irked by the yuan's recent weakness. Mnuchin told reporters on Saturday that the U.S. was monitoring the yuan's depreciation closely to see whether it  was the result of currency manipulation or market forces. Chinese officials brushed off the allegation, saying the yuan's value was based on supply and demand.
The International Monetary Fund has projected global economic growth of 3.9% for 2018. But "in the worst-case scenario under current measures" in the U.S.-China trade war, GDP could take a hit "in the range of 0.5%," IMF Managing Director Christine Lagarde told a news conference. Currency instability would likely worsen any shock.
In addition to China, many emerging economies have seen their currencies depreciate after failed attempts to defend them. Several countries aggressively borrowed dollars to take advantage of low U.S. interest rates. But the Federal Reserve is stepping up the pace of rate hikes, leaving borrowers with a heavier burden, and capital is now flowing out of these countries as investors follow higher yields.
G20 shows the Managing Director of the International Monetary Fund (IMF) Christine Lagarde (on screen), participating in a meeting of finance ministers and the governors of the Central Banks of participating states.
Europeans press for digital tax at G20 meeting European finance leaders called for progress on global rules to tax the digital economy at a meeting of G20 finance ministers and central bankers in Argentina on Sunday, putting them at odds with U.S. counterparts.
European finance leaders called for progress on global rules to tax the digital economy at a meeting of G20 finance ministers and central bankers in Argentina on Sunday, putting them at odds with US counterparts.
The final communique reaffirmed a commitment to address the impacts of the shift to a digital economy on the international tax system by 2020, without giving more details.
The European Commission, the executive arm of the European Union, proposed rules earlier this year to make digital companies pay more tax, with US tech giants such as Alphabet's Google, Facebook and Amazon set to foot a large chunk of any bill.
Some 200 companies would fall within the scope of the new tax, European officials said at the time, estimating additional annual revenues of about 5 billion euros ($6 billion).
Major digital companies had "to pay their fair share of tax, because basically what we are talking about here is fairness," European Commissioner for Economic and Financial Affairs Pierre Moscovici told reporters at the G20 meeting.
He said he was calling for a turnover tax to be adopted before the end of the year as an interim solution.
However, some EU members have voiced concerns their companies could be affected by such a tax and international partners may respond with retaliatory measures.
"One of the big challenges is that taxation of the digital economy is mostly of course a taxation of American companies – because they are the key players in the world – so the United States feel that this is an attack concerning their digital economy, which it isn't really," European Council representative to the G20 Hubert Fuchs said on the sidelines of the meeting.
The US delegation was not immediately available for comment. US Treasury Secretary Steven Mnuchin said in a statement earlier this year that he "firmly opposes proposals by any country to single out digital companies," noting that those companies were key contributors to the U.S economy.
Australia Treasurer Scott Morrison said the G20 discussions were useful because they established the root of the problem: that "no one knows" how to measure for tax purposes the value of the data users of social media services like Facebook create outside of the countries where those companies are based.
He said if those technical issues were not resolved, more countries would start taking "interim measures."
"We're not convinced at this point about the efficacy of those interim measures – which is basically a sales tax on digital advertising," Morrison said. "It is more important to focus on those technical issues rather than the pot-of-gold approach, which is how much revenue can be raised."
The European Commission wants a long-term, global solution based on a new method of calculating tax rates but has pushed in the meantime for the revenue tax to recoup revenues lost by EU states to large digital firms, officials said.
Implementing "fair taxation of digital giants" would also be a way of "proving that Europe is united and strong" at a time when the region's leaders feel pressured by the administration of US President Donald Trump, a senior European official said on the sidelines of the G20 meeting.
"We cannot accept that our SMEs (small and medium enterprises) have a level of taxation 40 points higher than the level of taxation of internet giants," said the official, who requested anonymity to speak candidly about the talks.
The EU's proposed levy on corporate turnover would be a major shift from existing rules, whereby companies are charged on their profits and pay no tax if they report losses.
"Taxation should be where the moneymaking is and if the digital economy is making the money all over the world it doesn't really make sense if they only will declare their income in the United States," said Fuchs, who is also Austria's state secretary for finance.