​​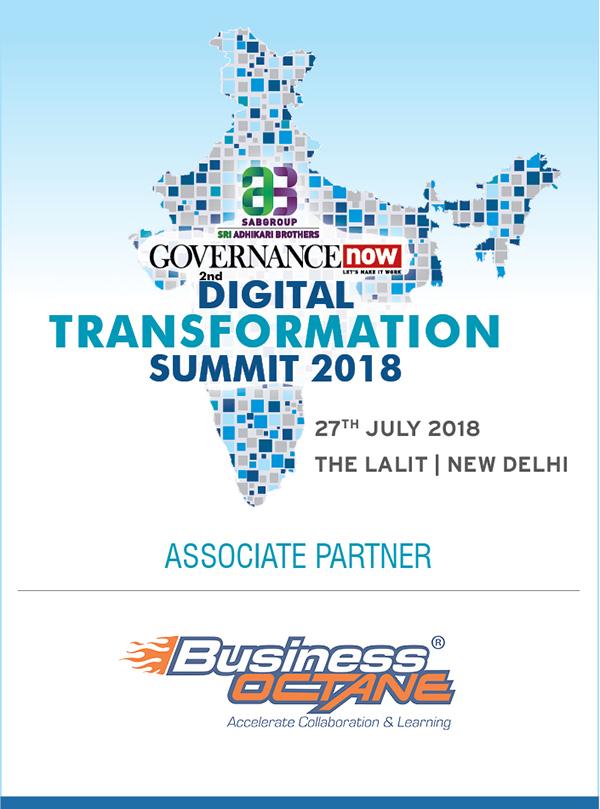 ​
Invitation: Governance Now Digital Transformation Summit 2018 | 27th July 2018 | The Lalit, New Delhi
​
In partnership with NITI Aayog; Ministry of Electronics and IT, and  Smart Cities Mission, Ministry of Housing and Urban Affairs, Government of India, Governance Now 2nd Digital Transformation Summit is on 27th July 2018, The Lalit, Barakhamba Road, New Delhi.
It is my pleasure to invite you as special guests to attend this important, high-level summit.
The Summit will enable governments, user groups and industries to address technology, regulatory and public-policy priorities in order to enable more effective service delivery and transforming Governance in the country. The Centre, State Government, private-sector enterprises from the world are collaborating for the enabling services, and socio-economic development. The invitation-only gathering 2nd Digital Transformation will have discussion and exploration of the future strategy for the coordination and integration of various government schemes and plans.
Key dignitaries at the Conference
Shri S.S. Ahluwalia, Hon'ble Minister of State, Ministry of Electronics and Information Technology, Govt of India
Shri Amitabh Kant, CEO, NITI Aayog
Shri Suresh Chandra, Secretary, Department of Legal Affairs, Ministry of Law and Justice, Govt of India
Prof Ashutosh Sharma, Secretary, Department of Science & Technology, Govt of India
Dr. Arun Kumar Panda, Secretary, Ministry of Micro, Small and Medium Enterprises, Govt of India
Dr. A B Pandey, Chief Executive Officer, UIDAI
Shri Prakash Kumar,   CEO, Goods and Service Tax Network (GSTN)
Shri Sanjay Jaju, Joint Secretary (DIP), Department of Defence Production, Ministry of Defence, Govt of India
Shri Lav Agarwal, Joint Secretary, Ministry of Health and Family Welfare, Govt of India
Shri Diptiman Das, Chairman and Managing Director, EdCIL
Shri N Kashinath, Chairman & Managing Director, RailTel Corporation
Shri Mukesh Nigam, Managing Director, CRIS
Dr Muktesh Chandra, Director General of Police, Goa Police
Shri Purushottam Sharma, ADGP (CP &PR), Madhya Pradesh Police
Shri Sanjay Sahay, Additional Director General, Karnataka Police
Dr Prashun Gupta, DIG and CISO, National Crime Record Bureau
Sarvesh Singhal, IFS, Special Secretary, IT and e-Governance, Government of Jharkhand, Chief Executive Officer (CEO), JAP-IT), Ranchi
Shri Ajay Chagti, Special Secretary-IT, Government of NCT of Delhi
Dr K R Murali Mohan, Scientist-G & Head – Interdisciplinary Cyber-Physical Systems Division, DST Ministry of Science & Technology, Government of India
Shri Golok Kumar Simli, Principal Consultant & Chief Technology Officer Passport Seva, Ministry of External Affairs Government of India
Shri Anand Pande, CISO, GSTN
​​
​
​Please do not hesitate to contact me or my colleague ​Srikant Kukreti , +91 ​9871023330, ​srikant@governancenow.com  if you require any additional information.
We look forward to your consent.
Best wishes,
Kailashnath Adhikari
Managing Director
Governance Now – A Sri Adhikari Brothers Enterprise