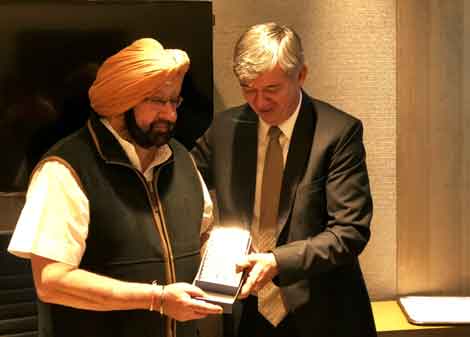 Interactive Session on Investment Opportunities in Punjab
1st August, 2018 at Hotel ITC Maurya, New Delhi
I am pleased to share that Government of Punjab through its Industrial and Business Development Policy-2017 has embarked upon a new journey to provide a conducive environment for Industry & businesses to prosper & progress in the state of Punjab.
The new Policy architected around eight core strategic pillars of Infrastructure, Power, MSME, Ease of Doing Business, Startup & Entrepreneurship, Skills, Fiscal & Non-Fiscal Incentives and Stakeholder Engagement is our endeavour to provide a holistic framework for sustainable industrial growth of the State.
As the state under the dynamic leadership of Capt. Amarinder Singh, Hon'ble Chief Minister, Punjab aims to unlock tremendous opportunities & potential that Punjab offers to businesses & Investors, Government of Punjab in partnership with Confederation of Indian Industry (CII) is hosting an exclusive Interaction on Investment Opportunities in Punjab as per the following schedule:
Date: Wednesday, 1st August 2018
Time: 1100 – 1400 Hrs
Venue: Hotel ITC Maurya, Kamal Mahal Hall, New Delhi
The objective of this session would be to interact with the larger Industry & Investor fraternity and sensitise them on the tremendous business & Investment opportunities that Punjab offers across different sectors.
Being one of the leading luminaires of Industry in the region, may I therefore request you to please join us at this important Interaction on Investment opportunities in Punjab, followed by lunch. The programme schedule is enclosed for your kind reference.
I hope you'll accede to my request favourably and join us at this important forum. You may send in your confirmations to CII Secretariat at chitralekha.palyal@cii.in
Look forward to hearing from you.
Regards
Chitralekha Palyal
===========================
Confederation of Indian Industry
Western UP Zonal Office
CMA Tower
A-2E, Mezzanine Floor, Sector – 24
Noida 201 301, Uttar Pradesh
Tel : 7060504058