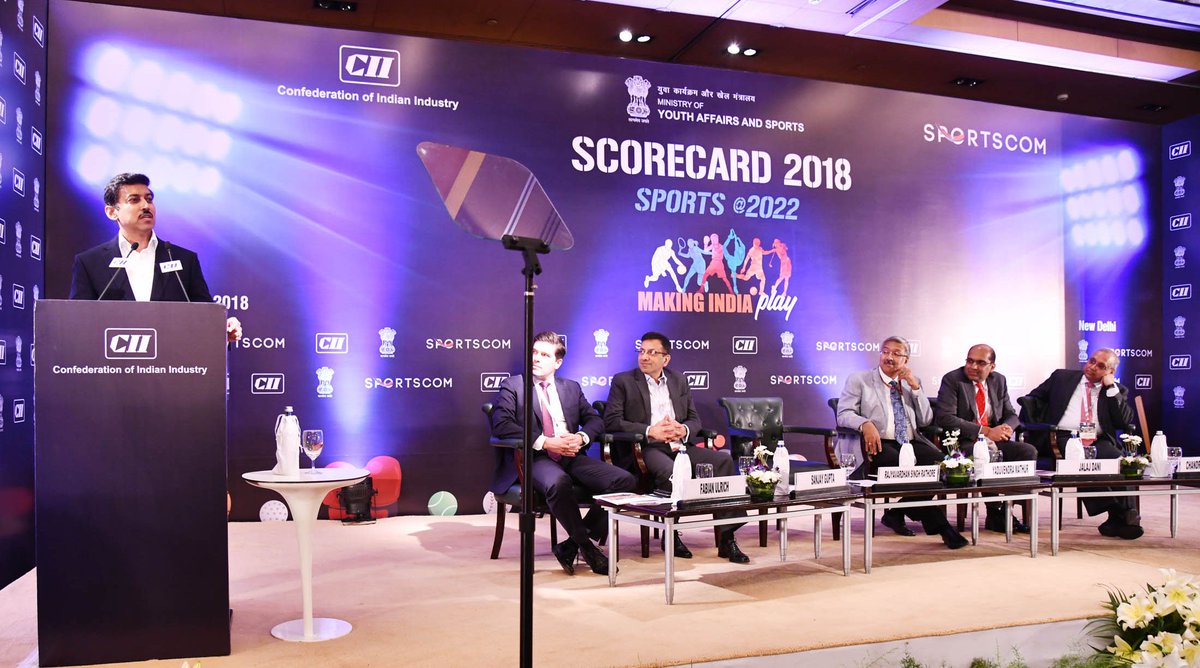 'Join the industry forces to pitch change in Sports': Minister of Sports & Youth Affairs.
Col. Rajyavardhan Singh Rathore, Minister of State (I/C), Ministry of Information & Broadcasting, Youth Affairs & Sports, Government of India today stressed on joining forces with the private sector to pitch in change in the country's sports scenario. 'There will be no dearth of funds in sports. The ministry is also committed to all initiatives and partnerships. We need to pursue Indian sports to a greater height', said the minister.
Speaking at the 4th SCORECARD conference organized by the Confederation of Indian Industry (CII), the Union Minister also stressed on the need of manufacturing Indian sports goods and make India a global sports manufacturing hub. 'As the sports industry is set to reach $73.5 billion by 2019, we need to take advantage of the emerging global business models and develop manufacturing strategy in India for sports business.' Towards this, a national Manufacturing Summit will be hosted this year where the Indian and global manufacturers would participate and inform government about making India the manufacturing destination, the minister added.
Quoting the Hon'ble PM, the minister said 'Jo Khelenge, Woh Khilenge' (he who plays will flourish). He added that Khelo India school games that allows youngsters to go out and play sports for a healthy new India, has already identified 724 talents of 16 to 17 years age for the next round of Khelo India.
The Government will soon come up with strategy to identify potential budding young players between 8 to 12 years age who will receive annual scholarships amounting to Rs 5 lakhs for 8 years.
The minister said the upcoming National Sports University will have considerable employment generation potential and will promote sports education in the areas of sports sciences, sports technology, sports management and sports training along with other sports disciplines.
The minister, during the SCORECARD conference released a report on Building a Sports Bridge with Education, Health and Tourism.
Mr Yaduvendra Mathur, Additional Secretary to Government in NITI Aayog said that the unflinching support of NITI will continue to remain aligned to the sports vision of the government as well as industry. 'There is need to extend coordination and cooperation and leverage each other's resources to adopt the best in class strategies from across the globe', Mr Mathur said. He also highlighted the action plan of NITI Aayog, "Let's Play" that stresses the key areas for improvement in sports with major focus on outcomes and achieve more medals in the 2024 Olympics.
The Chairman of CII National Committee on Sports & Managing Director of Star India, Mr Sanjay Gupta, highlighted the need for corporates to invest in sports during this theme address at CII SCORECARD 2018. 'Our vision is to enable 'Making India Play' with all 300 million children in the country to play for 60 minutes every day. Sports is on the move and I would urge all corporates to invest their CSR funds towards building sports capabilities and infrastructure', Mr Gupta said.
Mr Chandrajit Banerjee, Director General, CII, while reiterating the CII commitment for the sports sector shared aboutSportscom, the newly launched apex industry body to play a catalytic role in growing the business of manufacturers of sports goods and service providers to the sports sector, make them globally competitive and help them increase their share of the global market. Mr Banerjee also stressed upon collaborating with the two CII entities, India@75 and CII Foundation in line with the vision of new India@2022.
Dr Fabian Ulrich, Head of International Relations and Strategic Projects, German Football Association in his special address emphasized on sports promotion and the need to form a sports movement in order to implement sports, especially football in grassroots level, particularly with school kids. 'To realize the vision of making the 300 million kids play for an hour every day, sports promotion is the right approach', he added.
Mr Jalaj Dani, Co-Chairman, CII National Committee on Sports, reiterated the industry and CII's commitment for the sports sector to grow. Getting the message out of fitness, to ensure India plays, creating sports champions, both domestic and international are some of the commitments SCORECARD will strive to fulfill in the coming years while associating with the multiple stakeholders of sports, he said.
25 Jul. at 4:02 pm
SCORECARD 2018
Sports @2022: Making India Play
   09:45 a.m., 26-27 July, 2018: Hotel Le Meridien, New Delhi
CII Global Sports Summit 'Scorecard' 2018 is scheduled to be held on 26 – 27 July 2018 at Hotel Le Meridien, New Delhi. The theme for this year's summit is – 'Sports @ 2022: Making India Play'.
I am writing to cordially invite you at the Scorecard 2018.
Please find attached the programme for your reference.
Look forward to your participation.
Regards,