PM Modi highlights the ties with African nations at the BRICS Summit."At the session with fellow BRICS leaders, I shared my thoughts on various global issues, the importance of technology, skill development and how effective multilateral cooperation creates a better world," Modi tweeted.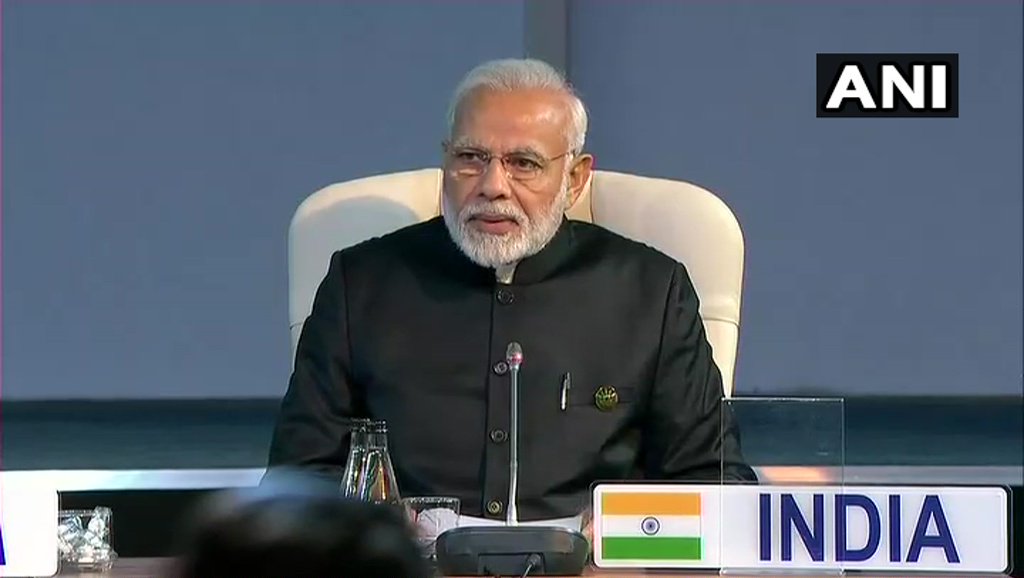 From past 4 years my Govt has given priority to development and peace in Africa. We have give line of credits worth $11 billion to more than 40 countries and Indian private sector has invested $54 billion in the African countries: PM Modi at 10th BRICS summit in Johannesburg.
PM Modi had a substantive meeting with Chinese President Xi Jinping in Johannesburg on the sidelines of BRICS Summit. Discussed steps to further build trust & cooperation. Indian PM Mr. Modi, is attending the 10th BRICS Summit, met Mr. Xi for the third time in nearly three months.
First they met, Chinese city of Wuhan in late April and then they met on the sidelines of the Shanghai Cooperation Organisation (SCO) Summit in Qingdao, China in June.
Prime Minister Modi said  meeting Xi have given a new strength to India-China ties and also provided new opportunities for bilateral cooperation. "It is important to maintain this momentum and for this we should, at our level, regularly review our relationship and give proper instructions whenever required," Mr. Modi told Mr. Xi in his opening remarks.
At Wuhan, both Mr. Modi and Mr. Xi had decided to issue "strategic guidance" to their militaries to strengthen communications to build trust and understanding, a move aimed at avoiding a Doklam-like situation in the future.
Mr. Modi said Thursday's meeting has provided one more opportunity to them to strengthen their closer developmental partnership.
"Very productive" meeting
Later, Foreign Secretary Vijay Gokhale said the two leaders had a"very productive" meeting during which they reaffirmed their readiness to give the necessary direction to their militaries to enhance communication between them and to maintain peace and tranquility in the border areas.
Mr. Gokhale said Prime Minister Modi expressed his willingness to send National Security Adviser Ajit Doval to China this year for the Special Representative-level boundary talks.
"Both the leaders made a reference to their informal summit meeting in Wuhan in April as well as the subsequent follow up meeting in Qingdao in June. They were particularly satisfied with the efforts being made by the officials of the two sides to strengthen bilateral engagements and to implement some of the understandings and decisions that the two leaders had reached at Wuhan," he told reporters.
He said the prime minister saw the meeting as yet another instance where the two sides could review and upgrade their relationship. "Both leaders also remarked that in the last few months mutual trust has increased between the two sides," he said.
President Xi once again conveyed to Prime Minister Modi that he is very happy to accept his invitation to visit India for an informal summit, the second one, next year and both sides also agreed to follow up on a number of issues, he said.
"At Qingdao, both sides had agreed that the Chinese ministers for defence and public security would visit to India this year. At today's meeting, it was decided that these two visits would take place in August and October, respectively," the foreign secretary added.
They also agreed that the high-level people-to-people mechanism which would be established between the two sides will also meet this year, he said.
One of the important issues which Prime Minister Modi raised with President Xi at his previous meetings is of how the two sides can enhance Indian exports to China particularly agricultural exports.
Bilateral meetings continue for PM @narendramodi in Johannesburg! With the President of Angola Joao Lourenco. Discussed intensifying relations in trade and investment, agriculture & food processing, pharma, oil and natural gas.