Zimbabwe President Emmerson Mnangagwa, a former ally of ousted President Robert Mugabe, has won country's landmark Presidential election.
ZANU-PF party wins Presidential election in Zimbabwe.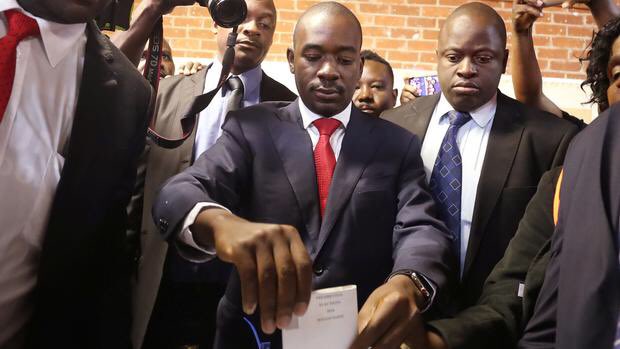 With all 10 provinces declared, Mnangagwa won 50.8 per cent of votes to 44.3 per cent for opposition leader Nelson Chamisa of MDC party.
Zimbabwe Electoral Commission declared ZANU-PF party's Mnangagwa, a duly declared elected president. Mnangagwa needed over 50 per cent of the vote to secure victory without a second-round run-off.
Meanwhile the opposition has rejected the results. The chairman of  Chamisa's MDC Alliance said the count could not be verified and moments before the official announcement, it's spokesman denounced the results as fake.
Public reaction to the election results have already sparked a deadly crackdown on protesters. Six people were killed on Wednesday when troops fired live rounds against MDC demonstrators alleging the vote had been rigged.
Zimbabwe's opposition says its candidate,Nelson Chamisa,has won Monday's presidential election. The MDC Alliance says the ruling Zanu-PF party is attempting to rig the vote to allow President Emmerson Mnangagwa to win, and the delay in releasing official results is unacceptable.
The commission said it would announce the results of Zimbabwe's presidential race, pitting President Emmerson Mnangagwa against opposition leader Nelson Chamisa, only after all the votes have come in from across the country.