Mr Dharmendra Pradhan, Hon'ble Minister of Petroleum & Natural Gas and Skill Development & Entrepreneurship, Government of India, is the Chief Guest at the Inaugural Session of the conference.
He inaugurated a Conference on- "Assessing India's Connectivity with it's Neighborhood" organised jointly by @vifindia & @CIIEnergy. Expressed upon various steps & initiatives taken by our government to reach out to our neighborhood and ensure better relationship & cooperation.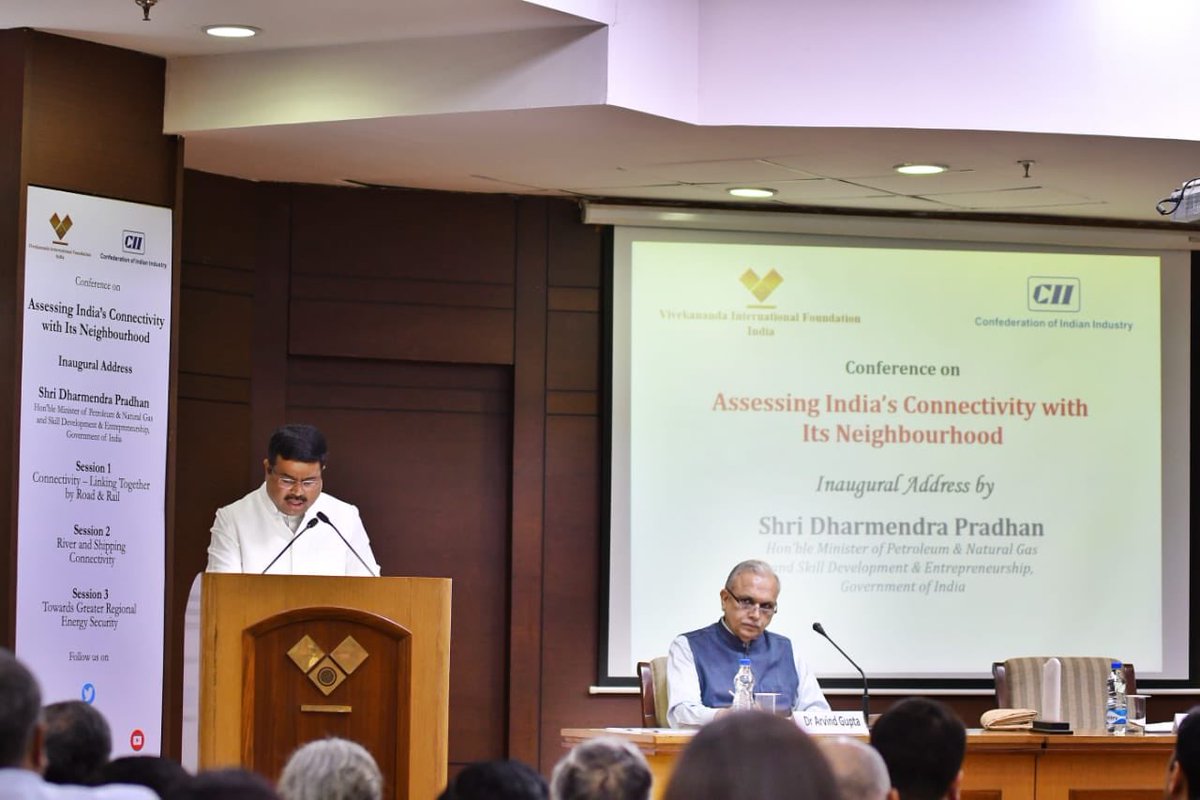 Sagar Media Inc : Minister of Petroleum Natural Gas and Skill development & Entrepreneurship, Mr Dharmedra Pradhan  rise to address Conference at VIF Vivekananda International foundation, the inaugural address of seminar,  Assessing India's Connectivity with Its Neighborhood, 3, San Martin Marg, Chanakyapuri, New Delhi.
Our conviction of 'Neighborhood First' impresses that better connectivity will bring greater prosperity in an equitable & balanced manner. We believe that infrastructure connectivity to our neighborhood & extended region offers game-changing possibilities for the entire region.
Energy is one of most important aspects of development, We have aimed to secure mutually profitable cooperation with our neighbors in East, South-East, South & West through various infrastructural projects which will lead to a win-win situation for the entire region.
Minister said we are talking with Myanmar to take up distribution of LPG and natural gas distribution from the Assam refinery. Further we are supplying Petroleum products exclusively to Bhutan, Nepal, Sri Lanka, Bangladesh and Mauritius. Minister added  our policy is to cooperate with the neighbors in time of regular demands as well as in crisis.
Guided by the vision of Hon. PM Shri @narendramodi ji to establish a robust skill ecosystem in the country and make India the skill capital of the world. We are working in a mission mode to make this vision a reality.
Sri Lankan Prime Minister Ranil Wickremesinghe & his wife Prof. Maitree Wickremasinghe visited Venkateswara Temple in Tirumala, earlier today when the VIF discussing connectivity with neighborly states.