Reserve Bank says it plans to set-up internal group to comprehensively review timings of various market segments including currency futures and foreign exchange.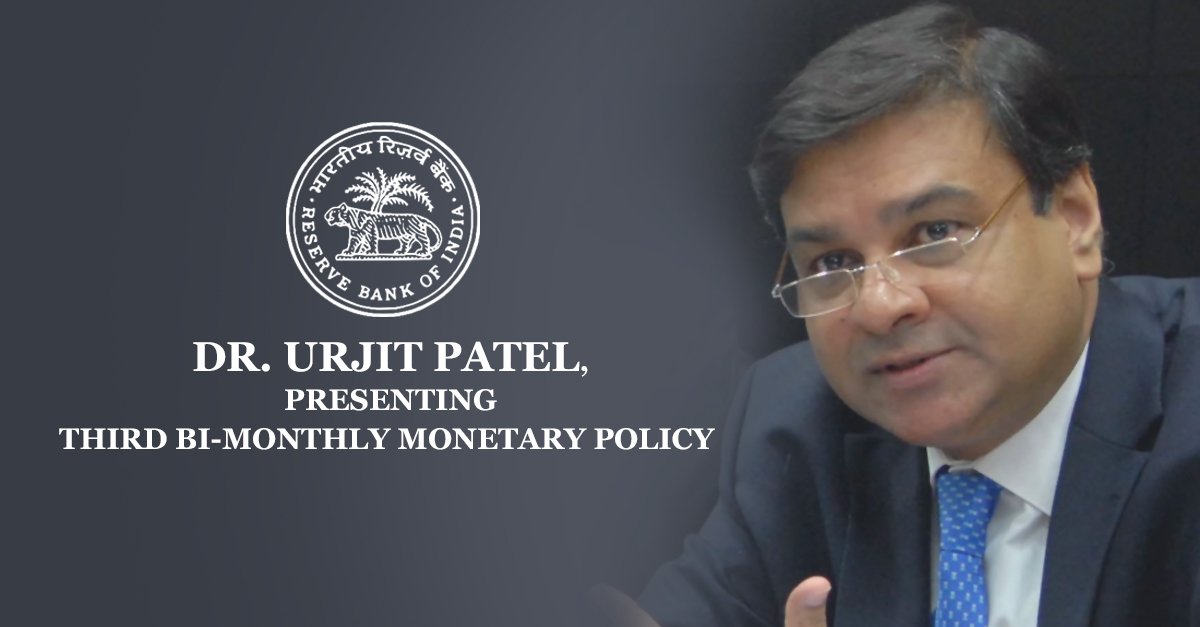 The Monetary Policy Committee, MPC, of the Reserve Bank of India today hiked repo rate by 25 basis points to 6.50 per cent in its third bi-monthly monetary policy review of 2018-19.
For the second consecutive time, the six-member MPC headed by RBI Governor Urjit Patel has hiked the key policy repo rate by 25 basis points. Repo rate is the rate at which the RBI lends money to commercial banks in the event of any shortfall of funds.
Reserve Money for the week ended July 27, 2018 and Money Supply for the fortnight ended July 20, 2018.
Consumer Confidence Survey (CCS) – June, 2018
Inflation Expectations Survey of Households (IESH) – June, 2018
Survey of Professional Forecasters on Macroeconomic Indicators–Round 53
Industrial Outlook Survey of the Manufacturing Sector for Q1:2018-19
OBICUS Survey on the Manufacturing sector – Q4:2017-18
Reverse repo rate, the rate at which the Reserve Bank borrows money from commercial banks within the country, was adjusted to 6.25 per cent. Accordingly, the Marginal Standing Facility rate and the Bank Rate too stand adjusted at 6.75 per cent.
In the second bi-monthly monetary policy review announced in June, RBI had hiked the repo rate by 25 basis points to 6.25 per cent while maintaining a neutral stance. This time too, RBI has maintained neutral stance with an objective of achieving the medium-term target for headline inflation of 4 per cent while supporting growth.
The Reserve Bank today retained the GDP forecast for the current fiscal at 7.4 per cent on robust corporate earnings and buoyant rural demand, though it flagged global trade tensions for Indian exports.
It said, various indicators suggest that economic activity has continued to be strong. It noted that the progress of the monsoon so far and a sharper than the usual increase in MSPs of Kharif crops are expected to boost rural demand by raising farmers' income.
RBI has projected inflation to stay at 4.8 per cent in the second half of the current fiscal and is likely to touch 5 per cent in the first quarter of 2019-20.
The next meeting of the Monetary Policy Committee is scheduled to be held between 3rd and 5th October, 2018.
Reserve Bank today said it plans to set-up an internal group to comprehensively review timings of various market segments including currency futures and foreign exchange.
In a press release issued from Mumbai today, RBI said the group will submit its report by end of October this year. While admitting that the decision of market timings is best left to market participants and exchanges;
RBI said it is necessary that timings across products and funding markets complement each other and avoid unanticipated frictions. The apex bank said it has been receiving requests for extension of timings for certain market segments such as currency futures, Over-the-Counter foreign exchange market, etc.
Earlier, securities market regulator Sebi had permitted stock exchanges to set their trading hours in the equity derivatives segment between 9:00 am and 11:55 pm. Currently, trading is allowed from 9.15 am till 3.30 pm.
 Sunil Mehta committee which was formed with a view to tackle Non-Performing Assets (NPAs) and creating credit capacity submitted its report with recommendations to Finance Minister Piyush Goyal on Monday.
Briefing reporters in New Delhi, Mr Goyal said, the Sunil Mehta panel presented project 'Sashakt' and has recommended a five-pronged strategy to deal with stressed assets.
He said, the plan focuses on turning around assets in a manner that will create additional jobs by reviving businesses and prevent job losses from foreclosures.
He said, the plan will bring in credible long term external capital to limit the burden on the domestic banking sector.