Brazil's leftist Workers' Party nominated its charismatic founder Luiz Inacio Lula da Silva for the upcoming presidential contest Saturday despite him being imprisoned for corruption.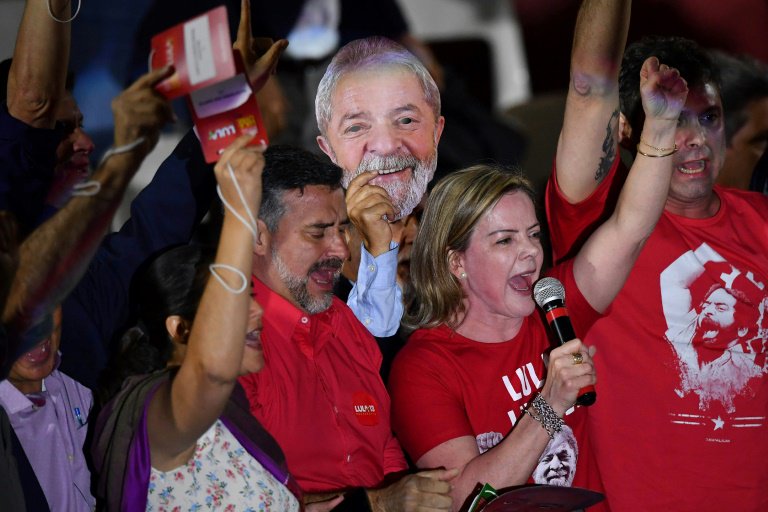 In a message read aloud to the party convention in Sao Paulo, Lula urged "a ceaseless battle for democracy." Although serving a 12-year sentence for corruption, Lula, 72, remains by far the frontrunner in opinion polls.
Three big party conventions were held Saturday, two months before the first round of voting on October 7 in Latin America's dominant economy.
In Brasilia, center-left environmental campaigner Marina Silva was crowned by her Rede party. Also in the capital, former Sao Paulo governor and establishment heavyweight Geraldo Alckmin secured the nod from the center-right Brazilian Social Democratic Party, or PSDB.
Alckmin, 65, accepted his nomination with a speech blaming the Workers' Party for having laid the roots of today's economic disarray, with some 13 million people unemployed, and corruption rife, during more than a decade in power.
"I am the candidate whose campaign can be summed up in one sentence: 'We will change Brazil and give back to Brazilians the dignity which has been taken from them,'" he said.
But while both Silva and Alckmin are serious contenders in a likely match-up against controversial right-winger Jair Bolsonaro, it was Lula's highly unusual convention in Sao Paulo that overshadowed proceedings.
Lula is in prison in the southern city of Curitiba, serving a 12-year sentence for corruption and likely to be barred from the ballot.
But his Workers' Party issued a call to arms, casting Lula as a victim of a rigged case and vowing to get him back into office, following his largely popular two terms from 2003-2010.