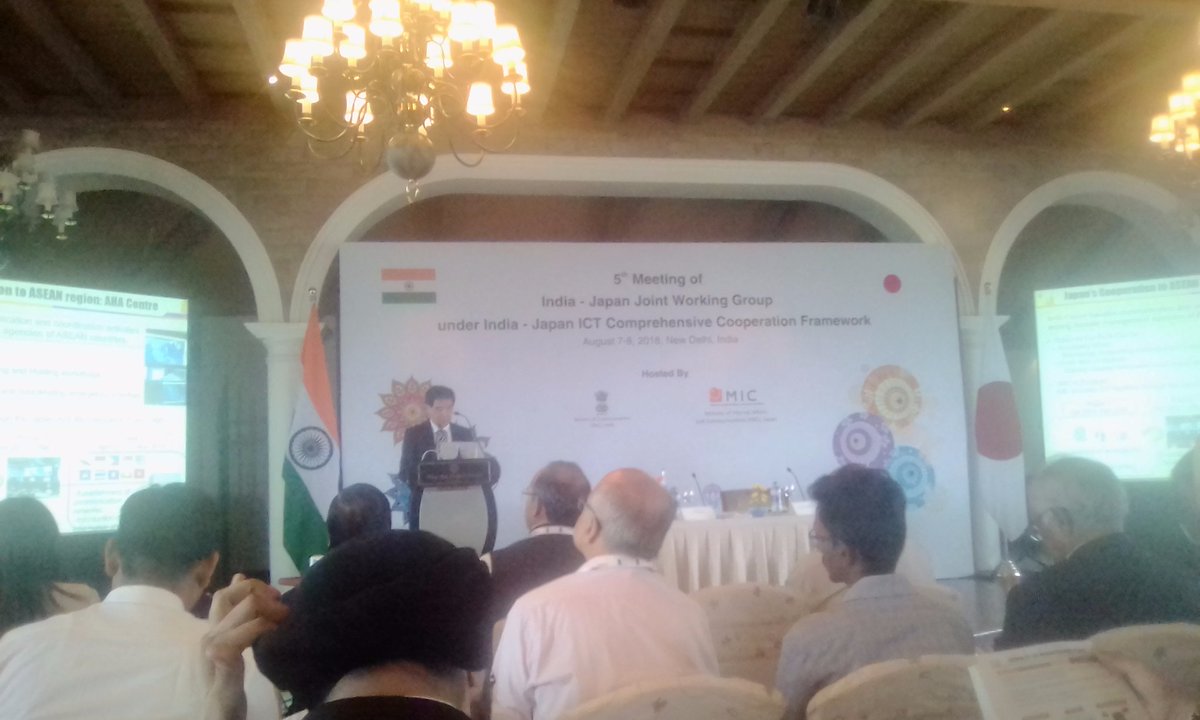 August09, 2018 (C) Ravinder Singh ravindersinvent@gmail.com
Yesterday India Japan event mainly focused on Communication Technologies in the event of Major Disasters that 'Disrupts Communication Lines', 'Tracking People under the Collapsed Buildings' and 'Identifying Dead' – IMD presented 'Complicated Communication' of Rainfall & Flood Levels Data Acquisition'Difficult to Access' that were 'Released Too Late for Disaster Prevention or Warning' etc.
White Paper on Disaster Management 2017 in Japan mainly talks of'Kumamoto Earthquake' which caused 228 Casualties, 2753 Serious Injuries, 8697 homes were completely destroyed 34,037 half destroyed and 155,902 partially damaged.
Similar 2015 earthquake in Nepal killed & Injured tens of thousandsoccurred 80 kilometers from Kathmandu Impacted 1000 times more area and caused extensive loss to Homes & Infrastructure – in fact Economy of Nepal was hit hard. Economic loss was $10b, 50% of Nepal annual GDP. 2001 Bhuj Earthquake in Gujarat caused extensive damage.
Tsunami of 2004 caused extensive damage in India because IMD failed warn people for hours – caused extensive damage to India & Srilankathough over 2000 km from epicenter of earthquake. IMD get all the information from Automatic Gauges Live but info to Public regarding Flows in Rivers is not disclosed & Rainfall info is delayed.
In India annually 238,562 people die over 0.5m are seriously injured in Road Accidents. There are 130 deaths per 100,000 Vehicles in India – Japan 6.5 only. [WHO]
Floods are mainly MANMADE in India common everywhere – in Urban Areas few Centimeters of Rainfall causes floods disrupting Traffic, Rural areas are Cut Off – there are no motor boats. Sometimes TRAINS FALL in to rivers. Surat Flood was due to Early filling of UKAI Dam, Not Repairing EMBANKMENTS caused Kosi Floods, Worst India Flood Disaster in Uttarkhand due to IMD failure to WARN Public and CWC for not Clearing a LAKE formed upstream of Kedarnath Shrine – poor drainage works etc.
Storage Dams were not built or delayed so there was no RESTRICTION on flood flows.
Delhi need 100 Water Automatic Gauges, Doppler Radar for LIVE observation of Rainfall.
There was fire in Y-67 top floor in a room of about 200 sq.ft where aJAPANESE citizen was residing. Fire tender arrived after 45 minutes with 10 KL water – they switched of power to the entire building than ISOLATING top floor and Unplugging INVERTOR.                                                               
In above I was helping FIRE DEPARTMENT – All in the given situation a 'Small Rotary Irrigation Sprinkler' connected a tube was required to Extinguishing the fire ASAP 
Japan DM Strategy EMPHASISE Community Cooperation & Training – Building Codes, Early Warning Systems for Preventing Deaths & Destruction.  
Ravinder Singh, Inventor & Consultant, INNOVATIVE TECHNOLOGIES AND PROJECTS