Romanians protest against rampant corruption and low wages of employees compelled people to be in streets in Bucharest and major provincial cities for second  day running, demanding resignation of Government by the protestants around 50,000 gathered in the capital. More than 400 people were injured during an anti-government rally in Romania's capital, police say. Crowds of anti-corruption protesters were back in the streets of Romania's capital Bucharest on Saturday, following the clashes between demonstrators and riot police that left over 400 people injured on the previous day. The rallies have been spearheaded by expats who claimed that they had been forced to leave the country due to corruption. Demonstrators carried Romanian, European Union and other flags, and many preferred to sit in the central square protesting the violence. Riot police fired tear gas and water cannons to quell protesters, claiming later that it was hooligans who started the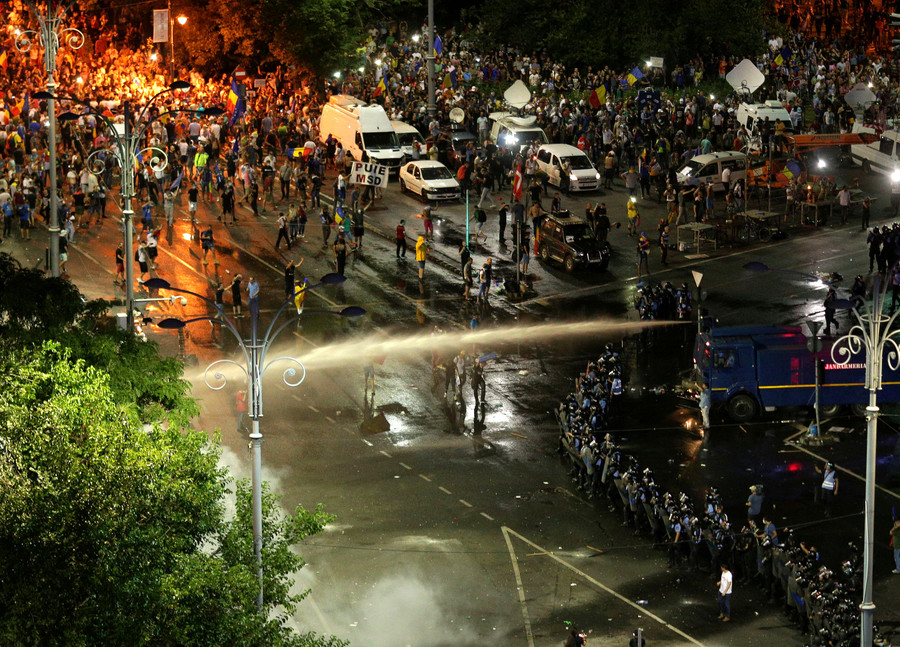 A massive anti-corruption rally in Bucharest where in hundreds of people have been injured after spearheaded by expats calling on the government to resign, turned violent, forcing riot police to use water cannons and tear gas.
Bucharest's Victoriei Square became a scene of violent clashes with police warning the protesters in advance that they would not tolerate disorder. Despite the warnings, several groups of protesters calling for the resignation of the Social Democrat Party-led government tried to break through a security line.
Police responded by firing tear gas and deployed water cannons against the crowd.
Romanians living abroad waved the national tricolor and EU flags and chanted slogans against the government and the Social Democratic Party (PSD), such as 'Down PSD!', 'Thieves!' and 'Resign!' They also held banners reading 'Citizens have the right and duty to defend Romania', and 'No: Corrupt Romania, Corrupt MPs'.
Before authorities moved in to curb the unrest, the head of the Romanian Gendarmerie Service, Marius Militaru, urged all women and children to leave, warning that provocateurs might use them "as a shield to protect themselves." Militaru noted that the violent crowd threw bottles and pieces of asphalt at police lines.
Media agencies