Lawlessness is on surge with  shooting and knife crimes in Britain on rise but the media and British government is deaf to all crime happening in their country and is making frugal efforts either to quell or take serious view on this daily street problems engendering in cities but taking interest in the global violence on rise.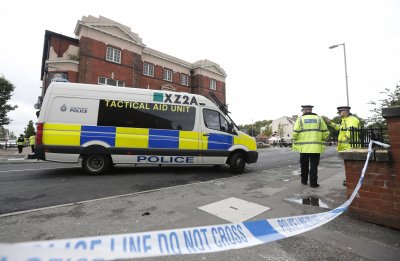 The shooting comes amid a spike in gun and knife crime in Britain that has sparked calls for government action in a country where firearms are strictly controlled."
At least 10 people were injured in a shooting in Manchester's Moss Side area early Sunday, local police said.
On Sunday morning, litter including empty bottles of brandy and other drink containers, food wrappers and nitrous oxide canisters could be seen strewn across Claremont Road.
Residents said a street party was held there annually following the carnival in nearby Alexandra Park.
The shooting reportedly took place at a street party being held after the first day of this weekend's Caribbean Carnival in Alexandra Park.
Police said the victims had "pellet-type wounds that are not believed to be serious". One man was in a serious condition in hospital with leg wounds, BBCreported.
Chief Superintendent Wasim Chaudhry, from Greater Manchester Police, was quoted by the publication as saying: "Thankfully the injuries suffered do not appear to be as serious as first believed and hopefully people will begin to leave hospital over the course of the day following treatment.
"That being said, there may be people who didn't seek treatment last night and I would urge these people to get immediate medical attention if that is the case."
He said the shooting was "a reckless act that could have had devastating consequences".
The Caribbean Carnival, which has been held every summer since 1972, draws thousands of people