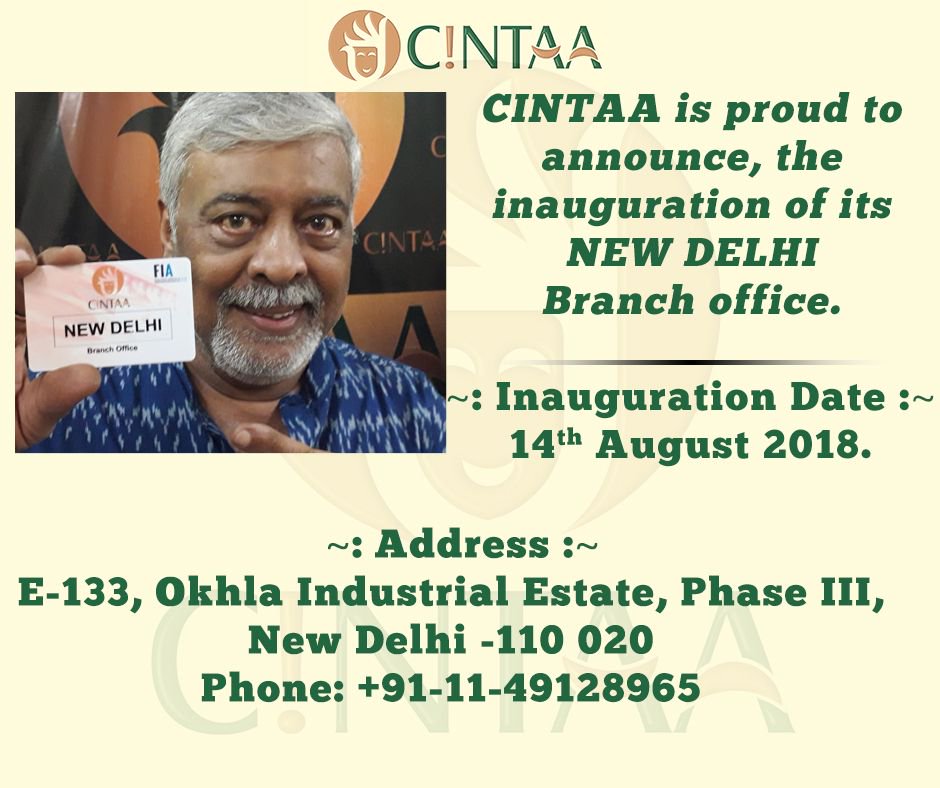 CINTAA , Cine & TV Artistes' Association, the oldest artist association in India germinated with intention of welfare of the artists,  Late Bollywood Cine-star Prithvi Raj Kapoor, sowed the seed for his film fraternity.
CINTAA was incorporated in the year  1958 with its first president late Cine actress Durga Khote,  past president were Asha Parekh to Raja Murad working  for the social security of the Bollywood industry workers and artists since 60 years of its inception.
CINTAA is now affiliated to FIA International federation of Actors the world largest body of actors represented in 83 countries.
It was long desire of CINTAA to reach various cities with chapters across India especially in North India where large number of shootings happening and many actors from North India working on such shoots thus need of office in New Delhi.
Dream come true to CINTAA. today it opened its branch office at the premises of  Giant Rocket Media & Entertainment P Ltd at E- 133 , Okhla Phase III, Okhla Industrial Area New Delhi 110020:
CINTAA too showed to media persons the documentary , " Deglamorizing bollywood", the work culture embedded in bollywood with shabby studio, working condition in pathetic conditions for the film -workers working in abysmal, filth conditions with no first aid during shoots or medical care for junior artists during the course of shooting, artists are  working  no civic amenities are the order of the day and are always overlooked. After watching the documentary one can get to the other part of glossiness which attracts and appears to each movie goer  in style. But the other side of coin is full of dirt and filth with no social security for  aging actors and workers at large.
The Cintaa looks like a drop in the ocean to provide the film industry which in actual doesn't have the status of industry as law of mercantile act does not apply  to this so called industry in shambles and tattered. Life is hell for Editors, junior artists, Sr artists, camera man, light boy and all supporting staff in TV Serials and Cine studio.
Even caterers are paid in cycle of 90 days so quality of catering is sub standard cannot keep pace with his cash flow. Broadcaster follow rule in foreign countries but when come to India are in freedom to give services and amenities as per their whims.