Turkey Lira is moving southward and the president is insisting that Turkey economy is doing well but experts have different view and want central bank of Turkey to enhance interest rates to which Erdogan is not prepared and this continuous slide od Lira will put Turkey soon on debt. President  said Turkey's economy remains strong and argued that the national currency, which has lost around 45 percent of its value since the start of this year, would soon settle "at the most reasonable level."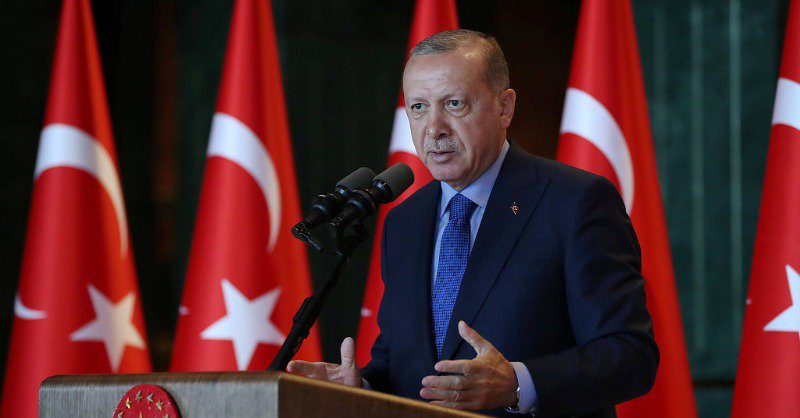 Turkish President Recep Tayyip Erdogan lashed out against the United States on Monday, criticizing that the NATO ally seeks to "stab Turkey in the back" by the use of sanctions.
In an address to Turkish ambassadors gathered for an annual meeting in Ankara, the Turkish leader said that "attacks on the economy are likely to continue for a while," but Turkey will take steps to respond.
Turkey's economy has been under punitive sanctions from the United States over the ongoing detention of a US pastor, Andrew Brunson. Turkey has held the cleric since 2016 and has alleged that he was involved in a failed coup attempt that year.
Erdogan also said the country is under an economic "siege" that has nothing to do with its economic indicators, insisting that Turkey will overcome the "attack" on its economy.
President Recep Tayyip Erdogan accused the United States of seeking to stab Turkey "in the back" over a diplomatic row sparked by the detention of an American pastor. "You act on one side as a strategic partner but on the other you fire bullets into the foot of your strategic partner," Erdogan told a conference in Ankara. "We are together in NATO and then you seek to stab your strategic partner in the back. Can such a thing be accepted?"AFP quoted the president as saying. He added that Turkey was facing an "economic siege," slamming the currency movements as an "attack against our country," adding, however, that the dynamics of the Turkish economy are "solid, strong and sound and will continue to be so."