Europe , US and  Asian countries are wary of Chinese investment Sri Lanka, Pakistan. Vietnam's Ministry of Investment and Planning issued a warning to its government about official development assistance and preferential loans from China, saying that many such projects have been poorly executed and cost Hanoi more than expected.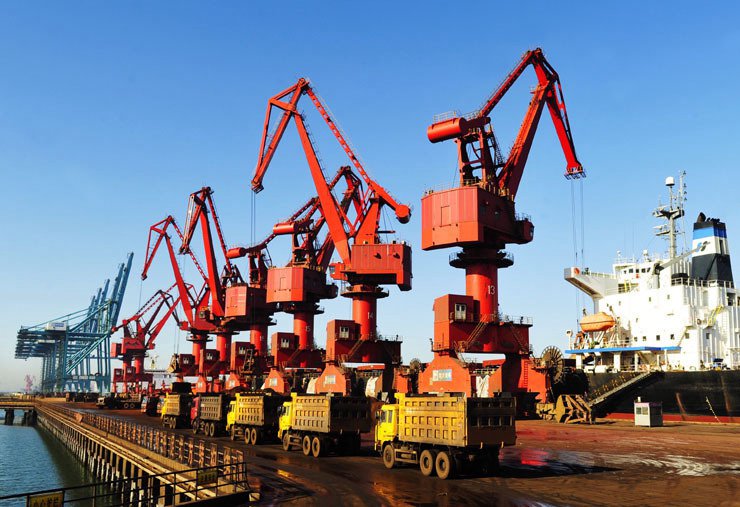 U.S. is tightening scrutiny of foreign investments, aiming to protect sensitive technology from China as the two economic superpowers vie for tech supremacy. Media reports China exhibits signs of weakness, data showing the pace of investment slumping to a record low in the first seven months of the year while retail sales growth slowed down.
Chinese media reports in its Chinese economy remains on a solid footing despite a more complicated domestic and external environment, according to the National Bureau of Statistics (NBS). "The economic performance is generally stable in July, with new progress being made," Liu Aihua, NBS spokesperson, told a press conference Tuesday.
Dragged by cooling infrastructure investment, growth of fixed-asset investment (FAI) slowed to 5.5 percent in the first seven months of the year, down from 6 percent in the first half of the year and continuing a downward trend since the beginning of the year.
Infrastructure investment growth softened to 5.7 percent in the period, compared with a rise of 7.3 percent for H1.
Liu attributed the slowdown in infrastructure investment to a higher comparative base from last year, the government's efforts to regulate public-private partnership projects and higher environmental standards.
Retail sales climbed 8.8 percent in July from a year earlier, slightly down from the 9-percent rise registered in June.
Although some indicators showed slight pullback in growth, Liu said the economic structure had been optimizing, with better quality and efficiency, which would lay a sound foundation for growth in the coming period.
Industrial output expanded 6 percent year-on-year last month, unchanged from in June.
A breakdown of the data showed the output of high-tech manufacturing, equipment manufacturing and strategic emerging industries all posted strong growth, which increased 11.6 percent, 9 percent and 8.6 percent respectively.
Industrial profits of major enterprises gained 17.2 percent in H1, accelerating from 16.5 percent for January-May.
In one of the bright spots, private investment, which accounts for about 60 percent of overall investment, rose at a faster pace. FAI by the private sector climbed 8.8 percent year-on-year in the first seven months, up from 8.4 percent in H1.
Employment remained stable, with 8.8 million new jobs being created in the first seven months, fulfilling 80 percent of the government's annual target. The survey-based urban unemployment rate stood at 5.1 percent in July, 0.3 percentage points higher than June.
Liu said readings of the July data showed the economy had been running within a reasonable range, a hard-won result amid complicated domestic and external environment as well as adverse weather conditions.
As the government vows to improve infrastructure and accelerate approval of projects, Liu said he expected the growth of infrastructure investment and FAI to pick up and stabilize in H2.
Analysts said the continued softness in investment and consumption growth called for more decisive and coordinated policy moves.
"Although we have seen some early signs of financial condition easing and fiscal loosening in July," the softness of some indicators and higher unemployment rate highlighted the urgency to more timely and coordinated policy adjustments to anchor the growth expectations and backstop the "vicious cycle" of financial condition tightening, CICC analyst Liu Wenqi said.
Looking ahead, Liu Aihua said the government would enhance implementation of policies and strive to keep employment, the financial sector, foreign trade, investment and expectations stable this means the economy slipping to downward trends.
President Xi Jinping to propose measures to prop up the economy with its dwindling state with most of economic parameter show deceleration and hence Xi taking  steps to quell  the country's problem with excessive debt, which Beijing is now trying so hard to address, was caused by a 4 trillion yuan stimulus package launched in the aftermath of the 2008 financial crisis. "We should not have a repeat of 2008, when the government responded by hastily throwing money around," said Peking University professor Huang Yiping. Chinese economy  has to act and adapt to rapidly changing trade conditions and in case of delay  requisite changes, they could find their economy in shambles. Martet not an independent or free to take independent corrections, socio-political structure of the Chinese market being controlled by government features in an enormous way can bring an immediate collapse  to its market because global investment spent under the veil cover of government in its own set tenterhooks to achieve influence can give way for the edifice to collapse. Nation when behaves in a persona of an individuals without an identity of  free market forces to act the results is big jump or big collapse.
Retail sales of consumer goods grew 8.8% on the year in July, 0.2 percentage point less than in June, the National Bureau of Statistics said. But the top 50 retailers flagged, with a 3.9% decrease in July sales, according to data compiled by an industry group.
Chinese authorities had previously said that consumption growth in May and June had taken a 1.5- to 2-point hit from auto buyers who were waiting for tariffs on imported cars to drop in July. But car sales continued their decline in July, signaling a weakness in appetite. It also exposed the fact that tax subsidies that existed until last year only served to bring demand forward in time rather than ignite nationwide consumption.
Even as the government tries to encourage consumption, there are signs that the Chinese people are more interested in tightening their purse strings.
Surging housing prices are a key factor. Online forums are filled with people lamenting that mortgages eat up all their earnings. The debt-to-income ratio for Chinese individuals hit 107% at the end of 2017, according to the Shanghai University of Finance and Economics, now nearly on par with the U.S. Many also lost money from a string of bankruptcies among online financial operations.
Investment in fixed assets also lost momentum, increasing 5.5% on the year in the January-July period, 0.5 point less than in January-June alone. This marks the slowest growth rate since authorities began tracking the figure in 1995.
Investment in infrastructure, like roads and airports, used to be a major driver, growing roughly 20% annually until 2017. But the figure increased just 5.7% in January-July, 1.6 point less than in January-June. As regional governments and state-run banks get serious about reducing their debt, they are becoming less willing to fund infrastructure projects with low returns.
Companies and individuals raised 1 trillion yuan ($145 billion) in funds in July, down from June and from a year earlier. While bank lending increased significantly, repayments topped new borrowing by about 500 billion yuan in the shadow banking sector, which often funds risky projects that mainstream institutions refuse to touch.
Total exports increased 12% on the year in July, remaining strong despite the escalating trade war with the U.S. But certain areas and sectors are starting to feel the heat. The production of new robots, which grew 35% in May, increased just 7% in June and 6% in July, probably due to a 25% tariff imposed by the U.S. starting last month. The city of Shenzhen also suffered an 11% drop in exports in April-June.
Unemployment in China's biggest 31 cities rose 0.3 point in July to 5%, the highest figure since last December. The statistics bureau linked the rise to college students graduating and looking for jobs, but the trade war could play a role.
For now, the Chinese government's biggest economic focus seems to be boosting infrastructure investment.