Imran Khan takes oath as new #PrimeMinister of Pakistan. President Mamnoon Hussain administered oath of office to the newly elected Prime Minister. PM Imran Khan took charge of Pakistan, the country the debt ridden and rampant corruption at its zenith with foreign reserve dwindle to half.
Pakistan Tehreek-e-Insaf spokesperson Fawad Chaudhry on Saturday said Prime Minister Imran Khan has nominated Arif Alvi for President of Pakistan.Incumbent President Mamnoon Hussain's tenure ends on September 4. Alvi emerged victor from NA-247, Karachi constituency during the July 25 polls. He was also elected member of the National Assembly in the 2013 General Election. A dentist by profession, Alvi is one of the founding members of PTI.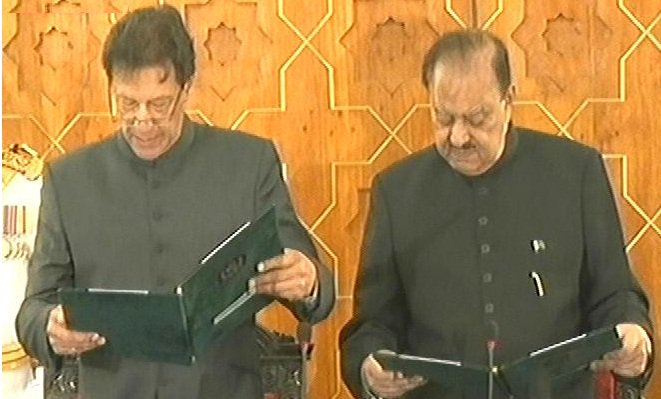 Emotional Imran Khan fumbled during oath taking  diction as he is sworn in as Pakistan's new prime minister.Prime Minister Imran Khan took oath on Saturday but while reading out the oath, he fumbled over a few words, such as Khatim-un-Nabbiyin
Prime Minister Imran Khan assumed charge of office after taking oath as Pakistan's 22nd premier on Saturday.  President Hussain said the words "Roz-e-Qiyaamat" (the day of Judgement), Khan did not hear the exact phrase and called out the words wrongly terming them as "Roz-e-Qiyaadat" (the day of leadership) hence completely changing the meaning of the sentence. Once corrected by the president, Khan realised his mistake, smiled subtly, said "sorry" and continued with his oath taking.
Some Pakistani journalists even wondered if the prime minister's oath has changed from past years, The News reported.
Imran, in hung parliament received requisite votes  to defeat, the Pakistan Muslim League-Nawaz President Shehbaz Sharif in the PM election a day earlier, was administered the oath by President Mamnoon Hussain.
Army chief General Qamar Javed Bajwa, Chairman Joint Chiefs of Staff Committee Zubair Mahmood Hayat and Chief of Air Staff Marshal Mujahid Anwar Khan were among those who attended the ceremony.
Islamabad: Navjot Singh Sidhu was seated next to President of PoK Masood Khan at Imran Khan's oath ceremony. #Pakistan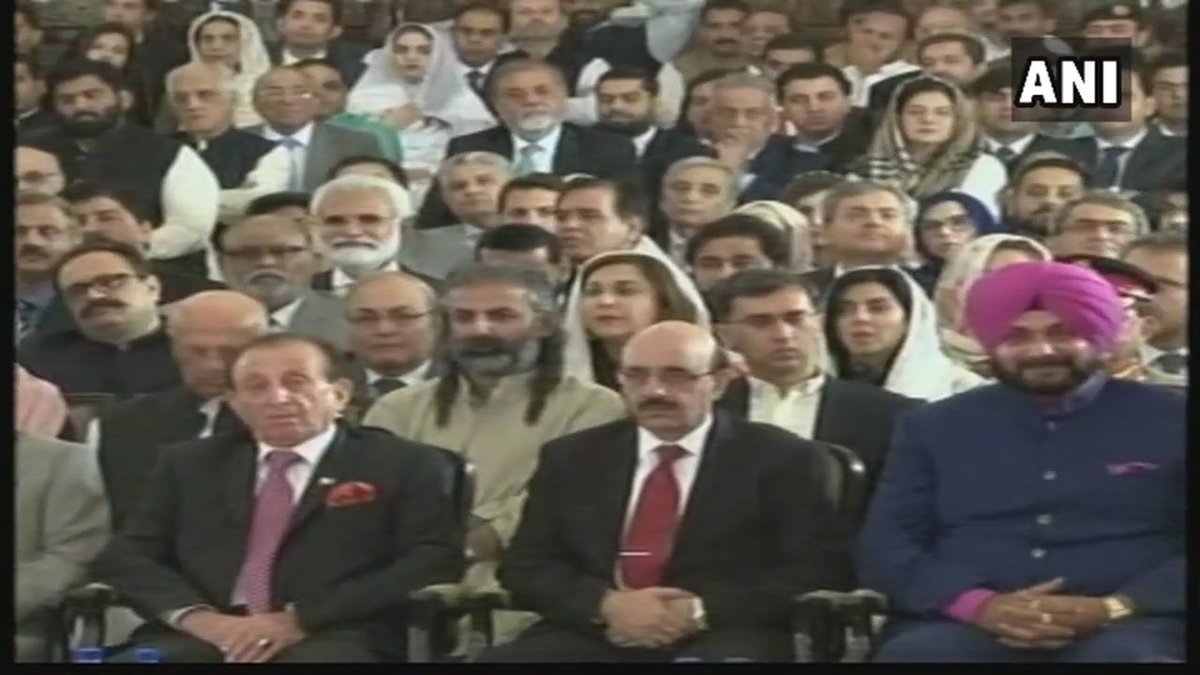 Imran Khan's wife Bushra Bibi, former Indian cricketer Navjot Singh Sidhu, Wasim Akram, actor Javed Sheikh, Punjab governor designate Chaudhry Sarwar, Punjab Assembly speaker Pervez Elahi, Ramiz Raja, caretaker prime minister Nasir-ul-Mulk and PTI leaders were also in attendance.
Imran was presented a guard of honour at Prime Minister House.The Cabinet Secretary also issued a notification of Imran taking charge as prime minister.
 Mohammad Azam, former chief secretary Khyber Pakhtunkhwa has been posted as Secretary to the Prime Minister, Prime Minister's Office, with immediate effect.
Earlier on Friday, the NA elected Imran as the prime minister of Pakistan, more than two decades after the former captain of the Pakistan cricket team entered politics.
Of the total NA members, 176 voted in favour of the PTI chairperson, while his opponent, Pakistan Muslim League-Nawaz (PML-N) President Shehbaz Sharif, received 96 votes.
While speaking to media PM Imran Khan said, that he would not spare the ones who looted the country.
"I am grateful to the Almighty Allah and the nation for giving me the opportunity to bring a change which the nation wanted. The nation was longing for the change we will bring," Khan had stated.
The prime minister-elect promised "strict accountability" and to bring back the looted wealth of the country.
"I promise my nation that I will do strict accountability. No robber would be given an NRO (National Reconciliation Ordinance).
"I have reached here after struggling for 22 years and have not been fostered by any military dictator."
Imran further said he would be answering questions as the prime minister twice a month in the NA.
Further on its corruption and fiscal mess global financial agency has its advice to Pakistan to combat money laundering and terror financing spree.
A delegation of the global financial watchdog Financial Action Task Force (FATF) has urged Pakistan to toughen its laws and implementation against terror financing and money laundering, media reports said.
The Asia Pacific Group (APG) on Money Laundering, which is currently in Pakistan, will submit a report to the Paris-based FATF which placed Pakistan on its 'grey list' in June.
The delegation, according to reports, asked Pakistan to enact appropriate laws enabling local officials to act upon requests of foreign countries to freeze illegal assets and extradite those involved in terrorism financing and money laundering.
It met officials of the Financial Monitoring Unit (FMU) of the State Bank of Pakistan, Securities and Exchange Commission of Pakistan (SECP), National Counter Terrorism Authority (NACTA), Federal Investigation Agency (FIA) and representatives of ministries of foreign affairs and interior.