Navjot Sidhu told reporters in Pakistan today that he was returning to India with 100 times more love than he had brought to Pakistan He also said: If India and Pakistan's Punjab open their borders, it would change a lot within six months.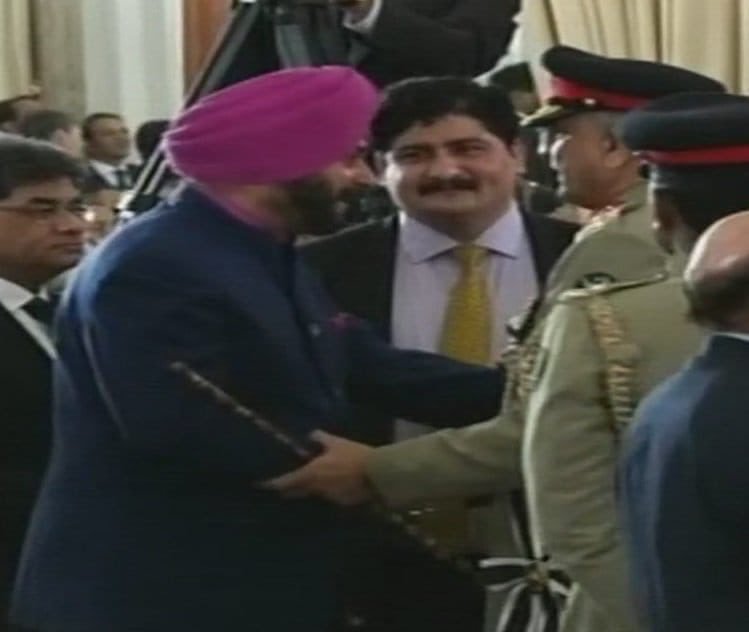 Navjot Singh Sidhu, a former Indian cricketer who travelled to Pakistan a day prior to attend Prime Minister Imran Khan's oath-taking ceremony as a guest, rebuffed Indian hardliners' criticism over his tour by commenting on how much love and respect he received from Pakistanis.
"Pakistanis have given me infinite respect," Sidhu said Saturday night while addressing media here in the city. "The kind of love and affection that I have got from here, it's… it's unbelievable!
"I'm very happy at Pakistanis' hospitality," he stated, adding that Khan desired peaceful relations with India, which is why New Delhi should also take a step forward to friendly relations with Islamabad.
The Indian sportsman, who has been talking about peace and love ever since he touched down in Islamabad, has been facing a vicious maligning campaign from his country's hardliners, who have resorted to staging protests and burning his effigies.
Demonstrations had erupted in multiple Indian cities, including Ludhiana.
August18, 2018 (C) Ravinder Singh ravindersinvent@gmail.com
In matter of hours Navjot Sidhu has, on behalf of India, build the 'Friendship Bridge' and was rewarded with promise to Open Borders for Pilgrims to visit Gurdwaras on the occasion of 550th birthday of Guru Nanak Dev ji. When Statesmen & Professionals understand the 'Long Term Losses' in the Past and long term 'Opportunities' in future resolution to Most Complicated issues is QUICK – I presented the INDUS Treaty at a Indo-Pak business meet in 2008 – in couple of lines in 2-3 minutes and Salman Faruqui was even quicker –
'If India builds 20 BCM storage capacity in Kashmir – Pakistan will get 30 BCM of additional Controlled water Supply FREE, Pakistan Hydro Generation will increase by 30% FREE, Pakistan will get Flood Protection to 10 million hectares land FREE, Silt will be detained in Dams in Kashmir FREE, Pakistan will get Clean Blue water FREE– Life of Fast Silting Pakistan Dams may get 200 years Life Extension FREE – Pakistan has inadequate storage May Get Massive Floods in future.'
Salman Faruqui INSTANTLY agreed and after a small pause Offered to jointly develop Hydro Power Potential – Pakistan High Commission councilors were embarrassed and complained that I used the word 'FREE' too many times.
In 72 years no one has told our people in SAARC that 'Oil, Gas, Water, Power, Trade, Knowledge, Data, Tourism, Roads & Railways All Can Flow Together' Over $500b Annual Trade Opportunity.
When China is building 10,000 Km Gas Pipelines – Unlimited OIL & GAS is Available at SAARC Doorsteps in Iran, Middle East, Central Asia, and Myanmar – obviously Cheapest to access.
THERE IS UNLIMITED WATER FOR HYDRO POWER, IRRIGATION, FLOOD CONTROL, MUNICIPAL NEEDS, 100,000 MW in Indus, 120,000 MW in Ganga & 250,000 MW in Brahamputra U-Bend.
35 MAF INDUS Water is lost to sea on average annually, India lose over 1000 MAF.
SAARC Oil, Gas, Water, Power, Trade, Road, Railways Potential Developed Is Not Even 2%.
SAARC Could Have Been Cleanest & Developed Region like Switzerland but most polluted & Undeveloped. CNG, Hydro Power, Electric Vehicles, Railways, N-Power, Energy Efficiency like Switzerland.
SAARC Nations INSTEAD of Development & Cooperation had indulged in Dirty Politics – We had the Maximum Number of Political Assassinations. Only top leaders are named here.
'Mahatma Gandhi, Indira Gandhi, Rajiv Gandhi, PS Kairon & LN Mishra in India, Benazir Bhutto Plus Her Two Sons, Liaqat Ali Khan, Zia Ul Haq in Pakistan, S.W.R.D. Bandaranaike, Ranasinghe Premadasa of Srilanka, Shiekh Mujibur Rahman With Family & Ziaur Rahman in Bangladesh, King Birendra With Family in Nepal. Above are only Famous Name – List of Political Assassinations is Very Long.'
Wars, Riots, Assassinations, Massacres, Agitations Is Major SAARC Business.
SAARC Inventor's Engineers, Industry Chambers, Peace NGOs Should Work together for Peace & Progress – WORK FULL TIME THAN OCCASIONAL SUMMITS.
Ravinder Singh, Inventor & Consultant, INNOVATIVE TECHNOLOGIES AND PROJECTS
Y-77, Hauz Khas, ND -110016, India. Ph: 091- 8826415770, 9871056471, 9650421857
Ravinder Singh* is a WIPO awarded inventor specializing in Power, Transportation,
Smart Cities, Water, Energy Saving, Agriculture, Manufacturing, Technologies and Projects