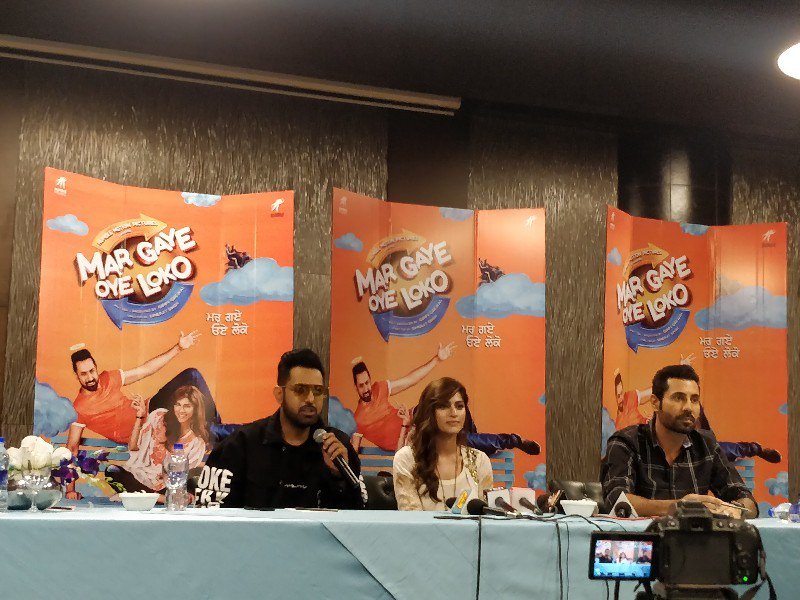 Gippy Grewal  multi-facet personality is an actor, singer-songwriter, film director and Flim Producer whose works span over Punjabi and Hindi film industry. To his name is Phulkari broke many records in the Punjabi music industry. He made his acting debut in the 2010 movie, Mel Karade Rabba, and which he followed with Carry On Jatta, Lucky Di Unlucky Story, Bhaji in Problem and Jatt James Bond.
Punjabi Superstar  is also winner of many awards  "PTC Best Actor Award" in 2011 for his performance in the 2011 film Jihne Mera Dil Luteya. He received the "PIFAA Best Actor Award" in 2012 along with Diljit Dosanjh and received "PTC Best Actor Award" in 2015 for Jatt James Bondalong with Diljit Dosanjh.
The upcoming Punjabi romedy flick, Mar Gaye Oye Loko, is creating buzz and getting a huge appreciation from Punjabi fans worldwide. Star cast of the film, Gippy Grewal and Binnu Dhillon, were witnessed in hotel Le Meridien, Delhi for promotions and media interactions to boost up the hype for their forthcoming film. The film is directed by Simerjit Singh and produced by Gippy Grewal.
Talking about the same with media, Gippy said, "This is a unique concept which we are presenting to you in a comic way. The story is giving a strong message but in a humorous way. Punjabi fans love light hearted movies so the main challenge is to present a message in a comic way. I have taken this idea from an English novel and presented in a different plot". He added, "This is basically an unbelievable plot. The title of the film justifies its story.
About Punjabi movies Gippy said, "I feel really happy that Punjabi movies are now appreciated worldwide in many territories. Punjabi movies are getting good revenues and people across different states in India are giving a positive response and love to Punjabi films."
Talking about the experience, Binnu said, "It was a really a different film for me. Working with Gippy and Sapna was extremely good and different. I am working with Gippy for a long time. The comedy in this film is quite different from my recent movies. This time we came up with a message in a comic way".
The film is made under the banner of humble motion pictures and hitting the big screen on 31st August.