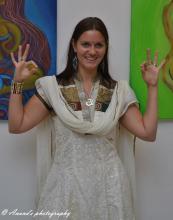 21 Aug. at 11:12 pm
По-русски см. ниже.
Dear N.K.,
Artist Ekaterina Abramova
shares her Summer Art News with you
"All Art is at once surface and symbol." ~ Oscar Wilde
Summers are so short, always so somehow, and so busy in a good way that I always feel to catch their tail and extend them for as long as possible. I think that's why I was running away from the Russian winter, when I was living there before, to India, where I was able to catch the tail of the summer for another 6 months ))!
1. So I want to invite you to make your summer longer and do it with me in India))!
Here is the link for more information about our future journey — Learn To Meditate in India, meditating in various sacred places with a lot of art and cultural experiences on top of it:
https://www.facebook.com/events/1113782388778036/?ti=icl
This is news No. 1 ))!
2. I had several wonderful workshops in Chicago. Here is the link for the slideshow:
https://youtu.be/UPlXs2Wx90o
And more workshops are coming from August 24 to August 26 in Chicago again. Among those, I will do one completely new: Create Your Own — Gold and Silver Story.
This is news No. 2))!
3. In July, I visited Brazil for the first time in my life. It was a spiritual journey to a small and very famous village called Abadiania, where a person called John Of God is healing and helping people from all over the world. This trip was a gift from my friend, teacher, and business partner Natalia Filatova — Ph. D. in psychology. We are working together guiding and teaching people in different ways to live happy and harmonious life. I do visual and spiritual coaching, and Natalia does psychological part of the work.
So our journey to Brazil was a part of our work together to make ourselves stronger and healthier to help more people in the future. The next journey is scheduled to happen in March 2019, so you can plan to join us that time. Here is the link to the slideshow of my first visit to Brazil, Abadiania, and Alto Paraiso.
https://youtu.be/uQFntT38kXM
This is news No. 3))!
4. I painted several small paintings with powerful harmonizing symbols, which I recommend you to take a look at. Each of them has different size and price, but all of them are most affordable and will cost you from $80 to $500 per painting. Here are the slideshows of some of them and you can see more by scrolling down.
https://youtu.be/Qf4iPaQiUT0
https://youtu.be/SaSGVdLL5g8
And finally, one more good news: I have my online shop now operating))! Please visit it following this link:
http://artabramova.com
These are my latest news, and I will be happy to know what's going on with you, what you're up to, etc.
"Do not feel lonely, the entire universe is inside you." ~ Rumi
Love & joy,
Ekaterina
201-238-0087
www.artabramova.info
www.artabramova.com
Instagram  artabramova
Twitter  @Ekateri22440439