Japan has said it wants Hambantota port in Sri Lanka's south to be free of military activities.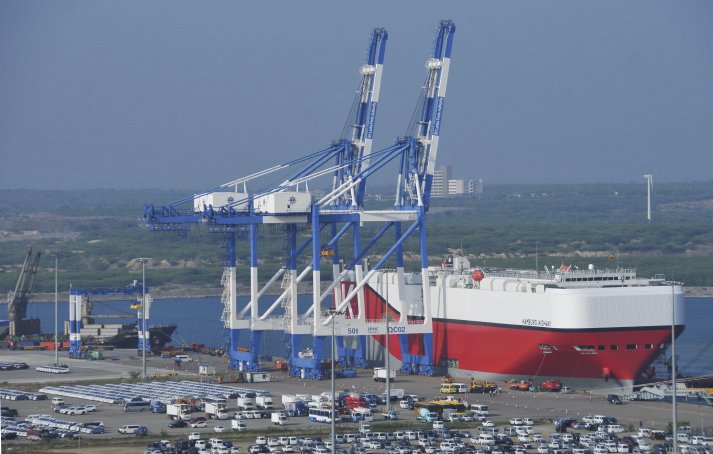 Japanese Defence Minister Itsunori Onedera told NHK TV in an interview during his two-day visit to the country, that he had raised the Hambantota issue with Sri Lanka. The minister, who made a brief stopover at Hambantota today, said there is an agreement that port remains free of military activities. The port was leased to a Chinese company last year for operations for 99 years and there are concerns over its possible military use.
Sri Lankan government, has been maintaining that it will not permit China to use the port for military purposes. Mr. Onedera, who reached Colombo after concluding his India visit, is the first Japanese defence minister ever to visit Sri Lanka. His visit comes amid concerns over growing Chinese influence in Sri Lanka.
 Sri Lankan Government had long wanted to build a seaport at Hambantota, and two feasibility studies were undertaken before it embarked on the ambitious port project.
The first study was completed in 2003 by Canadian engineering firm SNC-Lavalin. However, it was rejected by the ministerial task force on the grounds that it was not bankable and was incomplete since it overlooked the new port's potential impact on the country's main commercial port in Colombo.
Three years later, Ramboll, a Danish consulting firm, undertook a second feasibility study and adopted a more optimistic view for the potential of Hambantota Port. It projected that dry and bulk cargo would constitute the main traffic for the port until 2030. Hambantota Port was expected to handle approximately 20 million 20-foot equivalent units by 2040.
Hambantota home to Mahinda Rajapaksa, the sixth president of Sri Lanka, and is his electoral district. After coming to power in November 2005, he wasted no time in launching several big-ticket infrastructure projects to revitalize the economy of his hometown. Hambantota Port, a project first mooted by his father, was one of them.Center for Strategic and International Studies, an influential U.S. think tank, affirmed that Hambantota Port was not a China-initiated project. In fact, Hambantota Port was constructed long before the Belt and Road Initiative was launched in 2013.Export-Import Bank of China (China Exim Bank) eventually agreed to fund 85 percent of Hambantota Port's Phase One construction costs after extensive negotiation. The 15-year commercial loan of $306 million carried an interest rate of 6.3 percent with a four-year moratorium.
"The Sri Lankan team did try to seek a preferential loan from China, but the quota for China's preferential loans then to Sri Lanka had been used for the Norochcholai Coal Power Plant and other projects," a leading Sri Lankan financial expert explained in a Xinhua News Agency report in 2015.
Sri Lanka was given two options for the interest on the loan: a 6.3 percent fixed rate or a floating rate pegged to the London Interbank Offered Rate, which was over 5 percent then and trending higher. In October 2007, Sri Lanka issued a Fitch BB-rated, 5-year sovereign bond at 8.25 percent, an unsurprising move for a nation that was still mired in a prolonged civil war with Tamil separatists.
China Exim Bank later provided additional loans totaling $900 million to finance Phase Two of the Hambantota Port project at 2-percent interest, a preferential rate enjoyed by 77 percent of Chinese loans to Sri Lanka.