Veteran Journalist, Indian writer,Kuldip Nayar passed away in New Delhi following a brief illness at 95.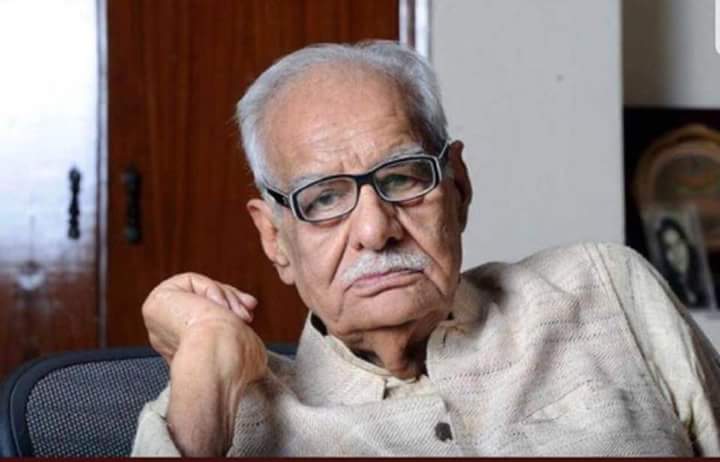 Nayar was born in Sialkot in 1923, a champion of peace  between India and Pakistan. He was also the High Commissioner of India to the U.K. and nominated member of the Rajya Sabha.
When Late Indira Gandhi, declared the Emergency he was one of the first journalists to be put in jail. He had documented in details Human Rights violations by state.
Kuldeep Nayar worked with various media houses. Nayar  started his career with an Urdu newspaper called Anjam, he later worked a correspondent with The Times, London, for over two decades. In 2015, Nayar was awarded with the Lifetime Achievement Award at the eighth edition of the Ramnath Goenka Excellence Award for his contribution to journalism.
Nayar also served as the Press Information Officer to former Prime Minister Lal Bahadur Shashtri and former Union Home Minister Govind Ballabh Pant.
Nayar, a former editor of the Indian Express, was also the author of 15 books including "Beyond the Lines", "India after Nehru" and "Emergency Retold". During Emergency, he was jailed under the Maintenance of Internal Security Act for leading a protest against the excesses of the administration. In 2015, he was honoured with 'Lifetime Achievement Award' for his contribution to journalism at the eighth edition of the Ramnath Goenka Excellence awards. His last rites will be performed at 1 p.m. today at Lodhi crematorium.
Many eminent personalities of the country, including Prime Minister Narendra Modi, President Ram Nath Kovind, Union Home Minister Rajnath Singh and Delhi Chief Minister Arvind Kejriwal, paid tributes to Nayar. President Kovind said Nayar was a "determined champion of democracy".
The Editors Guild of India has also expressed condolences on Nayar's sad demise.Paying its tributes to Nayar, the Guild, in a statement, said that "his many legendary news scoops will continue to inspire generations of young journalists for their sharpness, credibility, speed and standards of due diligence."