Arun Jaitley, 65, did stopped attending office a month-and-half before the May 14 renal surgery, came to North Block, the coveted seat of the ministry of finance and the ministry of corporate affairs, was today at 1100 am in his white Tata Safari accompanied by his personal staff.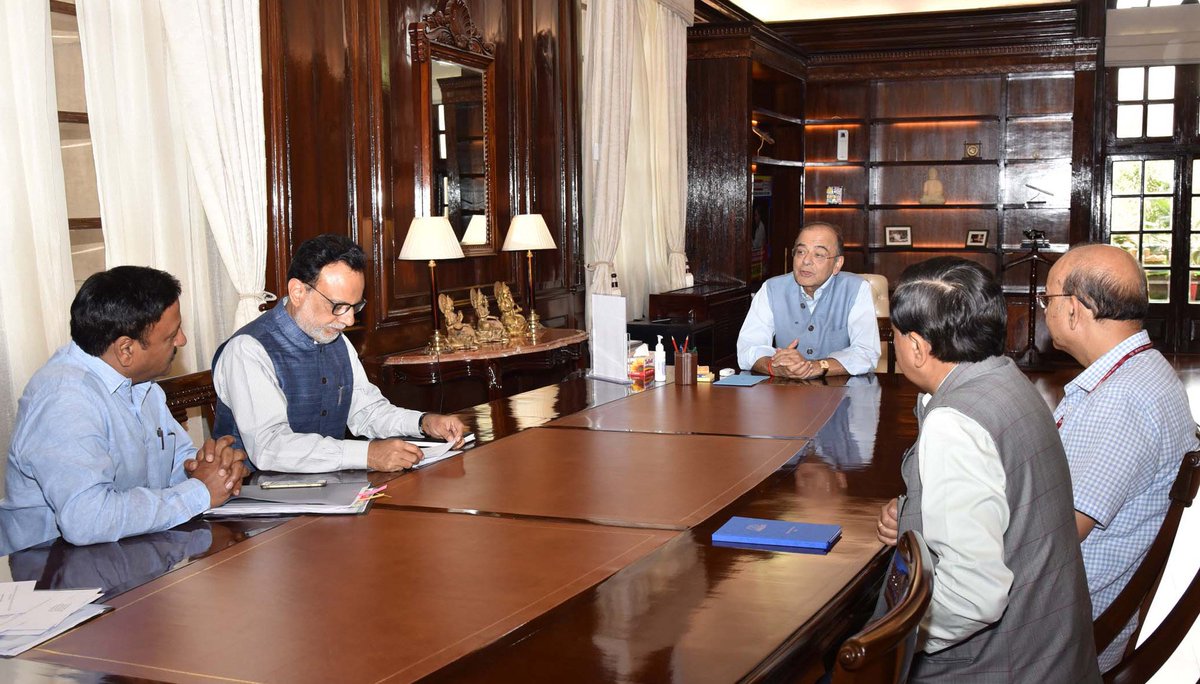 Jaitley went straight to his first-floor office, which had been renovated and sanitized to suit his present condition.
Union Minister,Sh @arunjaitley holding his first meeting with Finance Secretary, Dr. Hasmukh Adhia,Secretary (Expenditure),Sh A.N. Jha,Secretary, D/o Financial Services,Sh Rajeev Kumar and Chairman,CBDT, Sh Sushil Chandra, after assuming charge of @FinMinIndia & Corporate Affairs.
A press communique from the Rashtrapati Bhavan said, "The President of India, as advised by the Prime Minister, has directed to assign the portfolios of the Minister of Finance and Minister of Corporate Affairs to Shri Arun Jaitley."
Minister Arun Jaitley, underwent a kidney transplant on May 14 and his ministerial charges were given to Piyush Goyal on an interim basis. On that day, the charge of his ministry was given to minister for railways and coal Piyush Goyal on an interim basis.
Minister of Information and Broadcasting Col Rajyavardhan Rahore in a tweet welcomed Mr. Jaitley on his assuming the charge as Minister of Finance and Corporate Affairs.
He said he is glad by his recovery from surgery, and wish him many healthy years ahead in the service of the nation.
Jaitley had remained a minister without portfolio in the Narendra Modi government since then.
Minister made his first public appearance in Parliament for a few hours to participate in the election for the Deputy Chairman of Rajya Sabha on August 9. Later he also participated in the prayer meeting organised after the death of former Prime Minister Atal Bihari Vajpayee.
A Rajya Sabha MP since 2000, he was re-elected to the Upper House from Uttar Pradesh in March this year. He is also the leader of the House.Media agencies