New round of US tariffs on Chinese imports kicked in on Thursday, with additional duties of 25 percent on 16 billion dollars' worth of Chinese products. US plans to slap extra taxes on about 1,300 Chinese products. White House said its new plans were a response to unfair Chinese intellectual property practices, such as those that pressure US companies to share technology with Chinese firms.
It has proposed tariffs on a wide range of items, including Chinese-made communication satellite parts, flat screen televisions, semiconductors and industrial machinery, as well as more niche products such as bakery ovens and rocket launchers.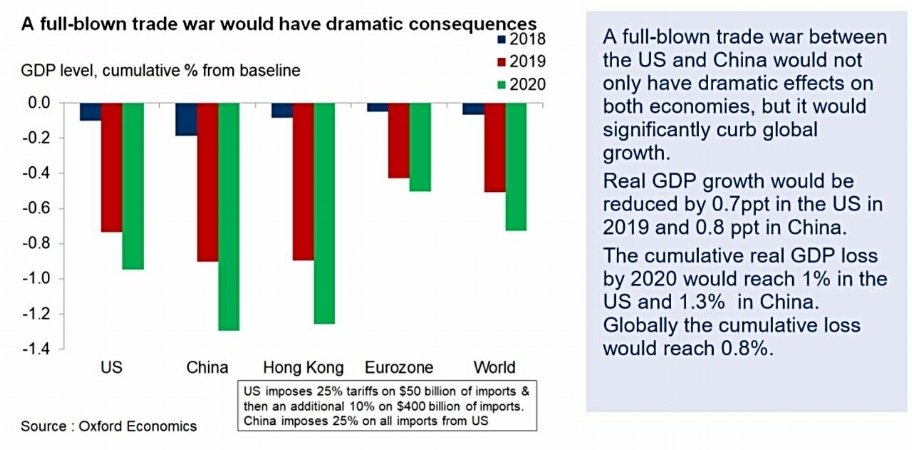 China responded immediately with tariffs on the same scale.China slaps extra tariffs of up to 25% on 128 US products including frozen pork, wine and certain fruits, in response to American duties on imports of aluminium and steel.
China imposed an extra 25% tariff on 545 products from the US including soybeans, electric cars, orange juice, whiskey, salmon & cigars.China slaps extra 25 per cent tariffs on 106 US imports as trade war nears and two delegates meet may find cooperation next to impossible.
US Commerce Secretary Wilbur Ross said the US economy is surging and he doesn't feel that the US as a country is being bothered very much by Chinese retaliations.
The Trump administration is also preparing to impose higher duties on an additional 200 billion dollars' worth of Chinese imports.US looks to  slap 10% tariffs on an extra $200 billion worth of Chinese imports.
US and Chinese officials began talks in Washington on Wednesday, resuming the formal trade negotiations that had been stalled since June. But it's not clear whether the talks will lead to any solutions amid the escalating trade friction.
President Donald Trump's administration says the step, based on section 301 of the US Trade Act, is in response to unfair transfers of US technology and intellectual property to China.
The US is collecting extra duties on 279 items, including plastic products, semiconductors and optical fibers.
Combined with the punitive tariffs that took effect in July, 50 billion dollars' worth of Chinese imports are now subject to extra duties.
China has responded with tariffs surge  on the same scale.
The Chinese measures target 333 US goods, including aviation fuel, diesel vehicles and medical equipment.
Media agencies