US on trade war with China and Russia to combat economy growth for top slot and help US to grow more kinetic technology growth to remain right at the top of the globe is master stroke of trump policies as with war the US make losses on its economy and jeopardized the national style of its people under immense pressure as is visible in wars situation is Syria, Afghanistan and other places.
John Bolton said on Friday that U.S. sanctions against Russia would remain in place until Moscow changed its behavior.Bolton was in Kyiv to show Washington's support for Ukraine which celebrated the 27th anniversary of its independence from the Soviet Union with a military parade on Friday.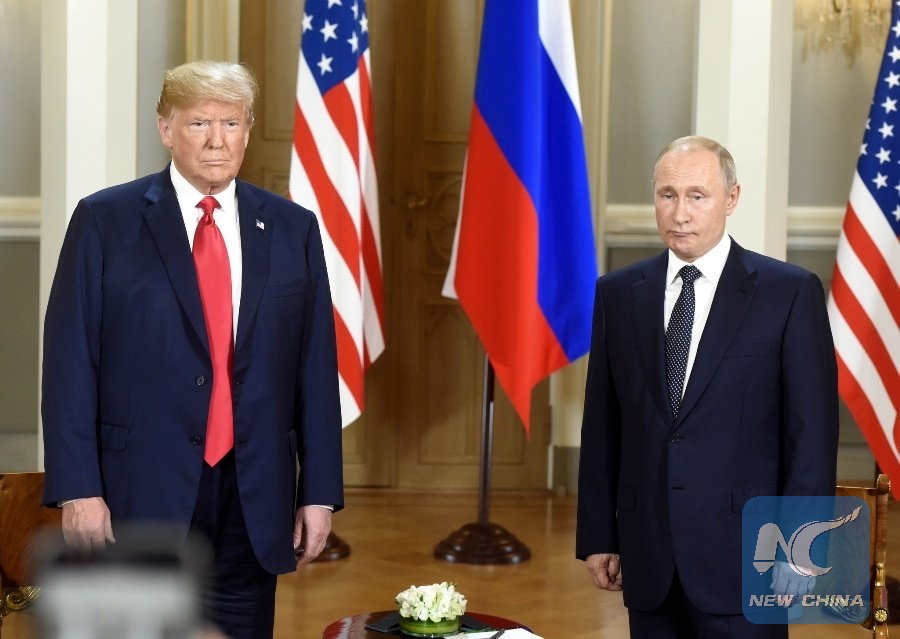 Russian  foreign ministry spokesperson , Maria said motives are primitive, "It is autumn, yet another pre-elections period, pre-elections season in the United States of America. That's it. The topic is hot – Russia, alleged intervention into elections," Zakharova said on Friday, describing such motives for the White House as "primitive."The next elections in the US are to be held on November 6, 2018. Americans are to vote for members of the House of Representatives and 34 of the 100 Senate seats.
Moscow will give an adequate response to possible new U.S. sanctions against Russia, Russian Foreign Ministry spokeswoman Maria Zakharova said Thursday.
"Speaking hypothetically about the introduction of sanctions, be it new, renewed, updated, adjusted and so on, as you know, unfortunately, we give an adequate response to them, and we do not comment on the working process of elaborating these decisions," Zakharova said at a news briefing.
She added that Russia has always emphasized that Moscow was not an initiator of sanctions and that it took adequate steps in response to actions taken against it.
The U.S. State Department said earlier this month that the country will impose new sanctions on Russia in two phases, and the first batch will take effect around Aug. 22.
Hunt to speak on this issue, Britain on Tuesday will call for the European Union to increase sanctions against Russia, saying the bloc had to stand "shoulder to shoulder" with the United States, which hit Moscow with new economic curbs this month.
The Kremlin on Tuesday declined to comment on a British call for the European Union to increase sanctions against Russia, saying it was not yet familiar with the details of what London was proposing.
Britain's foreign minister, Jeremy Hunt, will say that Russian President Vladimir Putin has made the world "a more dangerous place," and that after a chemical weapons attack in England, the EU should apply more pressure to ensure Russia sticks to international rules.
"Today the United Kingdom asks its allies to go further by calling on the European Union to ensure its sanctions against Russia are comprehensive, and that we truly stand shoulder to shoulder with the U.S.," Hunt will tell an audience in Washington in his first major speech since his appointment in July.
The United States has imposed sanctions against Russia to punish it for its 2014 annexation of Ukraine's Crimea, support for pro-Russian separatists in eastern Ukraine, and meddling in the 2016 U.S. presidential election, something Moscow denies.
Bolton, speaking before a new round of sanctions announced by the State Department took effect, set out what he cast as a tough approach by the administration to sanctions.
'The sanctions remain in force and will remain in force until the required change in Russian behavior,' Bolton told a news conference after talks with Ukrainian President Petro Poroshenko.
U.S. President Donald Trump's national security adviser John Bolton,  with Ukrainian President Petro Poroshenko attended a military parade marking Ukraine's Independence Day in Kyiv, Ukraine, Aug. 24, 2018.