The German government has condemned Sunday's protests in Chemnitz. Police have arrested a Syrian man and an Iraqi man on suspicion of murder in connection with the fatal stabbing incident on Sunday.
On one side "far-right protest" On the other side "anti-far-right protest"
The death of a 35-year-old German man during an altercation involving migrants on Sunday had sparked two days of violent protests in #Chemnitz. At least six people were injured Monday as rival far-right and left-wing protesters clashed, @dpa reports.
Some 2,000 far rightists gather around Karl Marx statue in #Chemnitz to protest alleged murder of white German by Arab men.
Mounting tensions running high at anti-migrant protest in Chemnitz, Germany. Chancellor Merkel condemned rioters who she said were "hunting down" foreigners.Clashes between neo-Nazis and left-wing counter-protesters in eastern German city of Chemnitz lead to injuries on Monday.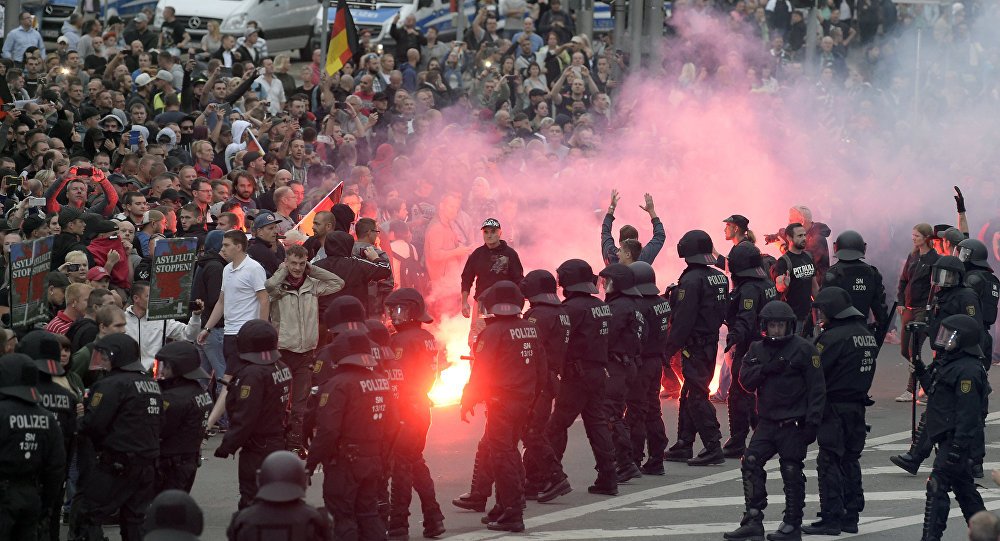 Violence erupts in anti migrant protests, several people were injured when far-right protesters faced off with counter-demonstrators in the aftermath of a fatal stabbing on Sunday. Authorities have condemned "mob-like" vigilantism.
German city of #Chemnitz is preparing for far-right and far-left protests on Monday following a spontaneous anti-immigrant demonstration the day before.
Chemnitz authorities are under high alert to monitor potential unrest after a fatal stabbing on Sunday provoked an anti-immigrant protest.
We have to acknowledge that misinformation, rumours, speculation and lies are rife on the internet' says the Interior Minister of Sachsen @SMIsachsen after the death of a German man sparked online hatred and spontaneous violent protests of several far-right groups in Chemnitz.