Iranian government announced the details of the deal on Tuesday following a visit to Damascus by defense minister Amir Hatami earlier this week. However US too to  stay in Syria to fight ISIS and keep an eye on Iran.
Iran and Syria inked covenant  where Iran pledged to rebuild the Syrian army. Israel is critical of Iran's expanding role in Syria, saying it will not tolerate a permanent Iranian military presence near its borders.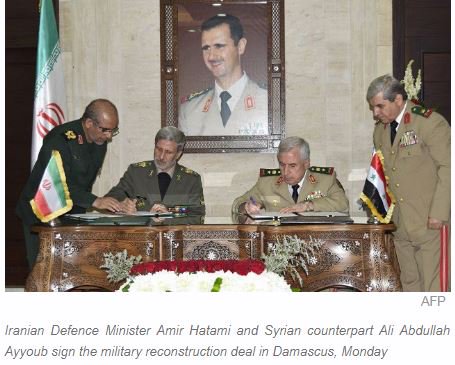 Iran to continue sending members of the elite Islamic Revolutionary Guards as military advisors and will help rebuild Syrian military facilities.
Iran has supported Syrian President Bashar al-Assad. In addition to sending Revolutionary Guards, Iran mobilizes Shia residents of Syria as militias.
Assad's forces are retaking areas from anti-government militants.
Iran is believed to have signed the agreement to maintain its influence after the civil war ends.
But the deal is likely to draw criticism from the United States and Israel. Both countries want Iran to pull out of Syria.