Chaired meeting of UTTIPEC governing body for the ambitious Chandani Chauk Pedestrianisation project.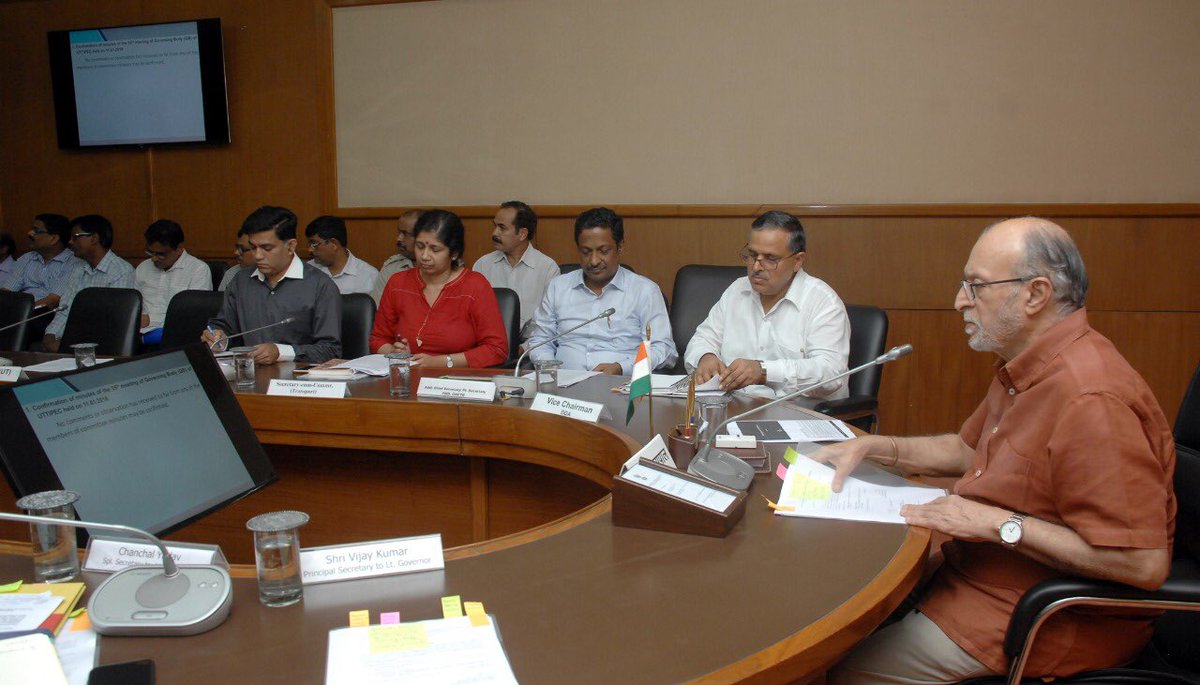 Keen to partner on policies & programs with multi-stakeholders. A continuous process to fine tune programs with inputs from all – Hon Min @JPNadda Ji @ficci_india @ficci_heal;
The case was filed by environment activists after it was reported that the project would require chopping of at least 14,000 trees for vertical expansion.Report Nauroji nagar:The High Court had passed the order on the petition against redevelopment in seven south Delhi colonies, to be carried out by National Buildings Construction Corporation (NBCC) and Central Public Works Department (CPWD).
August29, 2018 (C) Ravinder Singh ravindersinvent@gmail.com
Tragedy of Delhi is that all BAD UNDESIRABLE projects are most wanted – from Puri to Mangu Singh all push Rs.2,00,000 Cr Metro Rail Projects day and night but MUST Projects are neglected for 42 years or may be 64 years. Just three High Speed Rail projects and Ph-IV of DMRC are to cost over Rs.2,00,000 Cr – are most undesirable.
When Delhi NCR already has about 600 kilometer Suburban Rail Lines – all Delhi needs are One Divert Goods Traffic on Ring Railways through'Dadri to Panipat Rail BYPASS' and Two run Regular 16 Coach Double Decker AC Trains between Meerut to Alwar, Mathura, Panipat, Rohtak, Aligarh, Saharanpur.
Kishau, Lakhwar-Vyasi and Renuka Dams are MUST Projects to prevent floods, Regulate 13 BCM Yamuna Waters, release de-silted water for mainly Irrigation in Haryana & UP and Drinking water for Delhi were due in 1954 when water sharing agreement was concluded between UP & Punjab.
https://en.wikipedia.org/wiki/National_Capital_Region_Transport_Corporation#Project_Cost
NCRTC will execute three rapid rail corridors to Panipat-Meerut-Alwar from Delhi at an estimated cost of about Rs.1,00,000 crores. A 103-km stretch between Delhi-Sonipat-Panipat with an estimated cost of Rs.30,000 crores. A 168-km stretch between Delhi-Gurgaon-Rewari-Alwar estimated to cost Rs.37,500 crores and a 82 km stretch between Delhi-Ghaziabad-Meerut estimated to cost Rs.32,500 crores.
Delhi needs IMPROVED Sewers, Sewage Free Drains, Uberized Public Transport, Schools With Playgrounds, IT Parks Within All Regions, Wholesale Markets & Public 500+ Bed Hospitals in All Pin Codes – Improved Parking & Congestion Free Roads etc to Smart & Livable Standards.
DLF built SEWER lines in Hauz Khas which were 8 inch GLAZED PIPES lasted 50 years – Substandard Cement Pipes installed a Decade ago had Completely CHOKED. Almost everyday DRAIN CLEANING MACHINE make the SEWAGE line work Chokes again in minutes. BUT THERE IS NO MONEY TO REPLACE SUBSTANDARD SEWER IN DELHI.
Ravinder Singh, Inventor & Consultant, INNOVATIVE TECHNOLOGIES AND PROJECTS