UNICEF and Maulana Azad National Urdu University
introduce health journalism course in Urdu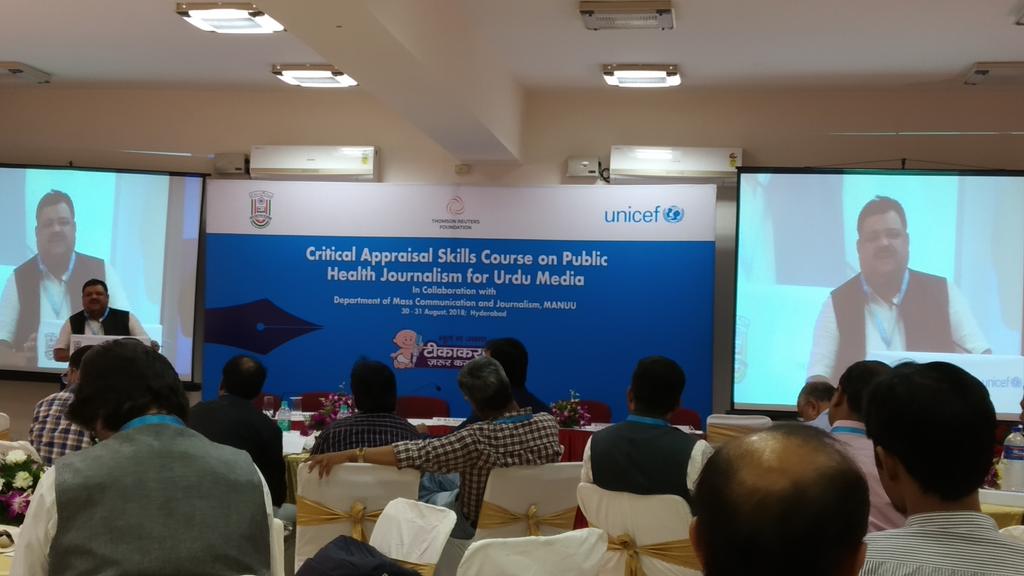 Hyderabad, 31 August 2018: UNICEF India and Maulana Azad National Urdu University (MANUU) today announced the introduction of Critical Appraisal Skills, a health reporting course, in Urdu language for students pursuing journalism at the University. The course is designed by UNICEF in collaboration with Thomson Reuters Foundation, Oxford University, UK, and Indian Institute of Mass Communication, Delhi.
Speaking at the launch, Ms Meital Rusdia, Chief of UNICEF Hyderabad office, said, "Media is a key partner in sustaining the rights of children worldwide. This programme will be an opportunity for media students pursuing journalism in this reputed University to add the critical dimension of evidence-based reporting while writing on health issues with special focus on the importance of immunization that saves the lives of millions of children."
Dr. M. Aslam Pervaiz, Vice-Chancellor, Maulana Azad National Urdu University said, "The role of parents, teachers and media is critical in shaping society. This course will enable better health reporting by budding journalists to contribute to nation building. I sincerely thank UNICEF for giving our students an opportunity to pursue this important programme, and hope we can build further on this in future."
The Critical Appraisal Skill programme provides a specialized set of skills to working journalists and students, equipping them to research and analyze health-related information for credibility and relevance, thereby improving the accuracy in reporting. It also exposes them to the importance of evidence-based approach, highlighting principles of accuracy and impartiality, while reporting on critical public health programmes like immunization, child and maternal health.
Mr Pankaj Pachauri, Founder and Editor-in-Chief, Go News, New Delhi who is among the core group of trainers for the course said, "Maulana Abdul National Urdu University and UNICEF should be congratulated for introducing this critical appraisal skills program for students of mass communication. This will initiate a new generation of media professionals who would be sensitive to health reporting and follow a strict regimen in generating debates around health issues."
Note for Editors:
UNICEF envisioned a capacity development programme for media and media students in 2015, by mobilizing reputed academic partners such as the Oxford University, Thomson Reuters Foundation and the Indian Institute of Mass Communication (IIMC), to bring the globally acclaimed Critical Appraisal Skills course to India and adapt it for media in the country.
The course is primarily used by medical professionals to assess whether data produced in medical trials is trustworthy, relevant or useful for their work. This same approach has been applied to journalism.
The Critical Appraisal Skills programme will help participating journalists apply critical skills to research and analyse health-related information for credibility and relevance thereby improving the accuracy in their day-to-day reporting.
Experience shows that a well-researched news story, underpinned with an evidence-based approach, can help mitigate any adverse perception about large scale public health initiatives such as Immunization. It also helps dispel myths and fears and ensures pro-active public participation. The programme has the potential to become a catalyst for the success of large scale health initiatives.
The Critical Appraisal Skills programme is also available online on http://www.health-of-india.org/ for entry and mid-level journalists covering health news. The free online course is launched in the backdrop of UNICEF's 'Every Child, Alive' campaign which focuses on reducing newborn mortality, ensuring that every child is alive and healthy in the days, weeks and months after birth.
About UNICEF
UNICEF works in some of the world's toughest places, to reach the world's most disadvantaged children. Across 190 countries and territories, we work for every child, everywhere, to build a better world for everyone. For more information about UNICEF and its work for children, visit www.unicef.org