Rupee Weak Currency – Apr-Jul Fiscal Deficit Rs.5,40,257 Cr
August31, 2018 (C) Ravinder Singh ravindersinvent@gmail.com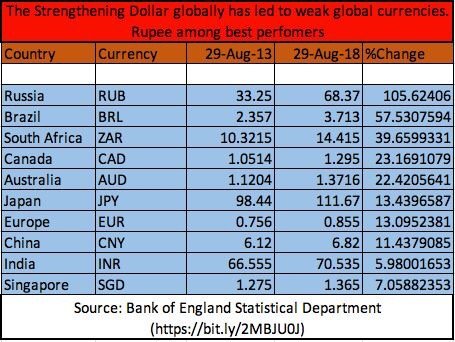 While Dr. SP Sharma gave three reasons for SINKING Rupee at an event 'Rupee Volatility'– a. Rising Crude Prices, b. US led Trade Conflicts leading to Trade Deficit and c. Reducing Competitiveness of Industry. I may add more causes,
d.]  Gadkari, Goyal & Prabhu INVESTING $Trillion in UNVIABLE-UNDESIRABLE Projects,
e.]  MoF in Conflict with Industry & Businesses, Demonetisation, ED Raids,
f.]  MEGA Trade Wars Within India – AMBANI vs Ambani, Mittal, Birla, Vodafone, ADANI vs other Power, Ports & Agro Projects.
g.]  Weak IPR & Business Protection and many more like Weak Banks,
We are assured by Foreign Currency Experts that India had recovered earlier Fall Partly on many occasions and Rupee could fall to Rs.75-Rs.77 range
India is WORST MANAGED – Rupee Fall is due to External & Internal Factors.
"A weak currency is the sign of a weak economy, and a weak economy leads to a weak nation"If something is not done fast, the Indian economy is headed towards a fatal crash under the command of Captain Modi.
https://www.xe.com/currencytables/?from=USD
YTD Currency Movement Against US Dollar
| | | | |
| --- | --- | --- | --- |
| Currency | Currency name | 31-12-2017 | 30-08-2018 |
| USD | US Dollar | 1.0000000000 | 1.0000000000 |
| EUR | Euro | 0.8334295328 | 0.8585558550 |
| GBP | British Pound | 0.7405810259 | 0.7694390268 |
| INR | Indian Rupee | 63.84990663 | 71.03377699 |
| AUD | Australian Dollar | 1.2797311868 | 1.3767263801 |
| CAD | Canadian Dollar | 1.2573188571 | 1.2989911644 |
| SGD | Singapore Dollar | 1.3373272833 | 1.3683355825 |
| CHF | Swiss Franc | 0.9747277524 | 0.9709372679 |
| MYR | Malaysian Ringgit | 4.0465041227 | 4.1156478523 |
| JPY | Japanese Yen | 112.66365783 | 111.16572538 |
| CNY | Chinese Y. Renminbi | 6.5059537088 | 6.8438541238 |
| NZD | New Zealand Dollar | 1.4092839854 | 1.5058259478 |
| THB | Thai Baht | 32.658672541 | 32.776496906 |
| HUF | Hungarian Forint | 260.23159039 | 280.75563726 |
| AED | Emirati Dirham | 3.6725000000 | 3.6725000000 |
| HKD | Hong Kong Dollar | 7.8118019017 | 7.8490280533 |
| MXN | Mexican Peso | 19.7371066490 | 19.1508099857 |
| ZAR | South African Rand | 12.3936326141 | 14.7670561825 |
| PHP | Philippine Piso | 50.0446328375 | 53.6679452356 |
| SEK | Swedish Krona | 8.1835567100 | 9.1390605497 |
| BRL | Brazilian Real | 3.3124075857 | 4.2006072968 |
| RUB | Russian Ruble | 57.7379433856 | 68.3230142827 |
| TRY | Turkish Lira | 3.7954376942 | 6.7497233911 |
| KRW | South Korean Won | 1066.40274964 | 1113.39918983 |
| PKR | Pakistani Rupee | 110.674614209 | 123.025217149 |
| BDT | Bangladeshi Taka | 82.7958182129 | 83.8830787545 |
| LKR | Sri Lankan Rupee | 153.499928977 | 161.459814352 |
| NPR | Nepalese Rupee | 102.638724911 | 114.186796516 |
Ravinder Singh, Inventor & Consultant, INNOVATIVE TECHNOLOGIES AND PROJECTS
Y-77, Hauz Khas, ND -110016, India. Ph: 091- 8826415770, 9871056471, 9650421857
Ravinder Singh* is a WIPO awarded inventor specializing in Power, Transportation,
Smart Cities, Water, Energy Saving, Agriculture, Manufacturing, Technologies and Projects