A  powerful typhoon could come very close to western and eastern Japan and might make landfall on Tuesday. Super Typhoon #Jebi — powerful Category 5 — is spinning toward Japan over the next 72-96 hours. It may be able to maintain higher intensity than previous Typhoons that lashed Japan.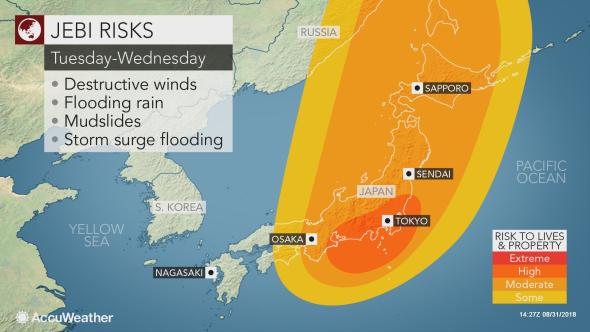 The country's Meteorological Agency says Typhoon Jebi was heading northwest over southern waters at a speed of 20 kilometers per hour as of noon on Sunday.
Jebi has a central atmospheric pressure of 935 hectopascals, packing winds of up to 180 kilometers per hour near its center.
The typhoon is expected to gradually change path northward and approach the Daito Island region of Okinawa Prefecture on Monday.
Then Jebi will likely come very close to the Japanese archipelago and make landfall on Tuesday.
Strong winds and high waves are expected in Okinawa on Monday, and in western and eastern Japan along the Pacific coast on Tuesday.
Torrential rain may hit parts of western and eastern Japan beginning Tuesday, and northern Japan is expected to see rain and winds intensify on Wednesday.
Weather officials are urging people to stay tuned to updates on typhoon information.
People are cleaning up homes and farm land in the city of Nanao, Ishikawa Prefecture on the Sea of Japan coast, where previous heavy rains caused rivers to overflow.