India and Cyprus have signed key agreements today in various fields cementing bilateral ties between the two countries. On the second day of his visit to Cyprus, President Ram Nath Kovind today called on the President of Cyprus Mr Nicos Anastasiades at the Presidential palace in Nicosia. Both the leaders held the discussion on issues of mutual importance to the two countries.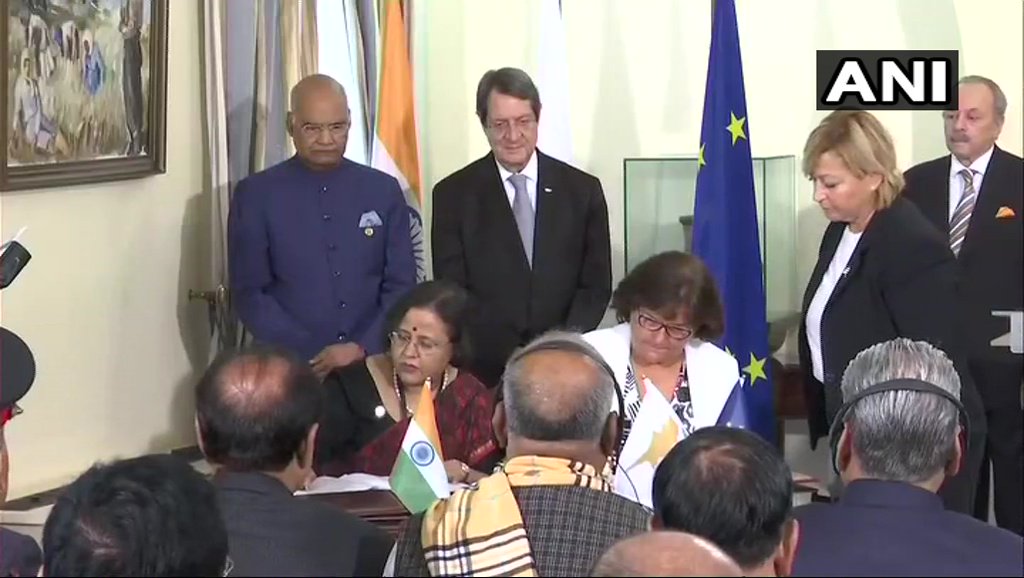 The meeting was followed by delegation-level talks between the two countries. Earlier President Kovind was given a ceremonial welcome with the guard of honour at the Presidential palace. He laid the wreath on the statue of Archbishop Macarios 3, the founder President of Cyprus.
Earlier, President Ram Nath Kovind called upon the Indian diaspora in Cyprus to contribute to the nation-building process as the new India provides ample opportunities to everyone. Addressing the Indian Community in Nicosia, the Capital city of Cyprus, he said that the new India is confident and growing fast.
Mr Kovind spoke about the programmes like Make in India, Digital India, Start-Up India and Ujjwala Yojana which are improving the lives of common people and ushering in a new India.
President Kovind thanked the Cyprus President for supporting India in its bid for permanent membership of UN Security Council and the NSG. India and Cyprus have agreed to expand cooperation in the fields of IT, tourism, shipping and renewable energy. The two countries also expressed determination to cooperate in the field of eradication of international terrorism and taking the cooperation in the field of Clean energy further.