Janmashtami, which marks the birth of Lord Krishna, is being celebrated across the country today. Devotees throng the temples to offer prayers to Lord Krishna. Mathura and Vrindavan in Uttar Pradesh is fully geared up to celebrate the birth of Lord Krishna.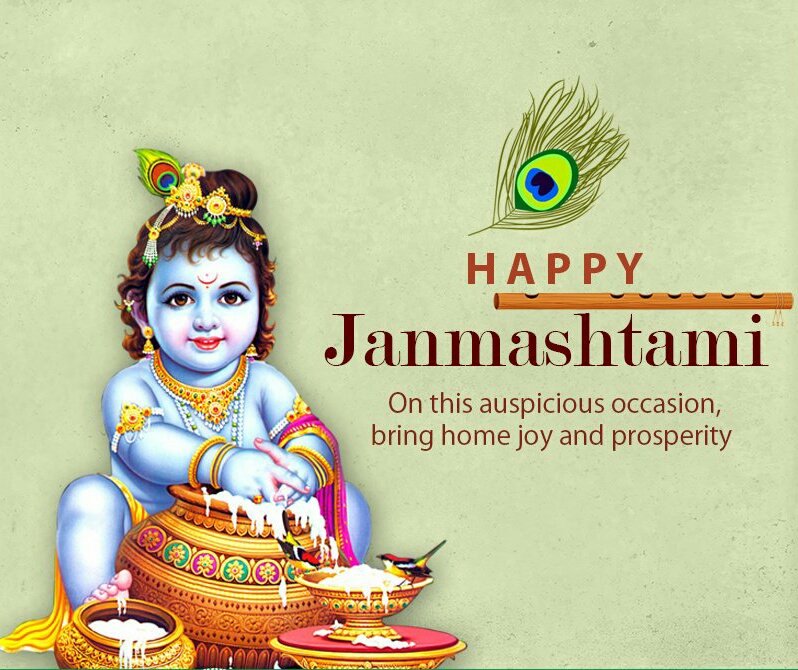 Thousands of temples including Banke Bihari Temple, Prem Mandir, Iskcon Temple and Shri Krishna Janm Bhumi Temple have been tastefully decorated in Mathura, the birth place of Lord Krishna.
Another common form of celebration followed usually in Gujarat and Maharashtra is the practice of Dahi Handi. In Mumbai, Govinda troops will compete in Dahi Handi celebrations by forming human pyramids and breaking pitchers strung high above the ground for hefty cash prizes.
President Ram Nath Kovind, Vice President M Venkaiah Naidu and Prime Minister Narendra Modi have greeted the people on the occasion. In his message, Mr Kovind said, the life and teachings of Lord Krishna have a universal message – Nishkam Karma.
He said Lord Krishna in his message has preached duty without thought of reward. Mr Kovind hoped that this festival will inspire people to follow the path of virtue and righteousness in thought, word and deed.
In his message, Vice President said, the festival reminds us of the divine life of Lord Krishna and signifies the victory of good over evil. Mr Naidu said, the eternal message bestowed by Lord Krishna in the Bhagwad Geeta to perform the duties with sincerity without attachment to results has been a source of inspiration for entire humanity.
Bangladesh Media reports, President Abdul Hamid and Prime Minister Sheikh Hasina greeted the Hindu community on the occasion in separate messages.
President Abdul Hamid is set to exchange greetings with eminent citizens of Hindu community at Bangabhaban from 11am to 12 noon.
Mahanagar Sarbajanin Puja Committee will also organize a two-day program at the Dhakeshwari National Temple starting on Sunday.
The programs include worship of Lord Krishna, Geeta Jagna, Kirtan and discussions.
Celebrations at the Shree Geeta Bhavan Mandir will take place on Monday night, starting at 6pm in Birmingham.
The time of Krishna's birth is midnight, hence the Aarti (main prayer service) being conducted at midnight.
Janmashtami celebrations in Pakistan