A powerful 6.6-magnitude quake rocked the northern Japanese island of Hokkaido Thursday, triggering landslides, collapsing buildings, and killing at least two people with several dozen missing.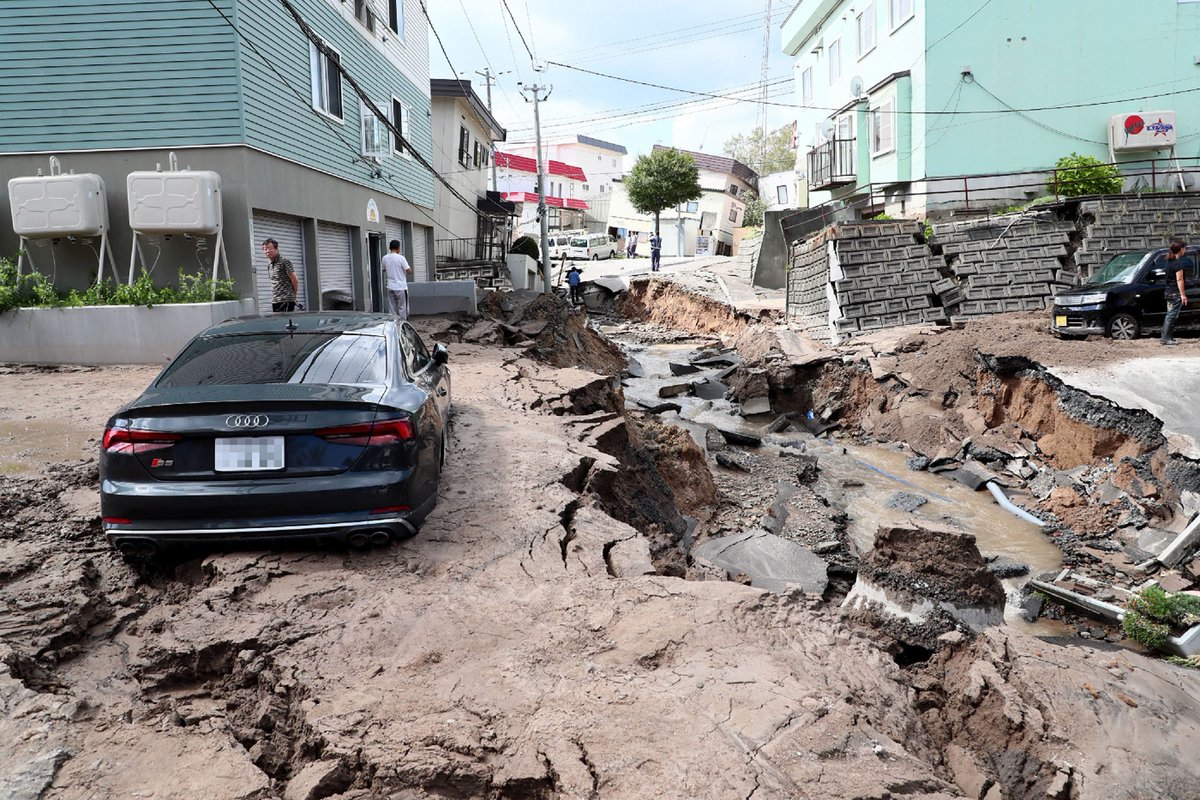 Multiple, large-scale landslides struck the sparsely populated countryside, which was also hit by the edge of a powerful typhoon that surged through Japan earlier this week.
Aerial views showed dozens of houses destroyed at the bottom of a hill that was engulfed by a landslide, with a rescue helicopter winching a resident to safety.
Around three million homes lost power after the quake damaged a major thermal plant supplying the region.
The Tomari nuclear power plant in Hokkaido, which was not operational before the quake, was forced to turn to emergency back-up power to keep its cooling system working, NHK said.
Kazuo Kibayashi, 51, a town official at hard-hit Abira town, told AFP: "There was a sudden, extreme jolt. I felt it went sideways, not up-and-down, for about two to three minutes."
"It stopped before shaking started again. I felt it come in two waves. I am 51, and I have never experienced anything like this. I thought my house was going to collapse. Everything inside my house was all jumbled up. I didn't have time to even start cleaning," he added.
Akira Fukui, from the main city of Sapporo, told AFP: "I woke up around 3am with a vertical jolt. I put the light on but it went out shortly afterwards. All the traffic lights are out and there's no power at work."
After the initial quake, an aftershock measuring 5.3 rocked the area moments later and dozens more aftershocks followed throughout the night and into the morning.
No tsunami warning was issued after the relatively shallow quake, which struck 62 kilometres (39 miles) southeast of the regional capital Sapporo.
Prime Minister Shinzo Abe said 4,000 of Japan's Self-Defence Forces had been dispatched to help with recovery efforts, with around 20,000 more expected to join. "We will do our best to save lives," said Abe after an emergency cabinet meeting.
Government spokesman Yoshihide Suga said two people had been killed, with local media reported around 40 were missing.
Local media said the dead included an 82-year-old man who fell down the stairs at his home during the quake and that around 130 people had sustained minor injuries.
Japan is still recovering from the worst typhoon to hit the country in 25 years, which struck the western part of the country on Tuesday, claiming at least 11 lives and causing major damage to the region's main airport.